Can we all just agree to wash 2016 off with a hot shower?
Geesh…what a polarizing year. 
It felt like a year full of strife, picking sides, and cynicism on steroids. And if you're like me, you might be struggling with a little new years blues as you focus on your non-successes of 2016.
Let's start 2017 anew like a freshly baked cinnamon bun.
Let's make 2017 a year to remember because of the good instead of the bad.
Here's how we do it.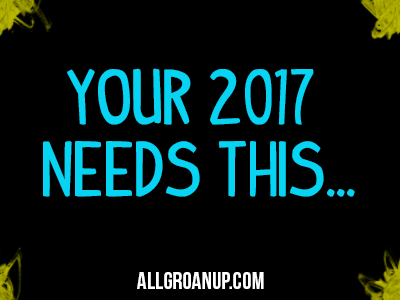 We all need more of THIS in 2017…
In 2017,  let's create more than we complain.
Let's bring life to a room when we step inside.
Let's bring The Hope more than we bring the horror.
Let's hone and own our Signature Sauce, giving the world our personal flavor that no one else can.
Let's fail but refuse to call ourselves failures.
Let's read some seriously good books instead of wasting away on Netflix.
Let's be brave enough to be vulnerable. We don't connect with each other through our pretend perfection. We connect over our shared struggle.
Let's be brave enough to be awkward. Let's be present and available throughout the day instead of escaping into our phone.
Let's build more than we rip down.
Let's pursue our purpose on purpose with purpose.
Let's make 2017 amazing.
The top 6 New Articles on All Groan Up in 2016
If you need more inspiration and motivation on starting 2017 off right, check out the countdown below of the top six new articles on All Groan Up this year.
#6 —  The 7 Stages of Your 20s (as explained by hilarious GIFs)
The definitive list to help you sort out what season of your 20s you're in.
#5 — 6 Ways You are Making Life Much Harder Than It Has to Be
#4 — 5 Simple Strategies for Getting Hired at an Amazing Company
#3 — 7 Most Important Skills You Need in Your 20s
#2 — What Kind of Millennial Are You? — Take the Quiz
Are you actually a Millennial hipster? Are you all about blazing your own trail? Or are you a Millennial that is actually straight from the 1930s? Find out by taking the Millennial quiz here.
#1 — 5 Shocking Statistics About Real "Millennial Problems" (and how we overcome)
Millennial problems are real and a little bit more substantive than the cliche critique that we all received blue ribbons in 3rd grade, which has somehow made us all Millennial monsters.
Read about these shocking statistics about the challenges facing Millennials and how we overcome.
Need even more encouragement for 2017?
Here are the Year after Year Top Articles on All Groan Up
These are the gold standard articles on All Groan Up. These articles might be the way you found All Groan Up in the first place.
If you haven't eye-gandered these articles yet, you should.
Thank you!
Thank you again to all the amazing readers here at All Groan Up for your continued support and encouragement.
You all are the reason I do what I do and I'm honored that I get to be a voice of encouragement and inspiration in your life. I'm excited to see all that 2017 brings.