"What's the biggest secret to finding The One? How do you find the right person to marry?" a single friend asked me this weekend.
Sure we were getting strapped into The Scorcher at the time, a roller coaster that was about to hurdle us 100 mph into the air with belts tightened in places you don't want belts tightened.
But when he asked me the secret to finding The One, I knew the answer instantly. And I was surprised that the answer was a pretty dang good one.
The intensity of the moment gave me an enlightened sense of clarity. That, or it was the funnel cake talking.
"The Secret to Finding The One?"
The answer is simple.
Stop looking.
Seriously, Stop Looking for The One
I remember in my 20s being obsessed with looking for The One. My eyes always on high alert like I was searching for an extinct bird.
Health food stores became an excuse to find some basil, quinoa, and my soul-mate for life. Church services were spent scanning the aisles, my eyes resting on a possible-possibility as I let out a "Praise Jesus".
Oh, and I had some serious run-ins with "this-is-the-One-I swear-it." You know the kind. At first, you're positive it's the genuine thing. But just like buying that knock-off pair of sunglasses, something always breaks in about a month.
 Why were all the girls I dated all so insecure?
 Why were they so unsure with who they were and what they wanted?
 Why couldn't I find the right person?
The Single Song-and-Dance
I was doing my usual being-single-sucks song-and-dance with my mentor, when he gave me a piece of advice that changed my whole strategy.
 "Stop worrying about finding the right person. Start working on becoming the right person."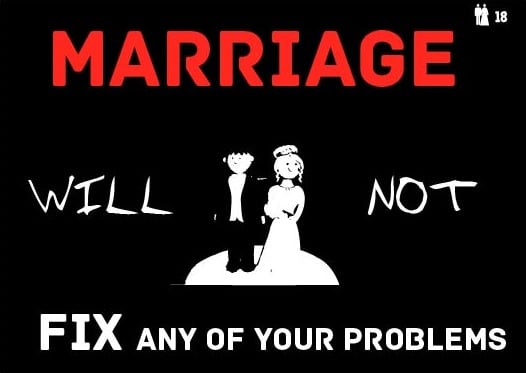 Be the Right Person to Marry 
Why were all the girls I dated so insecure?
Because I was so insecure.
Why were all the girls I dated so unsure of what they wanted?
Because I had no freaking clue.
Like attracts like.  And the girls I liked were a lot like me, and what we both were like, was somewhat unlikable.
I wanted to find someone to heal from my insecurities, when I really needed to heal from my insecurities, so that I could find someone. 
My life was spent walking in circles with bags filled with crap. So I attracted travelers with the same set of luggage on the same journey.
You can't meet someone in Hawaii when you're begrudgingly walking circles around Newark. You can't find someone on a trip you refuse to go on.
Job of Inner-Work
So for years I began to intentionally travel down the rocky, scary path that Parker Palmer calls "inner work". I opened up my closet doors and faced the monsters I'd been harboring for far too long.
Scary creatures called insecurity, depression, anxiety, and self-hatred.
Did these monsters tuck tail and run the first moment I shed light on them? Heck-no. They fought for their lives. But through prayer, mentorship, honest conversations, and falling flat on my face time and time again, the monsters began to shrink as my light began to grow.
Marrying The One Will Not Fix Any of Your Problems
Now that I've been married for four years to an amazing woman, I still understand that getting married will not, and does not, fix any of your problems. No, getting married will just show you how many problems you really have.
Your spouse will open all those closet doors and if you haven't tackled your monsters, watch out for when they attack. Typically when your in-laws are over. They love that.
"When we are insecure about our own identities, we create settings that deprive people of their identities as a way of buttressing our own" ~ Parker Palmer
And while I have no idea what "buttressing" means, I'm pretty sure it has something to do with being an ass.
So stop looking for the right person and focus on becoming the right person.
I promise, right attracts right.
If you've ever met my wife, you know the strategy paid off for me 1,000 times over.
---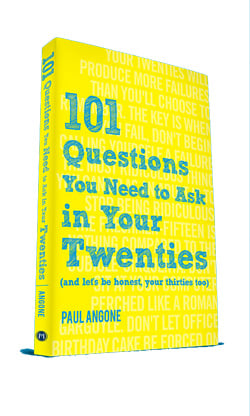 Find more advice and insight on dating and marrying the right person in my new book 101 Questions You Need to Ask in Your Twenties. 
To have right relationships we need to start with the right questions.
"I am absolutely blown away by this book." – Michael, Amazon Review
See what more readers are saying about 101 Questions You Need to Ask in Your Twenties.