Quarter Life Crisis (def): Experienced in your 20s and 30s as you're crippled with anxiety, fear, and an identity crisis over the direction and quality of your life. 
This quarter-life crisis definition sounds pretty daunting.
But I'd argue that experiencing a quarter life crisis could be the best thing to happen to you.(I'll explain more later). Heck, in my own life, a quarter-life crisis is solely responsible for me writing all the books I have.
But first, are you wondering if you're going through a quarter life crisis?
Check out this all-too-true list below to see just how "quarter life crisis" your life crisis really is.
Then after reading the signs you might be going through a Quarter Life Crisis, check out the cures to help you through your quarter life crisis.
And why a quarter life crisis is actually a good thing.
25 Signs You're Going Through a Quarter Life Crisis
1.  You glare at your cat in the morning as you get ready for work and say, "Gosh, I wish I had your life."
2.  "Am I ever going to feel like myself again?" Is something you ask. Every day.
3.  A Bon Iver or John Mayer song comes on and you start crying. By yourself, or around friends. Or in the middle of a coffeeshop as strangers slowly usher their children away.
4.  "When is life going to feel like it's supposed to?" Is something you ask. Every day. You thought you'd have your life figured out in your early twenties. Maybe 25 at the latest. Now you're scrolling through Instagram wondering why all your friends are experiencing the success you were supposed to. Quick bonus secret here from my best-selling book 101 Secrets For Your Twenties: "Life will never feel like it's supposed to." 
Because what the heck is "supposed to"? Who holds the blueprint for my life—down to the number of kids, salary, and size of my house? Who decides "supposed to"?

"Supposed to" is a lie. A fairy tale. It is the stealer of peace and productivity. It is the leading cause of Obsessive Comparison Dis- order with everyone who "has it better."

No one has it all figured out. No one holds their first child with all the answers. Not many walk right into their passion from the graduation stage. Not everyone gets married like they're "supposed to" or climbs the corporate ladder full of broken rungs.

If we keep trying to live other people's lives, who is going to live ours?
5.  You're reading this article right now because you Googled: "Quarter Life Crisis?"
6.  Visualizing yourself 15 years from now doing your boss's job makes you throw up a little in your mouth.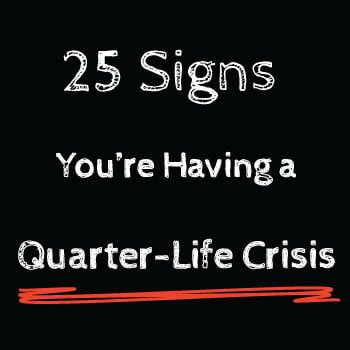 7.  You're having arguments with your mom again about cleaning your bathroom and being home at a reasonable hour. (aka you're sleeping back in your old bedroom)
8.  Your monthly routine of expenses being greater than your income is dawning on you as a serious problem.
9.  Feelings of quarter life crisis stop you through out the day as you ask, "There's got be more to life than this?"
10. You've moved six times in the last four years.
B.  You've had six jobs in the last four years.
C.  You've had six boyfriends in the last four years.
D.  You've had six girlfriends in the last four years.
E.  You've had no boyfriends/girlfriends in the last six years and you're scared your boyfriending or girlfriending is broken.
11.  You'd pay top dollar for a moment of clarity.
12.  You feel like you're being crushed by either anxiety, unemployment, or just crazy amounts of college debt — you know, like most Millennials these days.
13.  Your part-time, temporary job at Starbucks has lasted three five and ½ years.
14.  You binge on buying brand names to try and cover up that you're broke.
15.  You find yourself repelled and compelled by church at the same time. You ask God for help one day and then you're yelling at him the next. Your faith is a roller coaster and you're pretty sure your seat belt is about to come undone.
16.  You see so clearly the two roads in front of you. A life of comfort and a life of risk. And you're not sure you have the right car or directions to go down either one.
17.  You surf the internet so much at work every day that you literally hit a point where you don't know what else to search for.
18.  You laughed, and cried, when you first read 21 Secrets for your 20s.
19.  Making a budget is completely debilitating.
Even thinking about doing your taxes. Debilitating.
Buying groceries. Debilitating.
Doing dishes. Cooking dinner. Looking for a job. Calling your mom back. Calling your best friend back. Picking up the phone at all. DEBILI-FRICKING-TATING.
So you watch four seasons in a row of _________, while Instagram stalking exes and enemies.
20.  The phrase you dread hearing the most at work is, "Congratulations, you're getting a promotion" because you're getting pushed deeper into a job you despise.
Feel like you're going through a quarter life crisis? Take hope. Failure doesn't ruin your story. Failure helps you write it." – 101 Questions You Need to Ask in Your Twenties
21.  You dream about going back and punching your Smug-College-Self who was so sure had all the answers.
22.  You feel like every time you're a bridesmaid or groomsman, an angel loses it's wings.
23.  You seek out a mentor for answers one week and you avoid them like the 8th grader with bad BO, the next.
24.  You have no idea where to go for answers. Or even, how to find the right questions.
Yet…
25. You're 99.7% sure a road trip would fix everything.
7 Cures For Your Quarter Life Crisis
Now that we've gone through some of the signs you're experiencing a Quarter Life Crisis, how do we find help to get through the crisis?
How do we journey through a quarter life crisis and come out the other side alive, kickin', and ready to thrive?
Here's some hope and encouragement if you're venturing through a Quarter-Life Crisis. (If you want to hear me talk more about this, check out my podcast episode "Are You Going Through a Quarter Life Crisis – Signs and Cures"
1. Crisis is Normal
Experiencing crisis in your twenties is like having gas after a steak and cheese burrito. Just because we don't want to admit it, doesn't mean we don't all go through some bad spells.
Even our own parents most likely went through intense questioning and crisis in their twenties. They didn't just teleport to success and stability. If we ask them what their twenties were like we might find out that as our parents got their stuff together, they went through their own stuff that sounds a lot like yours.
I love what author and teacher Parker Palmer wrote, while in his 60's, about his own long season of turmoil and distress that started in his twenties:
"When I was young, there were very few elders willing to talk about their darkness; most of them pretended that success was all they had ever known…I thought I had developed a unique and terminal case of failure. I did not realize I had merely embarked on a journey toward joining the human race" – Parker Palmer, Let Your Life Speak
2. It's More Transition than Quarter Life Crisis
Transitions start with an ending.
Just like a break up with someone you hoped was "The One", when you're in major life transitions you're breaking up with an important season of your life. You're cutting the anchor that held you in that port, and as it splashes in the water it's bound to produce some waves.
When you graduate from college, move across the country, leave friends or family – you're not only leaving that place, familiarities, routines, and memories, but you're also leaving who you were in that place. You're saying goodbye to a season and even more dramatically, waving goodbye to who you used to be.
Sure bits and pieces will come with you, but just like that huge, comfortable couch in a bachelor pad, some big things will get left behind.
However, it is stuck smack dab in this void of "what now?" where you make the most progress. Maybe a quarter life crisis is not just a stage to pass over, it's a transition process to marinate in.
As I write in my new book 101 Questions You Need to Ask in Your Twenties:
Transitions are not simply a bridge to the next important season of your life. Transitions are the most important seasons of your life.
Let the overwhelming questions of "I have no idea where I'm going" guide you to where you want to be.
(If you want to hear more about thriving through transition and change, check out my podcast episode "How to Make Change and Transition the Most Important Seasons of Your Life")
3. Limit Obsessive Comparison Disorder
Until we cure our obsessive comparison disorder we will continue to light our internal crisis on fire and then feel the burn. Obsessively comparing yourself to others, becoming more and more frustrated that your _____ doesn't look like theirs, is the absolute most effective way to take your crisis to unhealthy, eating raw cookie dough with a serving spoon, levels.
Find help for your quarter life crisis with my best-selling book 101 Secrets For Your Twenties. Now with more than 100,000 copies sold!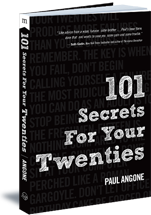 "I read this book in the middle of my quarter life crisis and it has helped so much!" – Marie, Amazon Review
"Hilarious, moving, and life changing…" – Jordan, Amazon Review

Over 184 224 1,190 5-Star reviews and counting on Amazon, check out what people are saying about 101 Secrets For Your Twenties.
4. Kill Unmet Expectations
Maybe it's time to put to death the unrealistic ideas of how instantly amazing your life should have been before these unmet expectations kill you over and over again.
Success doesn't happen in a day, it happens in decades. We are in the exact spot we are supposed to be, it just looks nothing like the picture on the front of the brochure. All the time, effort, struggle, and strain that we're experiencing is not the roadblock to success, it is the stairwell that takes us to the view we were praying for all along.
5. Engage with a Crisis Community
We need to get better at talking through the struggle.
As I write in my new book 101 Questions You Need to Ask in Your Twenties: 
We're all struggling. Yet, we're all struggling to make it appear like we're not struggling.
Let's stop putting on the "My Life is Amazing" Magic Show when no one's in the audience to even watch.
So many twenty-somethings are struggling, we've just become proficient at living by the deadly condition of MCDS — My Crap Doesn't Stink — even when it's smelling up our entire living room.
6. Don't Sit and Stew and Simmer
Open up the windows. Let in some fresh air. Go for a run. Heck, maybe sign up for a marathon. Start yoga. Go to a church service. Read some books. Watch a movie every twentysomething should watch. Volunteer at a retirement home.
If you have no idea what you're doing in your life, just pick something that you know can't be bad and just run with it.
Sometimes the best answers come when we stop sitting around obsessing over finding them.
7. Ask Yourself Good Questions
There's nothing more important to getting through a quarter life crisis than the questions we are asking.
Most people let life just happen to them.
They never ask what they really want and how they're going to get there. So they take that promotion for a job they never wanted in the first place.
They marry the wrong person because they weren't asking the right questions about their relationship.
They become a one-hit wonder in front of a crowd one day, then the next, the bottom of the stage falls out and they go into hiding.
Again, as I write in my new book 101 Questions You Need to Ask in Your Twenties: 
Your twenties aren't about them going as you planned. But how you adapt, change, and grow when they don't.
If you don't start with good questions, and keep asking yourself these questions as you are called to adapt and change, how can you formulate any worthwhile answers?
And don't get me wrong, this process isn't always easy. It takes grit, honesty, and courage.
But if you're not asking any strategic questions about what your quarter life crisis is telling you, then how are you going to find any worthwhile answers? 
Thrive Through Your Quarter Life Crisis
Being 20-something can feel like a pug trying to climb a mountain. It's slow, noisy, and un-pretty, but one tiny step after another and you somehow make it to the top.
Invite others with you on this journey. Ask good questions. And keep warring for hope. Before you know it, your quarter life crisis will be a thing of the past.
Lost With Confidence
As I write in my book 101 Secrets For Your Twenties, "Getting lost and exploring are pretty much the same thing. Explorers just get lost on purpose with purpose."
I can honestly say now, I'm thankful for my quarter-life crisis. If we don't learn how to explore now, then we'll really be lost later. 
My quarter life crisis what forced me to explore and figure out what path I really wanted to go down in life. It encouraged me to think and be intentional. It prodded me to write my thoughts down and devote my life helping others going through crisis with all the books I've written. 
A quarter life crisis is simply an invitation to ask "what and why?" 
Sometimes life will dismantle you so that you can be rebuilt stronger. 
I'd love to hear from you in the comments below on what ideas you have for making it through a quarter life crisis. Did you resonate with any of the tips above?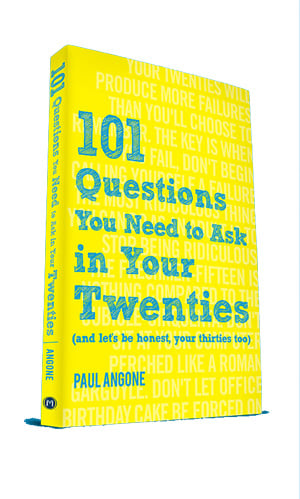 Help cure your quarter life crisis with my book 101 Questions You Need to Ask in Your Twenties. 
"A life changing book! I love that Paul keeps it real." – Dani, Amazon Review
"I read this book back in February, and it actually changed a lot in my life." – Charlotte, Amazon Review