ORDER PAUL ANGONE'S POWERFUL AND HOPEFUL NEW BOOK
"As someone who struggled with believing a lot of lies during my twenties, I cannot recommend this book highly enough." – Crystal Paine, New York Times bestselling author
"This is the book I wish I had in my twenties." – Jon Acuff, New York Times bestselling author of Finish
"You're going to love this book!"–Jonathan Pokluda, author of Outdated and bestseller Welcome to Adulting
UNCOVER THE LIES THAT ARE KEEPING YOU STUCK
Too many twentysomethings are driving through the twists and turns of their lives with windshields covered in mud, lies, and half-truths. And then we wonder why so many of us have crashed?
We need to hose these lies off right now or spend our 20s stuck on the side of the road.
My heart for this new book is to speak truth into the unfulfilled and grey part of our lives. To breathe hope. To remind each of us that we're not alone on the ledge. We have each other. We have a hope for our future. We have truth that we can build our lives on. Our future is wide open. But first, we have to uncover and leave these lies behind.
In 25 Lies Twentysomethings Need to Stop Believing, I take nearly two decades of research, writing, and conversations with thousands of twentysomethings, to define the subtle yet serious lies that keep too many teens and twentysomethings from getting unstuck and living healthy, successful lives in their careers, relationships, and families.
I define and uncover the lies, then get down to the truth and action steps for overcoming them.

More About 25 Lies Twentysomethings
Need to Stop Believing
and Best-Selling Author Paul Angone
My name is Paul Angone and my life's work has been speaking hope and truth to teenagers and twentysomethings. I became passionate about this topic and time of life because I felt like such a failure in my twenties. I felt like an egg that was waiting to be hatched, but was about to break at the slightest fall. I believed so many LIES that were pulling me down.
For the last decade, I've traveled around the nation speaking to groups of Millennials and Gen Z, as well as leaders of Millennials and Gen Z. I received my Masters Degree where I did my research on emerging adulthood and the unique challenges this generation is experiencing. I've also written best-selling books like 101 Secrets For Your Twenties and 101 Questions You Need to Ask in Your Twenties. Yet, I feel like this new book is my most important and needed book yet.
If we don't recognize the lies for what they are and find strategies to overcome them, we will be building the rest of our lives on a cracked and crumbling foundation.
There's too much riding on this defining decade of your life to be blinded by lies. Order the book below.
Want to read the first two chapters of 25 Lies?
*Read instantly the first two chapters from 25 Lies.
PLUS…
+ Free chapters from my best-selling book 101 Secrets For Your Twenties
+ Free Chapters from my best-selling book 101 Questions You Need to Ask in Your Twenties
+ Special "Get Unstuck" 3-part video series
Here's what some amazing people are saying about the new book 25 Lies Twentysomethings Need to Stop Believing




Want to check out some of my other best-selling books? Here they are.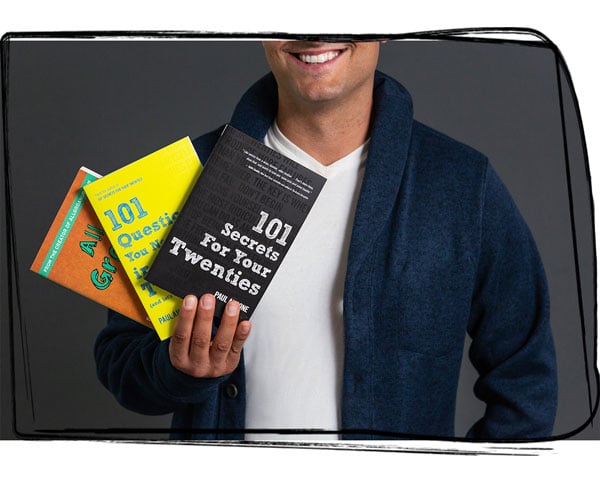 101 Secrets For Your Twenties
"Oh my goodness. It's like he lived my life and came back to talk to me from the future…I'm giving this book to all of my friends." – Amazon Reviewer
"Don't be fooled by the sound of the title: this is not a gimmick. Instead, it is a book every single twentysomething (or anysomething, really) should be running to pick up…I devoured this book, reading pages over and over again. " – Amazon Reviewer
With over 850 1,150 reviews! on Amazon, 101 Secrets For Your Twenties continues to be a best-seller year after year, encouraging twentysomethings all around the world. Check out for yourself why hundreds of thousands of twentysomethings (or parents looking for a gift for twentysomethings) have chosen to snag the spot-on, honest, and hilarious 101 Secrets For Your Twenties

101 Questions You Need to Ask in Your Twenties 
"A MUST READ! I couldn't recommend a more concise, humorous and relatable book." – Amazon Review
"This book is GOLD and worth taking the time to pour over." – Amazon Review
"I read this book back in February, and it actually changed a lot in my life." – Amazon Review
To find important life answers in your 20s, you need to start with good questions.
After the success of 101 Secrets for Your Twenties, Paul Angone followed up with the sequel that captures the hilarious, freakishly-accurate assessment of life as a modern-day twentysomething (and thirtysomething), but now he's digging even deeper. If you think you're experiencing a quarter life crisis, this book is for you.