New book releasing March 2021!
"25 Lies Twentysomethings Need to Stop Believing"
"As someone who struggled with believing a lot of lies during my twenties, I cannot recommend this book highly enough." – Crystal Paine, New York Times bestselling author
"This is the book I wish I had in my twenties. It's hopeful. It's inspiring. Plus, it's packed with strategic insight into living a successful and meaningful life…this is a book all twentysomethings should read." – Jon Acuff, New York Times bestselling author of Finish: Give Yourself the Gift of Done
Who wants to believe a bunch of lies?
How do you block out all the lies, half-truths, and "supposed-to's" constantly assaulting you from articles, social media posts, and well-meaning friends and family? How do you find something real, something true, something infused with purpose and meaning?
Pre-order my newest book 25 Lies Twentysomethings Need to Stop Believing below and send proof of purchase to info(at)allgroanup.com to be entered to win big prizes! And also get my full Finding Your Signature Sauce online course for free! ($149 value)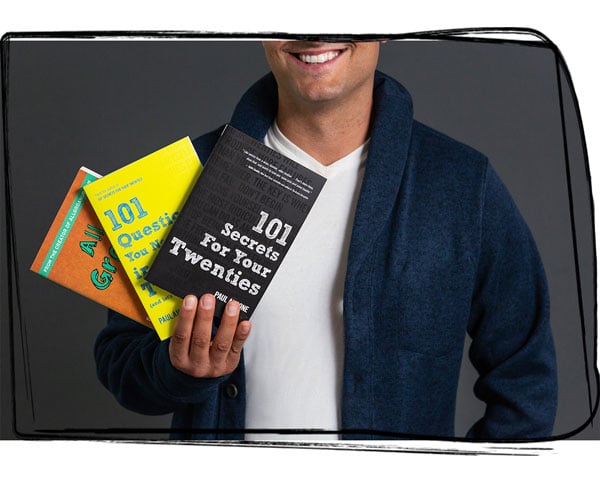 101 Secrets For Your Twenties
"Oh my goodness. It's like he lived my life and came back to talk to me from the future…I'm giving this book to all of my friends." – Amazon Reviewer
"Don't be fooled by the sound of the title: this is not a gimmick. Instead, it is a book every single twentysomething (or anysomething, really) should be running to pick up…I devoured this book, reading pages over and over again. " – Amazon Reviewer
With over 850 reviews on Amazon, 101 Secrets For Your Twenties continues to be a best-seller year after year, encouraging twentysomethings all around the world. Check out for yourself why hundreds of thousands of twentysomethings (or parents looking for a gift for twentysomethings) have chosen to snag the spot-on, honest, and hilarious 101 Secrets For Your Twenties

101 Questions You Need to Ask in Your Twenties 
"A MUST READ! I couldn't recommend a more concise, humorous and relatable book." – Amazon Review
"This book is GOLD and worth taking the time to pour over." – Amazon Review
"I read this book back in February, and it actually changed a lot in my life." – Amazon Review
To find important life answers in your 20s, you need to start with good questions.
After the success of 101 Secrets for Your Twenties, Paul Angone followed up with the sequel that captures the hilarious, freakishly-accurate assessment of life as a modern-day twentysomething (and thirtysomething), but now he's digging even deeper. If you think you're experiencing a quarter life crisis, this book is for you. 

Want free chapters from my books?
*Snag free chapters from all my books, plus…
+ "Get Unstuck" 3-part video series
+ MORE! (all for free!)