Find answers to your life, each and every day.
Change the way you pay attention. 
"Paying attention is a lost art. If you're ready to master it, read this!" – Jon Acuff, New York Times bestselling author of Soundtracks
"Paul Angone is back with another beautiful book to help you dig deeper, dissolve distractions, and listen even more closely to the clues already guiding you." –Jenny Blake, podcaster and author of Free Time, Pivot, and Life After College
"Listen to Your Day is going to help you clean your thinking and find a peace that you didn't know was possible." – Jonathan Pokluda, bestselling author, host of the Becoming Something podcast
"Paying attention just may be the most important thing we do as humans, and we often do such a terrible job at it. Paul Angone's new book shows us how to fix that; it teaches us how to be more human. This one is especially overdue." – Jeff Goins, bestselling author of The In-Between
*Read instantly the first two chapters from 25 Lies.
PLUS…
+ Free chapters from my best-selling book 101 Secrets For Your Twenties
+ Free Chapters from my best-selling book 101 Questions You Need to Ask in Your Twenties
+ Special "Get Unstuck" 3-part video series
Want to check out some of my other best-selling books? Here they are.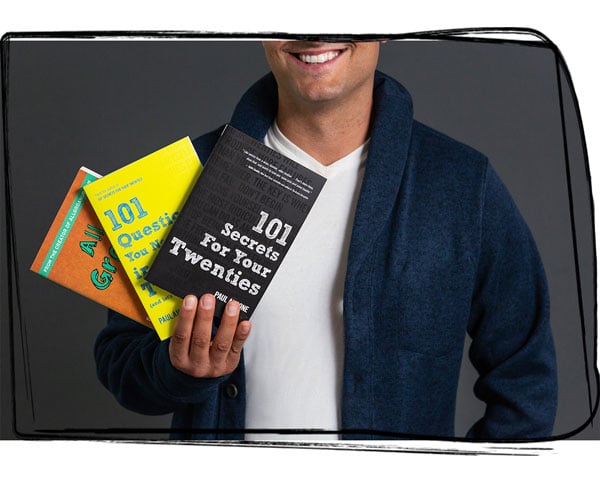 101 Secrets For Your Twenties
"Oh my goodness. It's like he lived my life and came back to talk to me from the future…I'm giving this book to all of my friends." – Amazon Reviewer
"Don't be fooled by the sound of the title: this is not a gimmick. Instead, it is a book every single twentysomething (or anysomething, really) should be running to pick up…I devoured this book, reading pages over and over again. " – Amazon Reviewer
With over 850 1,150 reviews! on Amazon, 101 Secrets For Your Twenties continues to be a best-seller year after year, encouraging twentysomethings all around the world. Check out for yourself why hundreds of thousands of twentysomethings (or parents looking for a gift for twentysomethings) have chosen to snag the spot-on, honest, and hilarious 101 Secrets For Your Twenties

101 Questions You Need to Ask in Your Twenties 
"A MUST READ! I couldn't recommend a more concise, humorous and relatable book." – Amazon Review
"This book is GOLD and worth taking the time to pour over." – Amazon Review
"I read this book back in February, and it actually changed a lot in my life." – Amazon Review
To find important life answers in your 20s, you need to start with good questions.
After the success of 101 Secrets for Your Twenties, Paul Angone followed up with the sequel that captures the hilarious, freakishly-accurate assessment of life as a modern-day twentysomething (and thirtysomething), but now he's digging even deeper. If you think you're experiencing a quarter life crisis, this book is for you.