It's time I gave you an honest glimpse behind the All Groan Up curtain.
Whether you've been reading for years or just joined us here, I'm Paul Angone the author and creator behind All Groan Up. I launched All Groan Up in 2011, almost quit everything in 2012, then published my first book 101 Secrets For Your Twenties in 2013 and went full-time on my own as an author and keynote speaker.
I'd like to share with you, my friends, the good, the bad, the struggles, and the successes of All Groan Up.
I hope the truth in my story will help encourage you, especially if you're also pursuing a blog, a dream, or anything way bigger than yourself!
Let the tell-all begin.
11 Things You Might Not Know About All Groan UP and Paul Angone
1. All Groan Up started as my Master's Capstone Project
I received a Master's in Organizational Leadership from Azusa Pacific University and for my final capstone project I created AllGroanUp.com. I'd wanted to create a site like this for years and knew if I had a deadline, and my Master's diploma depending on it, then I'd be forced to make it happen!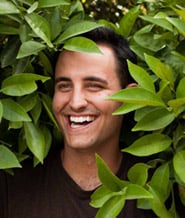 The night before my capstone presentation, I was up until 4 am putting on the finishing touches.
The next day, full of coffee and anxiety, I presented the birth of All Groan Up to a room full of professors, family, and friends. I told them that I wanted to be a voice to and for twenty-somethings. It was very far from the reality of my present, but I was speaking into what I felt was the truth of my future. 
Here's the video that started it all that I shared to a room full of professors. I can't believe they let me graduate.
2. I STILL battle bouts of insecurity and fear at times.
Always have.
Since I was a kid, I've always been afraid to talk to new people. Going to parties to meet a bunch of new people is as comfortable to me as going sky-diving without a parachute.
So putting out articles every week and baring my soul still feels a tad nerve-wrecking.
Most days I feel like I haven't strayed too far from my middle school self — insecure about my weight, acne flair-ups, and someone cooler than I making fun of me. I have this sneaking suspicion that our insecurities never fully go away. We just have to become better at shutting insecurity up when it starts whispering its lies.
3. I type with two fingers
Yep. Two fingers. I think in the last seven years I've typed around 300,000 words. And every.single.word typed with two fingers. I tried learning how to type like a real professional person, but it just never clicked. I never tell anyone this because it's embarrassing to be a writer who types with two fingers! But, what the heck. Now you know.
4. I almost quit. Many different times.
There's been many times I've almost quit. I wrote from age 21-29 with little success and a lot of failures. I got rejected by every publisher around. I was working a full-time job in marketing and my wife and I were both beginning to wonder if it was worth it anymore. I'd been writing for twenty-somethings for eight years. When was enough, enough? Some people were reading All Groan Up, but nothing to call home about.
But then a few weeks before quitting I wrote one post 21 Secrets for your 20's and everything changed. Beautiful people like you shared the article like candy on Halloween. My website crashed numerous times from too much traffic (I didn't know that could be a thing) and that finally gave me the momentum to land my first book deal for 101 Secrets For Your Twenties. 
5. I wrote 101 Secrets For Your Twenties in a month!
The publisher wanted to get a book out quickly to capitalize on all the momentum so I turned the 21 Secrets For Your Twenties blog post into a full book in one month. That's a crazy deadline for the publishing world. But I'd been waiting for something to break open for eight years, so I was going to run as fast and far as I could. My wife left with our two kids at the time for almost the whole month, I took every sick day I could, and I just wrote. Now, 101 Secrets For Your Twenties has sold over 100,000 copies. So incredibly thankful and I'm still in disbelief.
Now I have four published books. 101 Secrets For Your Twenties and 101 Questions You Need to Ask in Your Twenties. All Groan Up: Searching For Self, Faith, and a Freaking Job! (which was pretty much a flop) and my newest book 25 Lies Twentysomethings Need to Stop Believing. 
6. All of this started because I felt like such a failure
My passion for starting all of this came because I felt like such a failure in my twenties. As I've written about in my books 101 Questions You Need to Ask in Your Twenties and Thirties and then my newest book 25 Lies Twentysomethings Need to Stop Believing, "sometimes our pain and problems are not a distraction away from our purpose. Sometimes it's the pathway right to it. What we see as our pain now might be our purpose later." 
So if you're going through some hard stuff right now, you never know how it will be redeemed in your life and how you will then help redeem it in others.
7. Writing is freaking hard for me
I don't just whip these posts out in an hour while drinking a Mai-Thai at the beach.  It takes me time, a lot of time, re-reading, re-tweaking, and by the end, my rear-end hurts like I've been sitting on a railroad track for two days.
And most of the time writing feels like work. Hard, lonely work! Yes, at the heart, I love it and it means something deeply to me. But it doesn't mean I'm singing Disney tunes or whistling while I type.
8. My wife edits every word I write
And when she is not free to edit, the article usually runs wild with a few glaring grammar mistakes.
My wife is seriously the brains behind this operation and does not get the credit/accolades she deserves. She's a former Merryl Lynch financial adviser, but now has the craziest full time job of them all staying at home with our two active girls. To edit my stuff she either has to forgo the only  9 minutes of peace she has in the day or stay up really late.
And she definitely does not shy away from letting me know what she really thinks about something I write! Then I get defensive. And we argue about it. Then I sulk. Then two hours later I usually change it because I know she's right.
9. I had a blog before All Groan Up called Graduwait.com
And a big thank you to the 21 subscribers who read Graduwait!
Very rarely is the first attempt successful. We have to just go for it, put ourselves out there, and learn. I learned so much during the Graduwait days that even though no one read the darn thing, there's no way I could be doing what I am doing now without that first "non-failure, failure."
Here's a picture of the Graduwait logo. How could this not have been a smashing success?

10. For many years I had a day job.
I used to be a marketing specialist at a private university where I strategized marketing plans, creative elements, and was somewhat of a project/client manager. So all my writing for All Groan Up was done in the wee hours of the morning or late at nights.
Here's what I found is the winning formula to pursuing something bigger:
We work at our job, which feeds us while we work at our dream. Then we keep working at our dream, which feeds us while we work at our job. We do both. At the same time. For years. 
But since 2013 I've been a full-time on my own as an author, keynote speaker, and entrepreneur. Now some seasons I've spent more time watching our four kids as my wife worked various part-times as well to help keep things afloat. And now we've also thrown commercial acting as a family into the mix, which has been a fun, interesting, new adventure.
Being an entrepreneur and having a family is rarely a straight-forward endeavor. I never know what each new day is going to bring, which I love and is a challenge at times. Yet, we try to put the right spokes in the wheel to keep everything turning.
11. I strive for authenticity, humor, and a little inspiration/challenge/oh-my-gosh-is-he-in-my-head, with every article I write.
I strive to be the voice of encouragement, wisdom and laughter to our generation. In everything I do. I hope that carries through. If not, please let me know.
(Bonus 12). Emails and comments I get from you keep me going.
Seriously. It's the emails and comments from you that motivate me to log into WordPress again and again, and click "New Post."
Thank you, thank you, thank you.
Wait, did I say THANK YOU!
I can't tell you how much I value hearing from you.
So that's just a small peak behind the curtain. Enough about me! I'd love it if you shared something about yourself in the comments on this article. There's some great comments there already! Maybe something you're embarrassed to tell people (like my two.finger.typing) or maybe just a cool, fun fact about yourself. Don't be ashamed to brag too. We will sing praises or lament with you here at All Groan Up..
Or if you don't want to talk about yourself, ask any question you want about me or this site, and I will do my best to answer as soon as I can. I always try to get back to every person.
Love you all! Thank for your support over all these years and giving me the platform to speak truth, hope, and hilariousness into our lives.