It's time you took a glimpse behind the All Groan Up curtain.
I want you to see the Paul behind the Paul, the story behind All Groan Up, and what it involved getting to the point we are at today. I'd like to share with you, my friends, the good, the bad, the struggles, and the successes.
I hope the truth in my story will help encourage you, especially if you're also pursuing a blog, a dream, or anything way bigger than yourself!
Let the tell-all begin.
11 Things You Might Not Know About All Groan UP and Paul Angone
1. All Groan Up started as my Master's Capstone Project
I received a Master's in Organizational Leadership from Azusa Pacific University and for my final capstone project I created AllGroanUp.com. I'd wanted to create a site like this for years and knew if I had a deadline, and my Master's diploma depending on it, then I'd be forced to make it happen!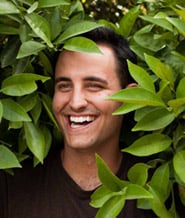 The night before my capstone presentation, I was up until 4 am putting on the finishing touches.
The next day, full of coffee and anxiety, I presented the birth of All Groan Up to a room full of professors, family, and friends. I told them that I wanted to be a voice to and for twenty-somethings. It was very far from the reality of my present, but I was speaking into what I felt was the truth of my future. 
2. I STILL battle bouts of insecurity and fear at times.
Always have.
Since I was a kid, I've always been afraid to talk to new people. Going to parties to meet a bunch of new people is as comfortable to me as going sky-diving without a parachute.
So putting out articles every week and baring my soul still feels a tad nerve-wrecking.
Most days I feel like I haven't strayed too far from my middle school self — insecure about my weight, acne flair-ups, and someone cooler than I making fun of me. I have this sneaking suspicion that our insecurities never fully go away. We just have to become better at shutting insecurity up when it starts whispering its lies.
3. I type with two fingers
Yep. Two fingers. I think in the last seven years I've typed around 300,000 words. And every.single.word typed with two fingers. I tried learning how to type like a real professional person, but it just never clicked. I never tell anyone this because it's embarrassing to be a writer who types with two fingers! But, what the heck. Now you know.
4. I live in LA with my wife Naomi and our two cutie-pie girls
Actually, we live in a suburb of LA County, but LA sounds cooler so I say LA.
I love my wife. And I love our girls more than anything. One smile or laugh from them is a better pick me up than a Venti espresso.
5. Writing is freaking hard for me
I don't just whip these posts out in an hour while drinking a Mai-Thai at the beach.  It takes me time, a lot of time, re-reading, re-tweaking, and by the end, my ass hurts like I've been sitting on a railroad track for two days.
And most of the time writing feels like work. Hard, lonely work! Yes, at the heart, I love it and it means something deeply to me. But it doesn't mean I'm singing Disney tunes or whistling while I type.
6. My wife edits every word I write
And when she is not free to edit, the article usually runs wild with a few glaring grammar mistakes.
My wife is seriously the brains behind this operation and does not get the credit/accolades she deserves. She's a former Merryl Lynch financial adviser, but now has the craziest full time job of them all staying at home with our two active girls. To edit my stuff she either has to forgo the only  9 minutes of peace she has in the day or stay up really late.
And she definitely does not shy away from letting me know what she really thinks about something I write! Then I get defensive. And we argue about it. Then I sulk. Then two hours later I usually change it because I know she's right.
7. I had a blog before All Groan Up called Graduwait.com
And a big thank you to the 21 subscribers who read Graduwait!
Very rarely is the first attempt successful. We have to just go for it, put ourselves out there, and learn. I learned so much during the Graduwait days that even though no one read the darn thing, there's no way I could be doing what I am doing now without that first "non-failure, failure."
Here's a picture of the Graduwait logo. How could this not have been a smashing success?

8. I almost quit writing a year ago.
My wife and I were both beginning to wonder if it was worth it anymore. I'd been writing for twenty-somethings for seven years, and when was enough, enough? Some people were reading All Groan Up, but nothing to call home about. And honestly, it was the one post 21 Secrets for your 20's that put the site into a different trajectory and is what helped lead to teaming up with Jenny Blake at Life After College and another big, BIG new development I'll be announcing next week. Stay tuned!
9. I have a day job.
Yep, I have a day job. A great, extremely busy, stressful-at-times, job. I am a marketing specialist at a private university where I strategize marketing plans, creative elements, and am somewhat of a project/client manager. So all my writing for All Groan Up is done in the wee hours of the morning or late at nights.
Sometimes I feel like I have three full-time jobs between my writing/speaking, marketing endeavors, and family. It's tough, but all very worth it. Most days. Especially if I've gotten more than 6 and 1/2 hours of sleep.
10. I strive for authenticity, humor, and a little inspiration/challenge/oh-my-gosh-is-he-in-my-head, with every article I write.
I strive to be the voice of encouragement, wisdom and laughter to our generation. In everything I do. I hope that carries through. If not, please let me know.
11. Emails and comments I get from you keep me going.
Seriously. It's the emails and comments from you that motivate me to log into WordPress again and again, and click "New Post."
Thank you, thank you, thank you.
Wait, did I say THANK YOU!
I can't tell you how much I value hearing from you.
So that's just a small peak behind the curtain. Enough about me! I'd love it if you shared something about yourself in the comments below. Maybe something you're embarrassed to tell people (like my two.finger.typing) or maybe just a cool, fun fact about yourself. Don't be ashamed to brag too. We will sing praises or lament with you here at All Groan Up..
Or if you don't want to talk about yourself, ask any question you want about me or this site, and I will do my best to answer as soon as I can. I always try to get back to every person.
—
[box title="Snag a FREE portion of my book 101 Secrets for your Twenties before it releases this July 1st." color="#FF0000 "]
[/box]