Insecurities are like Swamp Things. Just when you think you've escaped, they rise up for a surprise attack.
As I write in my book 101 Secrets for your Twenties, "In 8th grade, insecurity became a permanent fixture in my life. Like that 1970's oak entertainment center in your parents living room– freakishly huge, yet it's been there so long you don't even notice it's there."
An acne attack kicked off my sweet thirteen insecurity party – acne of the face, chest, and back variety all making themselves quite at home as my uninvited guests.
Then top that off with braces and love handles the size of Coke cans, and my Insecurity cruise ship was sailing through the choppy waters of puberty with a Titanic-esque chance of survival.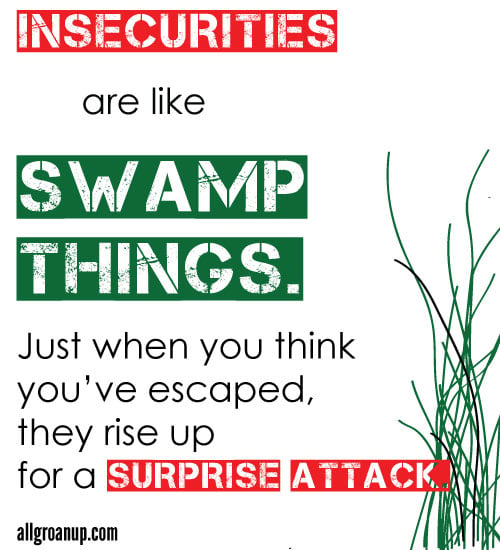 Hiding Under Tables

As lights flashed all around and Loveshack boomed over the speakers, you wouldn't find me during a school dance.
Well unless you looked under the back table. A school dance going on around me as the over-sized tablecloth concealed me from all the girls I hoped would realize I was missing.
I'd picture all the popular girls desperately searching for me like their childhood dog had gone missing. And once they found me, ahhhh yes… they would sweep me out from under the table and parade me around the dance floor, showering me with kisses like a war hero just come back to the states. Of this I was sure.
But it never happened.
I wanted to be paraded as a war hero.
Instead I just fought my own war.
Alone under a table.
Problem is most people don't know they're supposed to be looking.
Insecurities make us desperate for people to come find us while hoping we can remain hidden.
And that's the cancer of insecurity – we artificially remove ourselves from our own lives so that we can be missed.
When the only thing I missed was moments of my life, a theme that continued for years to come.
Insecurities. And Their Lies. That Become Truths
And that's the thing with insecurities.
Just because you grow up doesn't mean you grow out of your insecurities.
Sometimes, if you're not careful, you grow into them.
We must actively face these insecurities and work on removing the root, or the weeds will just keep growing back.
That's why we need help. All of us. A friend. A counselor. A mentor. A pastor. Seek help. Don't hide your insecurities in the dark and let them spread like a fungus. Blast your insecurities with air, light, and open conversations.
Insecurities don't make you a freak, they make you a human.
Find support to face those Swamp Things in the eye and tell them, "You have no power or control over me any longer."
Attack your insecurities before they can attack you.
It wasn't my acne that isolated me. It was insecurity. You lying sack of…
I want back what you stole.