Below is an excerpt of Secret #6 from my book 101 Secrets for your Twenties 
When is my life going to feel like it's supposed to?
Dan landed an amazing job right out of college.
Stacy knew she was going to marry Frank, her soul-mate, two minutes into their first date.
Heather is on the cover of Mom's Inc. taking care of her three kids, whilst knitting sweaters for kids in Uganda — all with perfect hair.
Why can't my life be more like theirs? When am I going to experience the success I am supposed to? I've asked that question exactly 4,399 times and now at 29 I think I'm catching a whiff of the answer.
Never.
Life will never feel like it's supposed to.
Because what the heck is "supposed to"? Does Jersey Shore, The Office, or Modern Family tell me? Is it our Facebook friends? Our parents? Brother? Sister? Job? Who holds the blueprint for my life — down to the amount of kids, salary and size of my house? Who decides "supposed to"?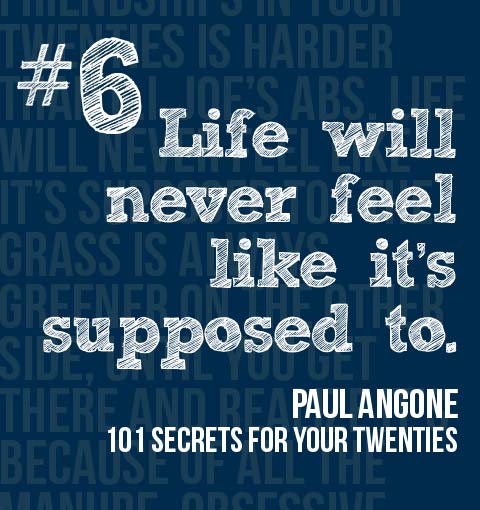 Not living up to "supposed to" stokes my Quarter-Life Crisis and prompts me to eat a tube of raw cookie dough while watching House Hunters – cursing all the happy couples who have an extra $650,000 lying around.
Why am I searching for "supposed to" like a mad scientist who's given his life to finding the Loch Ness Monster? I'm ready to turn that channel.
The single greatest truth about being successful in your 20's and 30's — There is no "supposed to".
"Supposed to" is a lie. A fairy tale. It is the stealer of peace and productivity. It is the leading cause of Obsessive Comparison Disorder with everyone who "has it better."
Because no one has it all figured out. No one holds their first child with all the answers. Not many walk right into their passion from the graduation stage. Not everyone gets married like they're "supposed to" or climbs the corporate ladder full of broken rungs.
If we keep trying to live other people's lives, who's going to live ours?
As I first wrote in 21 Secrets for Your 20s, being twentysomething can feel like death by unmet expectations. However, you are right now, at this moment, exactly where you need to be. You'll just only be able to see that five years from today.
Let go of "supposed to". Tie an anvil around it's neck and throw it out to sea.
 If we're always trying to live like we're "supposed to", we're never going to freaking live.