"The key to success is comparing yourself to everyone, everyday. Then let that anxiety and fear propel you to work harder, faster, and with more motivation." ~ Guy Who Had a Nervous Breakdown at 27
Obsessive Comparision Disorder, the new OCD, is a phrase I coined way back in 2012 here on All Groan Up and then wrote about it in my book 101 Secrets For Your Twenties. 
I'd argue that Obsessive Comparison Disorder is the smallpox of our generation. 9 out of 10 doctors agree obsessive comparison disorder is the leading cause of devouring a whole box of Thin Mints while watching reality TV.
So what exactly is Obsessive Comparison Disorder, what are the side effects, and more importantly, is there a cure?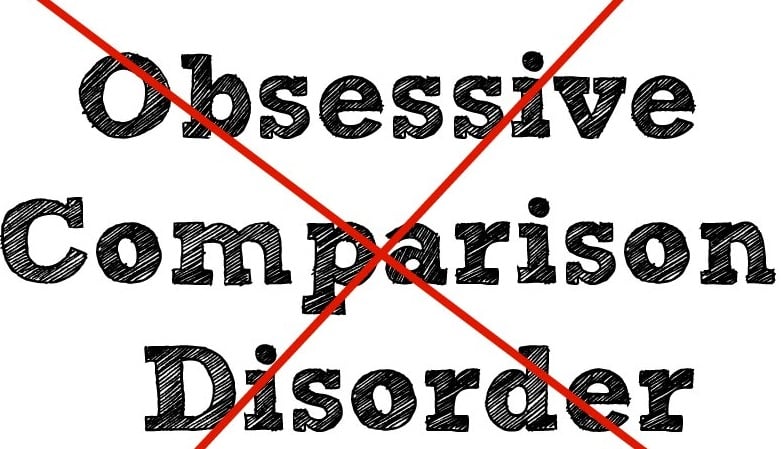 Obsessive Comparison Disorder
Obsessive Comparison Disorder is a phrase I've coined to describe our compulsion to constantly compare ourselves with others, producing unwanted thoughts and feelings that drive us to depression, consumption, anxiety, and all-around joyous discontent.
Like having to run outside to light up a cigarette, our addiction to comparing is uncontrollable and killing us.
We used to have to wait until our ten-year reunion to look each other up and down to see how much worse or better off we were than they. But now with the beautiful invention of Facebook we have the opportunity to compare ourselves to everyone. Every. Single. Day. What a blessing.
The Side Effects of Obsessive Comparison Disorder
Obsessive Comparison Disorder is the leading cause to buying things we shouldn't.
Obsessive Comparison Disorder makes us look through every picture of friend's "My Life is Awesome" Facebook album, depressed because our life looks nothing like "it's supposed to".
Obsessive Comparison Disorder devours with Bubonic-Plagueness creativity, energy, and peace — three vital characteristics you are going to need to live your life well.
Comparison makes us obsessed with trying to ghostwrite other people's stories instead of writing our own.
3 Ways to Cure Obsessive Comparison Disorder
1. Put on Blinders
If you look at a horse that's carrying a carriage out in public, the horse will usually have blinders on. Blinders keep them from being distracted or freaked out by the noise of the peripheral. Blinders force them to focus on what's exactly in front of them, and nothing else.
We all need a set of blinders. We need to be forward-focused. What set of blinders can you put on that will help you look straight ahead?
What if we took all the energy we waste comparing ourselves with those next to us, and just ran?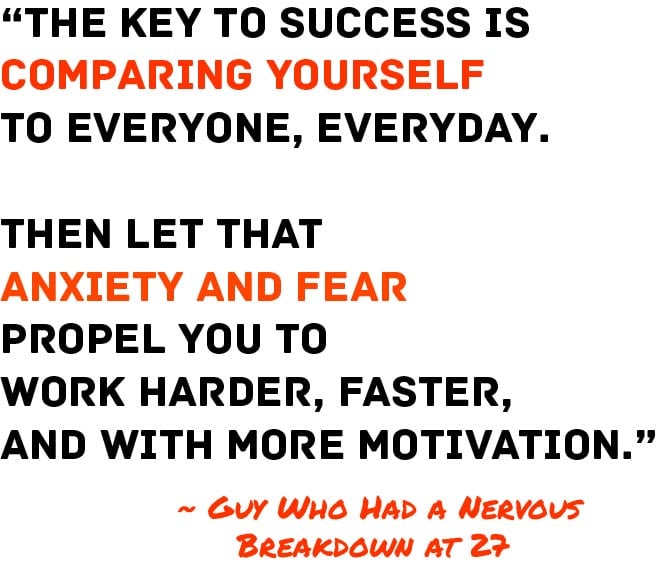 2. Cut back on Facebook and TV
Want to know a sure-fire way to cut your Obsessive Comparison Disorder in half?
Cut your Facebook and TV time in half. This is the best set of blinders money can't buy.
Facebook and TV take your Honda-Sized comparison problem and turn it into a Hummer — guzzling energy for no good reason other than to try and look cool.
3. Celebrate What You Do
Celebrate what you do. Don't obsess about everything you don't.
Someone's always going to have bigger boobs, bonuses, and boats.
We need to celebrate on the ship we're sailing, instead of drowning as we attempt to swim to someone else's.

What's something you recommend for curing Obsessive Comparison Disorder?