What if you could have a face to face talk with yourself at 21 years old?
What would you tell him or her?
Your 20s are about pointing your life a certain direction and one way or another, you're going to be sailing somewhere. What would you tell yourself at 21 years old or in your early 20s to make sure you were on the right course?
I was an idiot at 21 years old.
Let's be honest. People that knew me back then are probably shaking their heads in full-fledged agreement.
If I could transport back and find myself sleeping on that bottom bunk in Santa Barbara, first, I'd tell myself to clean up my room and then do some serious scrubbing on that shower, because that stuff is just nasty. How the heck do you live like this?
Then I'd say these four things to help myself do my 20s right starting at 21 years old.

Creative Commons: Designm.ag — Design by Paul Angone
4 Things I Wish I Could Tell Myself at 21 Years Old
1. You're NOT the Shiz.
Seriously man, you're not.
And the sooner you stop acting like it, the sooner we can get to work.
Cockiness is insecurity on steroids. Like a 4′ 11″ male driving a lifted truck, no one cares how cool you think you look. Actually it turns most people off.
To succeed in your 20s you need two things: Humility and Grit.
Humility — To be willing to take on some not-so-glamorous jobs and roles.
Grit — To plow through the not-so-glamorous. Learn and do it well, so you start getting opportunities for the semi-glamorous.
Twentysomethings who work with grit and humility are the ones who are going to rock their 30s like Nickelback at the Missouri State Fair.
2. Your 20s are Not About Making Money. Your 20s are About Making Relationships
Money should be the least of your worries throughout your 20s.
Don't focus on a paycheck. Focus on people.
Build relationships.
Create a network.
Don't stick to the five comfortable friends who will never challenge you to go further.
I challenge you every week to reach out to someone new, someone older, someone wiser.
Build a Relationship Portfolio.
Not only is it healthy to live life in community. But I promise that every lil' bit of success you experience in your twenties will be birthed out of a relationship.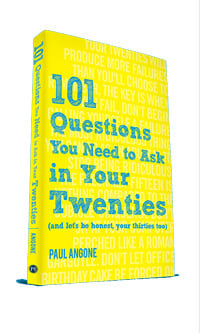 Are you asking the right questions to find success in your 20s?
This is a book I'll keep going back to again and again! – Kelly, Amazon Review

Grab your copy of 101 Questions You Need to Ask in Your Twenties
3. In Your 20s the Real Learning Begins
College is about learning how to learn.
College is about gathering a bunch of different expensive tools to place them in your shed.
Your twenties are about learning how to use these tools effectively, while continually gathering bigger, more complex tools.
Your tool shed out back is endless. Never think you can fill it to the max. Never stop reading, learning, asking the right questions, and challenging yourself.
You'll never learn enough.
4. Process, Process, Process, Process
Don't worry about "making it."
Don't look for that moment you've climbed the mountain and can stand at the top victorious.
Your 20s aren't about conclusion. Your 20s are about the opening paragraph.
You're outlining your twenty-something story in pencil.
Your 20s will be covered in eraser marks and revisions.
That's all right. Your 20s don't come to fruition in a day, they are shaped in a decade.
Your 20s aren't about perfection. Your 20s are about process.
Discover more secrets for your 20s with Paul Angone's best-selling book 101 Secrets For Your Twenties.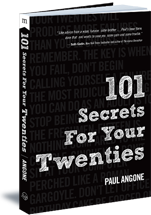 "I read this book in the middle of my quarter life crisis and it has helped so much!" – Marie, Amazon Review
"Hilarious, moving, and life changing…" – Jordan, Amazon Review