I don't know if you're the same way, but I never feel like I've done enough.
I could've worked harder. Could've been more organized. Could've made more money. Could've impacted more people. Could've been a better dad, husband, and friend.
Could of, should of, and seriously, what's wrong with me — the narrative I run through my head daily.
Are you the same? Or are you one of these people who actually live at peace with yourself? (weirdo)
No, seriously, I want to live at peace too, while still challenging myself. I don't want to creep and crawl towards every new year feeling like my year resembled crap on a stick.
So let me ask us all this important question —
What if your year was actually much better than you think?
What if we accomplished some big things this year, we just simply don't give ourselves the freaking credit for it?
Sometimes finding vision is simply about removing all the crap blocking your view. (click to tweet that)
What if instead of approaching the new year with the long list of things we suck at, we made a list of things we did well this year that we want to build upon.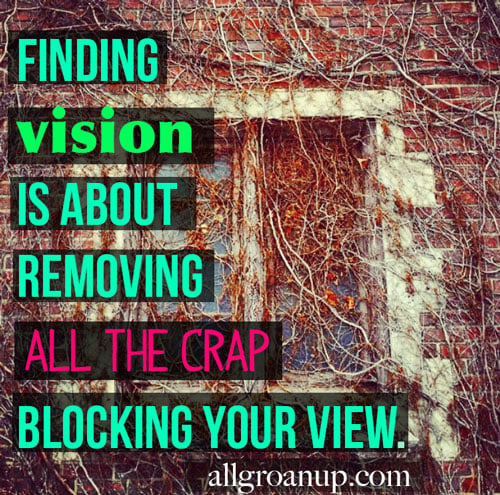 Rip up the New Year's Resolution and Do This Instead…
For another website I write for, the wonderful Life After College created by Jenny Blake, they asked me to list out things I accomplished in 2016 for their end of the year newsletter.
I then of course put it off because I didn't want to think about my year and start eating a tube of raw cookie dough dipped in a tub of icing (it happens. Stop judging me.)
Then when I finally sat down and started putting accomplishments down from my year, you know what, I was shocked how much good stuff was on my list!
I worked with and spoke at some big companies like Aflac, Wells Fargo, and Stewart Title on engaging and retaining Millennials.
I launched a three-year dream — my online course Finding Your Signature Sauce and people have achieved some amazing results from it.
And the publisher of 101 Secrets For Your Twenties just told me that 101 Secrets just had it's best month ever this November 2016 — two and half years after it came out! That doesn't typically happen and I'm crazy thankful that the book has found a life of it's own.
Oh, and my family moved half-way across the country and we had another kid! A boy this time to go along with my two daughters, which I was slightly excited about.
Sure, the year wasn't perfect. But really, is it supposed to be?
Perfect only exists in the dictionary.
But heck, it was a pretty dang good year and I'm blessed beyond belief.
And for 2017, I want to take what went well and build on it. I want to take those ingredients from my Signature Sauce and heighten the flavor.
Instead of focusing on everything that I suck at, I want to focus on what I'm good at and can do even better.
Because you now what — I'm a squatty 5 '11 Italian and I'm not built to run a marathon. It ain't going on my list.
I'm never going to be super organized, so I'm not going to beat myself up for it and create some insane resolution that will only feel like a huge drain on my energy.
We need to stop resembling the nightly news — focusing on the isolated terrible things that happen.
Let's focus on the good and more good will come.
Let's stop acting like the sky is falling and start making it rain ourselves.
You with me?
So right now I give you permission to give yourself credit where credit is due.
In the comments section on this article, share some of the successes you had this year. I know you had some. Force yourself to think about it. Write down a few successes and then how you want to build on them for 2017.
I'll pick my favorite 1-2 responses in the comments and send you signed, free copies of both my books — 101 Secrets For Your Twenties and All Groan Up to jump start your 2017. 
Let's Celebrate the Good of 2016 and Take Off in 2017
I'll start. I plan to launch and take another cohort through Signature Sauce in January.
And I'm working on two new books that I'm really excited about! One book that is similar in style to 101 Secrets For Your Twenties and I know will impact even more people. Then the second book —   a fiction story about a midwestern high school boy named Fanny who loves opera music. Can't wait to have you meet Fanny…
Yes, we all experience challenges and setbacks. But we will never feel blessed if we never give the blessing any credit.
So go ahead, share some successes in the comments and how you plan to grow them in 2017.
Your year was better than you think if you'll just stop and think about it. And heck, if we keep thinking this way maybe 2017 is going to be even better.