Oh yes, the infamous Quarter Life Crisis in your twenties.
One day you're jogging along in your 20s with bounce and buoyancy as upbeat music confirms with every step that you can take on the freaking world.
The next day, you're overwhelmed in quarter life crisis, sprawled out on the couch wishing you could live in Netflix show you just watched seven episodes of.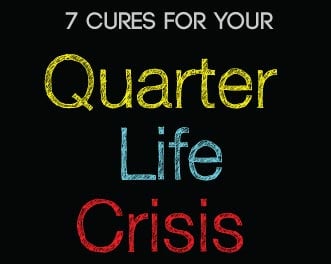 I've written about the 25 Signs You are Having a Quarter Life Crisis. 
Now let's talk about when you're smack dab in the middle of a quarter life crisis. How do you get through it?
How do we journey through a quarter life crisis and come out the other side alive, kickin', and ready to thrive?
Seven Cures for a Quarter Life Crisis
1. Crisis is Normal
Experiencing crisis in your twenties is like having gas after a steak and cheese burrito. Just because we don't want to admit it, doesn't mean we don't all go through some bad spells.
Even our own parents most likely went through intense questioning and crisis in their twenties. They didn't just teleport to success and stability. If we ask them what their twenties were like we might find out that as our parents got their stuff together, they went through their own stuff that sounds a lot like yours.
I love what author and teacher Parker Palmer wrote, while in his 60's, about his own long season of turmoil and distress that started in his twenties:
"When I was young, there were very few elders willing to talk about their darkness; most of them pretended that success was all they had ever known…I thought I had developed a unique and terminal case of failure. I did not realize I had merely embarked on a journey toward joining the human race" – Parker Palmer, Let Your Life Speak
2. It's More Transition than Quarter Life Crisis
Transitions start with an ending.
Just like a break up with someone you hoped was "The One", when you're in major life transitions you're breaking up with an important season of your life. You're cutting the anchor that held you in that port, and as it splashes in the water it's bound to produce some waves.
When you graduate from college, move across the country, leave friends or family – you're not only leaving that place, familiarities, routines, and memories, but you're also leaving who you were in that place. You're saying goodbye to a season and even more dramatically, waving goodbye to who you used to be.
Sure bits and pieces will come with you, but just like that huge, comfortable couch in a bachelor pad, some big things will get left behind.
However, it is stuck smack dab in this void of "what now?" where you make the most progress. Maybe a quarter life crisis is not just a stage to pass over, it's a transition process to marinate in.
As I write in my new book 101 Questions You Need to Ask in Your Twenties:
Transitions are not simply a bridge to the next important season of your life. Transitions are the most important seasons of your life.
Let the overwhelming questions of "I have no idea where I'm going" guide you to where you want to be.
3. Limit Obsessive Comparison Disorder
Yes, I talk quite a bit about a different OCD that I think is running rampant through our generation, but until we cure our obsessive comparison disorder we will continue to light our internal crisis on fire and then feel the burn. Obsessively comparing yourself to others, becoming more and more frustrated that your _____ doesn't look like theirs, is the absolute most effective way to take your crisis to unhealthy, eating raw cookie dough with a serving spoon, levels.
Find help for your quarter life crisis with Paul Angone's best-selling book 101 Secrets For Your Twenties.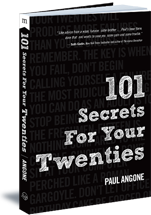 "I read this book in the middle of my quarter life crisis and it has helped so much!" – Marie, Amazon Review
"Hilarious, moving, and life changing…" – Jordan, Amazon Review

4. Kill Unmet Expectations
Maybe it's time to put to death the unrealistic ideas of how instantly amazing your life should have been before these unmet expectations kill you over and over again.
Success doesn't happen in a day, it happens in decades. We are in the exact spot we are supposed to be, it just looks nothing like the picture on the front of the brochure. All the time, effort, struggle, and strain that we're experiencing is not the roadblock to success, it is the stairwell that takes us to the view we were praying for all along.
5. Engage with a Crisis Community
We need to get better at talking through the struggle.
As I write in my new book 101 Questions You Need to Ask in Your Twenties: 
We're all struggling. Yet, we're all struggling to make it appear like we're not struggling.
Let's stop putting on the "My Life is Amazing" Magic Show when no one's in the audience to even watch.
So many twenty-somethings are struggling, we've just become proficient at living by the deadly condition of MCDS — My Crap Doesn't Stink — even when it's smelling up our entire living room.
6. Don't Sit and Stew and Simmer
Open up the windows. Let in some fresh air. Go for a run. Heck, maybe sign up for a marathon. Start yoga. Go to a church service. Read some books. Watch a movie every twentysomething should watch. Volunteer at a retirement home.
If you have no idea what you're doing in your life, just pick something that you know can't be bad and just run with it.
Sometimes the best answers come when we stop sitting around obsessing over finding them.
7. Ask Yourself Good Questions
There's nothing more important to getting through a quarter life crisis than the questions we are asking.
Most people let life just happen to them.
They never ask what they really want and how they're going to get there. So they take that promotion for a job they never wanted in the first place.
They marry the wrong person because they weren't asking the right questions about their relationship.
They become a one-hit wonder in front of a crowd one day, then the next, the bottom of the stage falls out and they go into hiding.
As I write in my new book 101 Questions You Need to Ask in Your Twenties: 
Your twenties aren't about them going as you planned. But how you adapt, change, and grow when they don't.
If you don't start with good questions, and keep asking yourself these questions as you are called to adapt and change, how can you formulate any worthwhile answers?
And don't get me wrong, this process isn't always easy. It takes grit, honesty, and courage.
But if you're not asking any strategic questions about what your quarter life crisis is telling you, then how are you going to find any worthwhile answers? 
Thrive Through Your Quarter Life Crisis
Being 20-something can feel like a pug trying to climb a mountain. It's slow, noisy, and un-pretty, but one tiny step after another and you somehow make it to the top.
Invite others with you on this journey. Ask good questions. And keep warring for hope. Before you know it, your quarter life crisis will be a thing of the past.
I'd love to hear from you in the comments below on what ideas you have for making it through a quarter life crisis. Did you resonate with any of the tips above?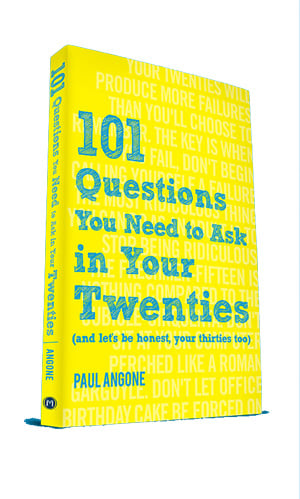 Help cure your quarter life crisis with my new book 101 Questions You Need to Ask in Your Twenties. 
"A life changing book! I love that Paul keeps it real." – Dani, Amazon Review
"I read this book back in February, and it actually changed a lot in my life." – Charlotte, Amazon Review