You can't give up. On your dream, on your passion, on this vision for your life that extends farther and further than your current reality.
You can't pull an Elsa and just let it go — shooting shards of ice at anyone who brings up those dreams you used to talk about.
No matter how distant your dreams feel right now. No matter how hard the path. No matter how unrealistic it feels right now.
You can't give up.
Here's why:
Who will you not be able to help if you give up now?
There's people out there. You might not even know they exist. And they need you. They need your voice, your creativity, your talent, your insight, your encouragement, your hand up from out of the mud.
And if you quit now, you won't be there when they need you the most.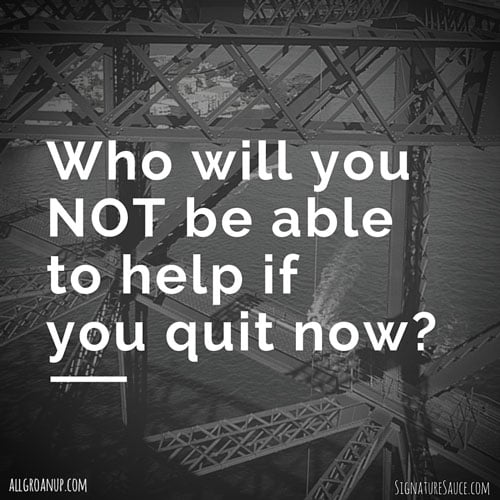 Your moment is waiting for you. If you stop looking, how will you ever find it?
I know, because a few years ago I was a week away from quitting. After years of failing to get a book published, of spending hours and hours growing a small blog, of wondering if my email was broken because I couldn't get anyone to reply back to me.
I felt like a failure.
I had enough.
It was too much work, too painful, and all the writing on the wall was smacking me in the face and screaming at me to stop this silly dream.
And yet, something told me to hold on.
All the facts were telling me that quitting was the smart, reasonable choice. Yet, deep in my spirit I knew that the ripples of quitting now was going to extend further than I could see. I was writing to give truth, hope, and hilarity to others and if I stopped putting words down, no matter if people were reading it or not, then all my ripples would be non-existent.
Quitting creates the De-Ripple effect.
Sometimes the most valiant act you can make in achieving your goals is to cling to them as if it's a death or life experience. Because that's exactly what it is. Like a mountain climber with one hand on the ledge, I knew if I let go now, I was going to kill everything that was important to me.
Now years later, the emails and stories I receive from people all over the world who have been touched by something I've written completely astounds and amazes me every time. It's all much bigger than me. Much larger than even the dreams I used to have that once felt so big and unrealistic.
You see, you can't quit. You just can't. If you've been wavering back and forth – consider this your sign to keep going.
The world needs your passion, dreams, vision, and values. The world needs you to be fully you.
Someone out there right now needs your dream and neither of you know it.
Keep chipping away. It might be 11:59pm for you right now.  You never know what stroke is going to lead to your break out and your breakthrough.
I'd love to hear from you in the comments on this article:
What are you not going to give up on?