Do you know the sneakiest enemy you have to succeeding in your twenties?
For years this held me back and I didn't even realize it.
It's barely visible and very seductive.
It rarely gets discussed, yet it will stranglehold forward movement.
It will lead you into a Netflix or Hulu black hole vortex. Unable to move. Watching four straight seasons of your favorite re-run. Every episode intensifying your desire to live their TV show life, not yours.
It will prompt you to Facebook message an ex. Who just months before was the source of all your problems. Now you're 99% sure will assuredly be the answer.
This enemy will make you believe that your life is not much of one.
What is this sneaky, deadly enemy to twentysomething success, and more importantly, is there a cure?
The Sneakiest Enemy to Success in your Twenties
Nostalgia.
Yep, nostalgia.
And I love nostalgia.
I love watching re-runs. I love thinking about all the "best years of my life". I love writing about the life lessons from Oregon Trail and Saved by the Bell. I love painting a beautiful picture of my past when my present looks pretty lack-luster.
It took me years to realize – it's impossible to step into the future if you're obsessed with the past.
Nostalgia is like running a three-legged race. Backwards. With your leg tied to the leg of your living room couch.
Nostalgia is a liar. Plain and simple. It looks at the past with rose-colored glasses as if it was problem-free.
Problem is – there were always problems. Nostalgia just avoids talking about it.
As I first wrote in The Twentysomething Declaration, each season carries with it the good, bad, and the mediocre.
The worst way to be present in the present is to be obsessed with the past.
If we only see the good in every season only after the season is over, then we will never actually see any good.
The Root of Nostalgia
I believe the source of nostalgia is fear. The unknown of the future mixing with the awkward of the present that makes us want to go back to the past.
Nostalgia has a selective memory. It forgets all the questions, doubts, and pains you had in that season.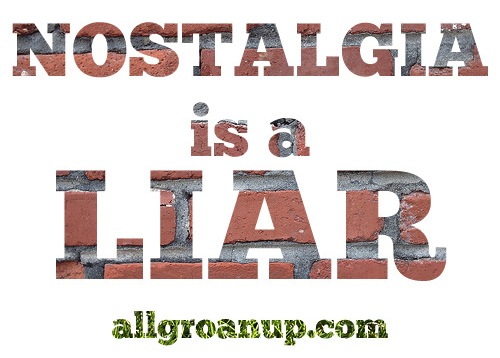 Nostalgia forgets how badly you wanted to leave that season and go out on your own.
Nostalgia forgets the heart-ache.
We don't feel at home in the present so like a Hallmark movie we play scene after scene that is too good to be true of what was.
It's funny how being scared out-of-your-mind about the future will make you fabricate the past.
Like sweet red wine nostalgia feels great going down, but then comes back up after you drink too much of it.
Binge-watching reruns solves as much downing a 12 pack of beer.
Nostalgia and Transitions
With every transition I've faced, I've struggled to find meaning in my new existence. I've sworn that God, this time, had finally forsaken me. This time he was off saving some kid in Romania and just flat-out forgot about me.
But I can look back and see that each new season always led to something better somehow.
The past season was the foundation to the new sculpture. The past is supposed to be the base to build the present, but I kept trying to make the past the centerpiece.
How much quicker could I have seen the good of the present, and the path to the future, if I wasn't walking backwards staring at the past?
No more nostalgia.
No more wishing to go back.
Being nostalgic is like cheating on the present with an ex.
The best way to honor the past is to use it as the foundation of your next future creation.
Live where you are.
Live nostalgia free.
I'd love to hear from you in the comments below:
Can you see anyways that nostalgia has held you back?