I turned 28 29 on Saturday.
Wait, sorry. That's more like Twenty-Freaking-Nine?! Srrrriously?
Nothing will remind you of what was, what is, and what you hope to be, more than your birthday.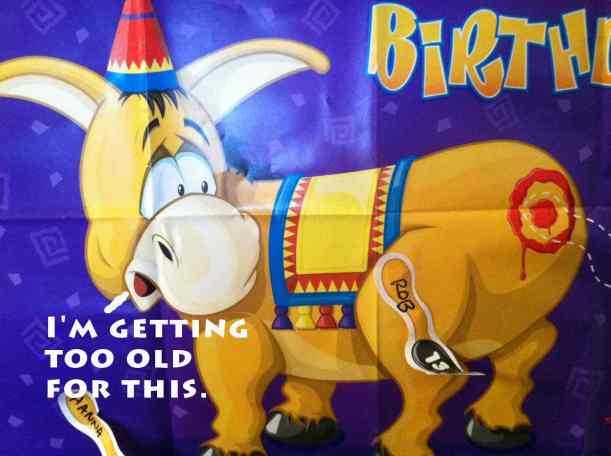 Follow that up with your first Father's Day the very next day like I did, and you've got yourself one giant ball of reflection fit for it's own memoir.
When well-wishers have asked me how old I am, I've had to pause more then once to try and remember. "Umm…27…no…wait…umm…twentyyyy….dang…umm…" Whether it was just sheer disbelief or the sheer inability to do mental math under pressure like a 5th grader competing in the Tri-County Math Bowl, 29 just didn't seem to be the right answer.
BIRTHDAY EVOLUTION
The evolution of your birthday is one of the starkest definitions of what it means to be an emerging adult. Growing up, your birthday is THE DAY that could only be remotely rivaled by Christmas. But Christmas you have to share with your family and some baby in the manger, whom you have to pay dues in an extra, agonizingly long and incredibly boring, midweek church service. So it's not much debate that YOUR DAY literally blows the other 364 away. Even baby Jesus can't compete.
Growing up, your birthday is not a secret. No, it's what you invite every single person within a fifty-mile radius to come celebrate. You'd make a radio ad and scatter fliers all over the six elementary schools in your town, if your live-in grown ups would've let you.
And all the way until 21, your birthday means you've accomplished something and now more of the kingdom awaits you. But after alcohol is now being freely offered – your corresponding birthday's are met with the same ambiguity as your job search and relationship status. What is 23? Or 28? Each year says you're older, but no longer is that really an accomplishment. No, slowly it starts becoming quite the opposite. As if you're somehow doing something wrong by traipsing across the calendar in such a rapid fashion.
 Birthday's in your mid-20's are like that stretch of road trip where you're no longer home, but not yet where you want to be.
It's that flat, long stretch of no man's land where stops to see the World's Largest Prairie Dog and Five-legged Cow seem like the best options you've got.
THE SWEET SOUND OF GROWING UP
But as I turned 28 and found myself laughing hysterically watching 20somethings play pin-the-tail on the donkey — our newborn baby fast asleep even amongst the squeals of pin-the-tail-delight, I began finding myself peacefully at home at 28.
Because as you get older you realize that your birthday is really not that important. Your age is just a number, nothing more. Your birthday is not formulaic algebra — no it's abstract math, and it's up to you to find that right solution.
So here's the birthday equation I'm working on:
29 + Me = Each day becoming more the husband, father, and man I was made to be.
Now that's math that I can do.
____
What do you feel about your 20something birthday evolution? Do you have a new equation you're working on? Let's hear your thoughts via comments below.