Is it wrong that some of us still cringe at the thought of being called the "A" word? Oh no you didn't just call me an Adult.
I'm 27, married, with a new  baby girl. And yet, I still feel like I'm growing up. I know I'm dangerously straddling some unspoken, cultural fence here. That before too long I'll be the guy "real grown-ups" talk about in hushed, official sounding tones while lying in their mahogany, king size beds.
"I can't believe Paul. Someone needs to tell him it's time to grow up."
"Yes, when is he going to act his age?"
"Exactly. Now please turn on C-SPAN and pour me a glass of port."
ACT YOUR AGE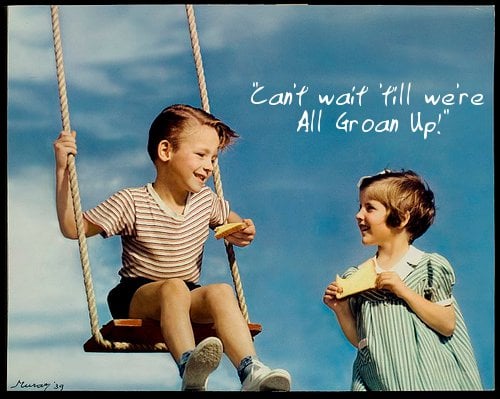 Now if I was 95 years old and failed to act accordingly, I would be an article in the local newspaper and neighbors would be asking me, How do you do it? with pen and paper poised to take notes.
Instead, concerned family friends are calling my parents and asking them – in relation to rearing a 27 year old child, how do you do it? (C'mon. Leave my parents out of this).

But I'll ask the same question; how do we do it? How do we act our age? It's a number, right? There are reasons why math and drama classes don't join forces. We're not asked to act the hypotenuse, so why are we asked to act our age?
If someone has the age dictionary that defines the parameters for 23, or 26, or 29 I'm all hairy, grown-up ears…
GROWING OR GROWN?
Is my longing to stay growing instead of grown, right? Is it smart to dig my feet in, refusing to cross the grown up line like a mule across a stream? Or am I just being that – a stubborn ass?
Well let me call in some other opinions, those smarter than I.
"With age come the inner, the higher life. Who would be forever young, to dwell always in externals?" Elizabeth Stanton
Well I must admit, I have no idea what the heck Ms. Stanton is saying here, which my lack of understanding, is probably proving her assessment quite accurate.
Then there's Albert Einstein, who was pretty smart, I'm pretty sure, and he once told a friend,
"People like you and I, though mortal of course like everyone else, do not grow old no matter how long we live…[We] never cease to stand like curious children before the great mystery into which we were born." Albert Einstein
But then you have the Apostle Paul of the Bible who told people to:
"Stop thinking like children…in your thinking be adults!" Apostle Paul

But then in the same Bible, there's this guy named Jesus who kind of was, or is, a big deal and he said:
"I tell you the truth, unless you change and become like little children, you will never enter the kingdom of heaven." ~ Jesus
Okay, so you take adulthood, I'll take heaven. Seems like a good trade to me.
WHO'S RIGHT?
Why does Jesus say we must become children, while the Apostle Paul tells us to stop?
Why do some say life gets better with age like a fine wine? Then you have Rod Stewart singing Forever Young?
Sure some argue against the teachings of Jesus, but how does one argue against the stylings of Rod Stewart?
This is getting confusing.
Do we need to grow up or stay down? Or maybe it's both? An ancient German proverb says, "To remain young while growing old is the highest blessing." Well the Germans have never been wrong before, so maybe they're on to something.
So what do we let get wrinkly and what do we lather in anti-aging cream? What matures and what stays fresh?
Maybe we need to possess an intrinsic paradox of both – the growing and grown.
What do you think?
Are you growing or grown?
Or both?
Is ADULT a four letter word?
Watch below the video version of this post with some extra commentary, plus a cameo appearance from THE Rod Stewart as we sing Forever Young together!