1.  Mixed Tapes
What a shame to know that our kids won't know the incredible RUSH that came from pouncing on the radio in time to record 95% of Everybody Dance Now circa CC Music Factory. Or to finally snag It Smells Like Teen Spirit only to have your tape end half-way through.
2.  Slap Bracelets

When will we ever again be able to slap-on-fashion so refined?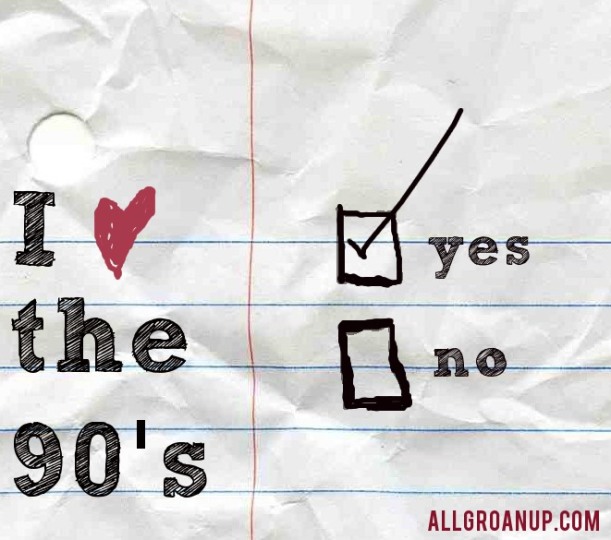 3.  TGIF
Family Matters. Full House. Step by Step. Hangin' with Mr. Cooper. Dinosaurs. And of course my personal favorite, Boy Meets World. Need I say more? Flashback to sitting cross-legged on your living room floor with a Mountain Dew in one hand and your childhood in the other. Just don't ever watch an episode of Family Matters or Full-House now. Remember it as it once was. Please, for nostalgia's sake.
4.  Rise of the Mini-Van
And not these "Super-Vans" kids roll around in these days that will play a DVD whilst feeding you Strawberry Pop-Tarts and massaging your feet. No we're talking Astrovan or baby-blue Chrysler Voyager, with a huge dent on the sliding door that would no longer shut all the way. Where it was not a question of if, but where and when was the van going to overheat next, leaving your family to do the stance-of-shame on the side of the highway.
5.  MTV
You know, Music Television, actually played, um, music. Seems strange but I promise it's true.
6.  Suck and Blow
Sounds a tad bit dirtier than it is, but it was merely a game played in Lindsay Fitsgerald's basement, passing the Queen of Hearts from one pair of lips to another. Just praying that we could somehow find a way to drop the card without it looking too obvious.
7.  MASH (the game)

Take one field-trip to a museum, a pad of paper, and a sprinkle of destiny, and before you could even exit the bus, you'd have married Frank Willington, birthed 18 kids, bought a shack in Maui, and were rocking it as a gold-medalist figure skater. How you managed to birth 18 offspring and still keep your figure-skating-figure, is still a middle-school-miracle.
8.  Prosperity-a-Plenty
Our parents stock portfolio's were soaring on wings of eagles. Not that we cared much about such things, other than how that correlated into trips to Disneyland.
9.  Toilet Papering
I'm pretty sure us 90's kids perfected the art of the T-Pee, which as we all know, was no easy task. Mainly because the fate of each successful T-Pee depended solely on the most fickle of co-conspirators — your friend's mom Martha Eckel.
Somehow you had to convince Mrs. Eckel that she did in fact want to take the Astrovan out for a spin at 10 p.m., swing by the grocery store to pick up a six-month supply of toiler paper, and then wait in the dark for 45 minutes as your little sleep-over-outlaws found a place for all 124 rolls of Downy Soft on Jamie Sorenson's giant elm trees. C'mon Mrs. Eckel, what could be better?
10.  Stick-Stickly
Well you see, he was a Popsicle stick. With googly eyes. All summer long he unveiled Nick in the Afternoon. And we loved him for it.
11.  Oregon Trail
'You have died of dysentery' does not sound morbid at all, but only stirs fond memories of playing Oregon Trail. The journey from Missouri to Oregon huddled around that gray, Apple computer, forging rivers and shooting buffalo, hoping that somehow you and Mary Matthews would be the only two to survive the rattlesnake bites and measles. Thus, of course, proving that God meant this as a sign that you should kiss at recess. Oh, yes that was one glorious trail.
12.  Ska
What a privilege it was to be on the forefront of a musical sensation that we knew would never die.
13.  Four Episodes of Saved by the Bell — a day!
Watching Saved by the Bell was like eating a 1 LB bag of M&M's — you couldn't help but devour the whole thing; even if it meant you felt a little nauseous and were too ashamed to tell your friends. But all summer long there would be two episodes on TBS and then shimmy on over my friend to WGN for two more episodes. As Zack, Kelly, and the Bayside Gang learned about life, so did we. Our generation is alright, only because we were Saved by the Bell.
14.  Carmen San Diego and Where's Waldo?
Two highly elusive characters that constantly evaded our eyes, but never our hearts. Where in the world is Carmen San Diego, you ask? Oh I think we both know.
15.  The Nintendo, Sega, Nintendo 64 Evolution
Mario Brothers blew our minds with Mario Brothers 3 and the secret whistles warping us into eternal childlike bliss. Follow that up with Duck Hunt, RBI Baseball, Contra, Tecmo Bowl, then Madden and NHL Hockey. Then progress to Mario Kart and nights of Golden-Eye in your basement looking for the Golden Gun, and you pretty much have just described 3,459 hours of our childhood.
16.  Real-Freaking-Cartoons
None of this 3-D animated crap. No, we had cartoonist labors-of-love in the form of Talespin, Chip 'n Dales Rescue Rangers, Tranformers, Darkwing Duck, Pinky and the Brain, Animaniacs, Tiny Toons, the list, and our childhood, goes on and on and…
17.  Hot Pockets
One moment it was filled with pepperoni and cheese, the next you have some Grade C steak and peppers, then maybe eggs and bacon cocooned in bready-cocooness. The Hot Pocket possibilities, and our waistlines, were endless.
18.  Family Double Dare
On your mark, get set, GO….!!!" Oh Mark Summers. Oh Family Double Dare. Oh "Physical Challenges" with you carrying a cup of water in your mouth as your mom blasted you with a mud-like substance. I think we all dreamed of one day being on Family Double Dare – mainly so that we could lavish our dad's head with green slime and not be grounded.
19.  The Art of Passing a Note
Our kids might not even know what paper is, let alone the accomplishment of passing a note. Getting a thrice-folded piece of paper from one corner of the room to another without your 7th grade history teacher Mrs. Willingham cracking the code, was an act of stealth worthy of James Bond. No cowardly texts under the table for us. No ma'am. Passing a note was an act of unified defiance, banding a class together like a family passing bread through the Berlin Wall.  It still brings tears to my eyes to think of an entire class sacrificing so much to make sure that Jamie could ask Jake, for Lauren, who was secretly asking for Kaitlyn, if Jake had a crush on anyone — yes or no.
20. What did I miss?