"But, of course, doing your job well often means suppressing yourself." ~ David Brooks

As I read David Brooks recent Op-Ed article aimed at giving college graduates a reality check called It's Not About You, a piece of my GenY-ness died inside (and not in a good way).
But first, let me express that I do believe Mr. Brooks makes some excellent points in his reality-check-slap to the face. Life after college is definitely not going to be brag-to-all-your-friends, six figure, tickle-fest like many recent graduates believe. As I write about in my up-coming book Are You My Life: Searching for Self, Faith, and a Freaking Job!, I graduated six years ago completely assured that the red carpet would precede all my steps.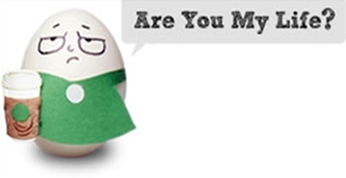 I remember secretly wondering what was wrong with all those twentysomethings who were waiting tables or working boring cubicle jobs.  Come on, how hard could it be? I thought the only problem after college would be picking which amazing job offer I took, like five popular girls all asking me to go to prom.
Unfortunately, just like in high school, they all lost my number.
However, at the heart of Brook's piece is an underlying generational debate going on regarding who GenY is and who the older generation thinks GenY should be. So let me be so brash at 27 years young (isn't that so GenY of me!) to rebuff Mr. Brooks as I take the GenY side.

THE GREAT DEBATE
The reason I shuttered, gagged, and had to take a hot shower after reading Brooks lambaste against following your dreams, passions, and choosing the path of self-suppression is that I believe GenY, daresay possibly more than any other previous generation (every generation loves making these kinds of claims), has the ability, desire, drive, and resources to create like no other generation before. Businesses, websites, marketing plans, paintings, movies, books, brochures, cures, organizational strategies – you name it. Each medium different, but each desire the same: GenY yearns to bring to life something that did not yet exist.

GENY's DEEPEST DESIRE
GenY's / Millennials desire from the depths of their Macs to create. Call it youthful naivety, but more than money, prestige, titles, promotions, corner offices, or pension plans, GenY's deepest desire is to be a integral part in something bigger than themselves, therefore calling upon themselves to be bigger.
Not a suppression of self, but an understanding, expression, and expansion of self to be a vital, creative, and necessary part of the bigger whole.
And honestly, what is wrong with that? Sure GenY has to become better at fitting the desire to create within the realities of deadlines and responsibility (a four letter word for some of us, we'll admit!). But any parent, spouse, or boss who does not recognize and stoke this creative desire in GenY and instead tries to dose it with rigid rules, politics, and policies will extinguish the most imaginative and productive part of the GenY that they are desperately counting on to produce.
Like pulling the roots from a flower and then wondering the next day why it has withered and died, encouraging GenY to suppress self will only lead to suffocation.
Yes I understand fully that in organizations you have to play the game sometimes, keep your head low, say yes when you want to say no, and bite your tongue during those times you want to rip out your bosses. GenY's cannot always be revealing themselves fully within their office setting like some errant streaker. But is the suppression of self, dreams, and passions really the best way to stay clothed?

DEATH OF SELF
Because when does the self-suppression start and when does it stop? When do we start asking the questions of self and when do we start asking questions about what we really want to do with our lives? Self-suppression can be a slippery slope that possibly leads us straight into our mid-life crisis around age 48 (as many of us watched our parents!) when we realize 20 years too late that we let the job, the title, the task, choose our life instead of us choosing the task, and therefore us choosing our lives.
I'll take my quarter-life crisis now if it means avoiding it later — when three kids, a mortgage, and wife are my slightly higher stake.
So yes, call me a youthful idealist but I do believe the sweet spot is when "your deep gladness and the world's hunger meets" ~ Fredrick Buechner. Sure this nexus point is not an easy one to obtain, but I believe it is a goal worth pursuing.
Or as Parker Palmer writes:
"Vocation does not come from a voice "out there" calling me to become something I am not. It comes from a voice "in here" calling me to be the person I was born to be, to fulfill the original selfhood given to me at birth by God…Our deepest calling is to grow into our own authentic selfhood." Let Your Life Speak

CREATIVE EXPRESSION OF SELF IS AN ECONOMIC NECESSITY
If the lines of scholars and philosophers like Parker Palmer and Fredrick Buechner doesn't do it for you, lets bring in Thomas Friedman from The World is Flat. As I elaborated further upon in my video review of The World is Flat, the desire to create, to dream, to live and breathe your passion is not just pie-in-the-sky youthful dreaming. No, Friedman writes that creativity and passion are now an economic necessity to survive and thrive in this world. As Thomas Friedman writes:
"On such a flat earth, the most important attribute you can have is creative imagination" ~ Thomas Friedman
If we allow the suppression of self to be the mantra towards GenY, the only thing we as a nation will suppress is success.
_____
Thoughts?