Today All Groan Up is honored to welcome a guest article by the wise and witty Katie Milton. Enjoy!
 "We're happy, free, confused, and lonely at the same time.  Its miserable and magical, oh yeah!"
Taylor Swift croons in the back ground and reminds me of all the fun I had when I was 22.  Her lyrics and pop rhythms bring me back to a summertime.  A lake in northern Minnesota.  I can even hear the jet skis humming and can taste the bitter burn in my mouth from a jello shot.  I am reminded of the beach volley ball game I played and feel anew the embarrassment of losing a bikini top in a particularly difficult volleying maneuver.  I'm reminded of heart break, motorcycle rides, and discovering Europe.
Needless to say, my twenties were awesome. However, now having pressed on to that magical age of 30 and beyond, I want to share with you ten things I may have done differently to help you avoid the same mistakes I did.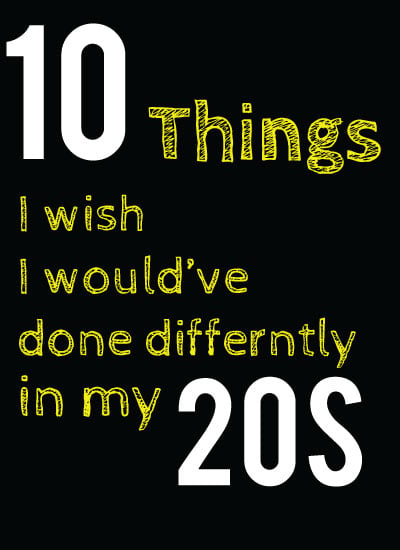 1. I wish I hadn't paid so much for my education. 
Don't get me wrong, I am a huge proponent of 'gittin yerself edumacated', but as many of you have noticed, a BA is the new High School Diploma and an MA is now the equivalent of yesteryear's BA and so on and so forth.  All signs point to this trend continuing and with the high unemployment rate, educated and uneducated people all around the world are being forced to be more creative when it comes to getting yourself noticed and landing that high paying job that you deserve.
So, before going into debt just to attend your family's alma mater, consider other creative ways that you might break in to that niche or industry that you feel so passionate about.  Lots of universities in Europe have internationally credentialed programs that cost a fraction of what stateside schools charge.  Or, it might not be such a bad idea to be that lowly office gopher for a summer just so you can network and brown nose your way into some creative solutions.
2. I wish I had run that marathon. 
In your twenties, your body is in peak physical condition to place some awesome physical challenges upon it.  Do your best to not take that for granted. Spending an alarming chunk of my time perfecting my keg stand techniques in my 20s has significantly impacted my ability to break that 8 minute mile I ran in high school.
3. I wish I had learned Korean. 
I lived in South Korea for a year and a half during my late 20s and during my time there I did not even once try and learn the language.  I argued that I was never going to need it for anything. Ever. In my entire life.  Combined with the mixed feelings I was having as a result of culture shock, that excuse seemed to be a fairly valid reason to not waste my time.  You want to know the 1st question that everyone asks when I say I lived in Korea?  You guessed it- Do you speak Korean?  The answer to that question always weighs heavy on my heart because I know that acquiring even a little bit of that language would have at the very least provided me with a challenging diversion while I was there as well as more hearty pats on the back in future networking sessions.
4. I wish I had worn more sunscreen.  Does this need an explanation?  Put it on like frosting, folks
5. I wish I had gotten more sleep.
While in high school my strict parents enforced a 12am curfew.  At the time, it felt too restrictive and ridiculous. I argued incessantly. They argued back, "Nothing good happens after midnight."  I spent a lot of time in my 20s learning that lesson personally.  I proved to myself that they were right.  Think about it?!  After midnight is when someone gets naked, someone gets hurt, someone gets involved in senseless drama, something gets broken, someone gets cheated on, or someone cheats.  Inevitably, someone gets sick and on occasion permanent sharpie art begins.  Don't forget, nothing good happens after midnight.
6. I wish I would have slowed down or said no. 
The decade of your 20s is a tumultuous time.  Everything is exciting, energizing, interesting, and fascinating. Combine that with some misguided peer pressure and you have a recipe for someone feeling, at the very least, uncomfortable.  It is easy to get swept away in the tide of exciting emotions but I wish I would have been self aware enough to press the pause button on some of the more hasty decisions I made.  Some bitter memories may have been different if I would have taken some extra time to decompress and reflect instead of rushing head first in to what ever excitement was presented.
7. I wish I would have journaled consistently and kept more detailed notes. 
As it was, I journaled a fair amount, took lots of photos, and kept "the memories" more of less organized, as far as I knew. But after a recent trip to my parent's attic to review the journals and keepsakes in search of some solid adventure stories, I was disappointed to find stacks of pathetic scribblings with long stretches of months and even years between entries.  As an aspiring writer, you might be able to imagine how disheartening it was when I realized I might have to write fiction instead of memoirs.  Point is, you never know when that stuff is going to come in handy and keeping it detailed, organized, and safe is something you will appreciate.
8. I wish I had maintained more quality connections.  Life is busy and it speeds up a bit as you near the end of your twenties.  Well, it feels that way because you are no longer in the same geographical location as your best friend from high school or your college roommate or that one person that took off on an amazing adventure and is now earning six figures from selling the movie rights.  Maintaining quality relationships amidst a cross country move, a marriage, a family, a divorce, or death is a considerable undertaking and requires commitment and intention.  Keep your close ones close and you'll experience less friendship angst in your 30s and 40s when the shiz really hits the fan!
9. I wish I would have been more disciplined.
Comparatively, I have a decent amount self discipline but overall I am a self proclaimed jack of all trades and a master of none.  Which is fun during a social networking session when you can bust out a Tom Cruise move from Cocktail using a Malibu bottle and follow that up with an acoustic operatic rendition of Se tu m'ami by Alessandro Parisotti, all the while bragging about your pirate adventure off the Caribbean coast of Mexico.  But when you aren't good enough at any of those things to nab a job offer, you are just a fun party trick.  Having the self discipline, focus, and dedication to become an expert in some area (even if it is fire dancing) will not only strengthen your character but it will also fend off future anxiety attacks in which you wonder if you lack credibility in any one area.
10.  I wish I had worried less.
During your twenties there is a a lot of pressure to answer all of life's profound questions.  What is especially confusing about these questions is that it is all the "adults" that are pestering us with the meaning of life even though they don't have the damn answers themselves!  In your twenties the answers don't matter.  Rest easy knowing that some people never find the answers even after an entire lifetime of searching.
So, go forth, be brave, challenge the status quo, and remember that hard work can cover a multitude of sins.
I'd love to hear from you in the comments below:
Based on your experience, what would you add to this list?
Conversely, what things did you do in your 20s that you are grateful for?
Katie Milton is an aspiring writer living in Mexico who is incredibly grateful that she had the courage to quit her corporate job and sell what little she had in her mid twenties to travel the world and never look back.  Find her at www.katiemilton.com and follow her on Twitter.
[box title="Snag a FREE sneak peak of my book 101 Secrets for your Twenties." color="#FF0000 "]
[/box]