Making friends was so easy when we were kids. Or at least that's how my nostalgia remembers it (successful counseling sessions blocking my freshman and sophomore years of high school).
You tackled a kid at recess. Partnered with someone for Bio Lab. Played a pick up basketball game at the park. Got cast in a play. Moved into a dorm.
Then bam, you had a friend.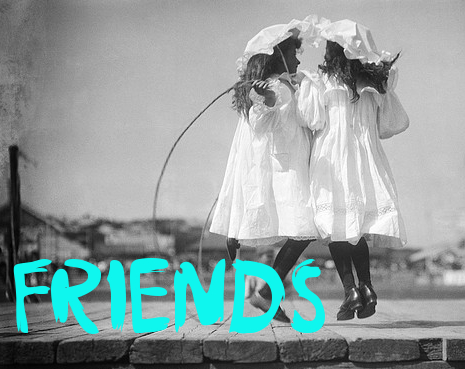 Lots of them.
Like the kid who's dad worked for Nintendo — friends just waiting at your doorstep.
And then college happened — the height of friend-mania.
And then college ended.
You sang "…friends are friends forever…" arm to arm with your best friend for life you swore you'd  never forget right there beside you her name coming to you shortly…
….SamanaaaThereseeEileeen….
Where Did All The Friendships Go????
Then you entered the abyss — the friend-abyss.
Your 20s and 30s are deep, uncharted waters were friends are dumped in black bags never to be seen again.
All those friends-are-friends-forever friends, gone – the apparent expiration date on "forever" lasting about two and half years.
Because you move. Get married. Have kids. Work a 60 hour a week job. As I wrote in 101 Secrets For Your Twenties:
Keeping friendships in your 20s is harder than Ryan Gosling's Abs. Because no longer do you have any shared experiences.
So after a couple back-and- forths on voicemail, then a couple texts, then a couple Facebook messages — next thing you know your friendship has been reduced to throwing out the once-a-year "Happy B-Day!!!!" Facebook wall post, giving it four "!!!!" to show just how really excited you are about your "friend." (Without of course spending the time to actually write out the entire word "birthday", let alone give them a call).
Making New Friends
If keeping up with old friends is Chuck-Norris'-Abs-hard, making new ones is Chuck-Norris'-Fists-of-Destruction-harder.
A two year old who can't count could count all the new friends I have made post-college.
Between work, wife, baby, work outside of work, and then those silly things like the need to sleep, who has time to go meet new people? And then actually go through the long, awkward process of developing a friendship?
And the only thing harder than finding new friends post-college? Finding new couple friends post-college – now four people to toss into the Compatibility-Blender.
And the only thing harder than finding couple friends post college? Finding couple married friends with young babies who:
A. Aren't on the fast track to divorce. So that by the time you finally go through all the awkward lunches, meet-and-greets, and you seal the friendship deal, one of them isn't off with their secretary… (wish this was hypothetical…)
B. All four adults like each other, but the baby keeps slapping yours in the face and throwing temper tantrums like an Orange-County-Teenager who gets a KIA for her first car instead of BMW.
This friend-shoot ain't easy…
That's why for the second post of this series I've written about three keys to making and keeping friends post-college. Stay glued to the screen.
But what say you? Has it been difficult for you to make or keep friends since college? If so, here's the follow up post with three strategic tips on how to make and keep friends post college.