Have you ever spent hours searching for those special websites that will rescue you from pounding waves of Internet-ness onto a tropical island filled with lush, chocolate trees of Internet-bliss?
(Yes. It's that epic).
Now of course All Groan Up is at least in the Top Three with it's resources like: 21 Secrets for your 20s, Three Life Lessons Learned from Playing Oregon Trail, and 31 Ways You Know You're a GenY Twentysomething.
And if you have a website, it's assuredly snuggled right next to mine drinking Mai-Thai's whilst we change lives. (Not sure why I paired alcoholic drinks with enacting change, but I think it works…)
But apart from your website (of course, that's a given), and mine (no brainer, Professor), the Chalkboard Question for the next couple weeks is: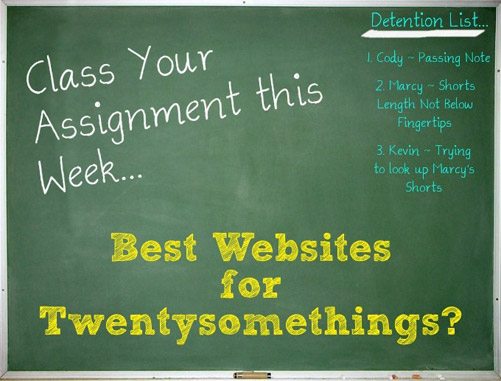 To kick off the list, here are some websites that I believe every 20something needs to take a big bite from, or else, continue consuming Internet meals that are small, stringy, and lacking flavor.
Twentysomething Career Sites:
Jenny Blake, aka (I'm in aka mode apparently) recently published author of Life After College, (Link to Amazon. Not an affiliate. Linking because it's that good) presents practical and insightful "tips & resources for life, work, money, happiness, personal growth & productivity".
And in I'm very excited that as of 2013 I have been a regular contributor for Life After College. 
Michelle Ward, aka The When I Grow Up Coach, writes about career with wit, wisdom, and heart. A  more killer-er combo than burger, fries, and a chocolate shake (unless of course we're talking In N Out here…but I digress…). Granted Michelle and I have agreed we are cut  from the same clothe aka we're Batman and Batwoman. (We're still working on our superhero nomenclature because Batwoman just doesn't sound that flattering…)
Corn on the Job is a leading career and job search blog ran by career expert, Rich DeMatteo. Slather on some butter and take a big bite.
4. JOB JENNY
As the head of her own recruiting agency for the last seven years, Jenny's job has been to find the you's and me's jobs, thus why her blog and e-book is chalk full of gold.
"Gold. Them thar's GOLD!"
Her e-book To Whom it May Concern: Or How to Stop Sucking at Your Job Search is this quasi-magicial, tangible, strategic game plan to not only help you get A job, but THE job with steps that YOU CAN take the moment you peruse the first page. (cue Superman theme music and July 4th firework display). Also if you need help with your resume, check out her Ridiculously Awesome Resume Kit.
5. YOUTERN
Not only can you land a smoking internship here, but the Savvy Intern offers a plethora of stellar content on how to land a job and manage your career.
6. UNDER30CEO
Stellar resources for any twentysomething pursuing entrepreneurship, leadership, or awesomeness.
ROCKING LIFE AS A TWENTYSOMETHING:
1. GEN Y GIRL
Kayla Cruz is about Sharing. Learning. Improving. And ensuring that we are best equipped to be the leaders of tomorrow.
Not too shabby.
2. THE UNLOST

Therese Schwenkler is blunt, hilarious, and wise-with-slangy-wisdom. She writes for the young & confused, bringing better direction to today's generation. Therese is also an All Groan Up contributor with her article: The Facebook Mistake You Don't Know You're Making.
Michelle Acker, aka (I promise that's the last one) another stellar contributor on All Groan Up of such posts as Do We Have Wrong Expectations? offers a beautiful and authentic perspective when "life does not always go as planned.
Amanda Abella is the brain child behind this fab Gen Y blog where she discusses health, career, personal finance, entrepreneurship, and more. She is also the author of the upcoming ebook Grad Meets World Ultimate Guide: The First Year Out of College.
Twentysomething Faith, Calling, and More:
God. Life. Progressive Culture. Your one-stop-shop to stay informed and engage. Been honored to write for Relevant Magazine twice with: Creativity's Worst Enemy and Death by Validation.
2. JAMIE THE VERY WORST MISSIONARY 
Jamie is all about "inappropriate remarks, embarrassing antics, and generally lame observations from a Christian Missionary in Costa Rica."
3. PEOPLE OF THE SECOND CHANCE
Overthrow Judgement. Liberate Love. A freeing site. I had the privilege to write a very personal article for them with: Acne Scars of Understanding.
Matt Appling is funny, sarcastic, and smart – basically the kind of stuff that makes discussion about theology and culture very interesting.
Justin, a good friend, founder of non-profit These Numbers Have Faces writes with the wisdom of a grizzled fifty year old who's seen some things. His sweet spot is the nexus of faith and calling all whilst swmming within the murky waters of your twenties and thirties.
A community site that "believes in the power of stories to change the world".
Nicole Cottrell offers a no-B.S. guide to faith, marriage, sex, and culture.
TWENTYSOMETHING RELATIONSHIPS:
Joy Eggerichs, twentysomething daughter of best-selling author of the book Love and Respect, runs an interactive, honest, and engaging site on everything relationships for Gen Y and Millennials.
Watch an interview I did with The Joy Eggerichs herself on All Groan Up.
Ally moved, married, and now thrives at the intersection of relationships and faith at Ally Vesterfelt. She is raw, honest, to-the-point, and a good read for anyone trying to figure out this crazy little thing called love and faith. I was honored to write a guest post for Ally called 10 Tips for Dating in your 20's.
Big-Time Enough to Use Their Name as their Web Address and Yet, Are Still Quite Appealing:
Chairman of Thomas Nelson Publishers, writing on "intentional leadership". Basically, it's like having a mentor delivered right to your inbox. Without having to even buy him lunch!
2. JON ACUFF
I try most times not to jump on the "OMG, OMG, this guy is so amazing" bandwagon as much as possible. But… "OMG, OMG, Jon Acuff is amazing…" This guy can't help but create authentic, honest, hilarious, and profound stuff. Grab a big spoon before visiting his site because you're going to get a mouthful.
3. SETH GODIN
If you don't know Seth Godin, well click the link, grab a pen, and start taking notes.
COMMUNITY SITES:
Definitely could've been listed under "Career" sites as well as Brazen Careerist is "a career management tool for next-generation professionals." But it seems the real power behind Brazen Careerist is the Brazen community of top-notch GenY Twentysomething professionals that you begin to call collaborators, colleagues, and friends. Brazen Careerist has gone through a face-lift of sorts recently, so I'll be interested to see how their new format and layout works logistically in the lives of twentysomethings.
Sometimes blogging in, and through, your 20's can be a very lonely experience. But the only thing lonelier? Blogging in your 20's with consistently no one reading your blog! 20something bloggers "has brought together thousands of bloggers from all over the world, and spawned a vibrant community of like-minded, fascinating people who thrive on one another's support and feedback." It's a place to connect, put your feet up, grab a cup of coffee and stay awhile because you've made it home.
TWENTYSOMETHING WATCH LIST:
?
Holy shiiiiiizzzer — there's tons of websites out there. I've left out so many notable/amazing/what was I thinking? websites — so please add to the list below with your Twentysomethings MUST'S….