Today All Groan Up is honored to welcome Allison Fallon. Ally is honest, wise, and creative in her writing, both of which you'll see magnified in her article below. Enjoy!
This is a letter to moms and dads of 20-somethings everywhere, of all kinds who are leading and parenting their adult children— surrogate moms and dads, adoptive moms and dads, biological moms and dads, and just any person of an "older persuasion" who happens to love 20-somethings and is parenting adult children. 
Dear Mom & Dad —
I got your voicemail yesterday. Sorry I didn't call back. I wasn't ignoring you, it's just that there's been a lot going on around here and by the time my day slowed down, I was really tired, and didn't feel much like talking. Plus, it was past your bedtime.
I never want you to think I'm ignoring you.
Sometimes it's just hard to stay in touch.
But since you're sleeping, and I'm still awake, clicking away on my keyboard, computer glowing in my face while I'm half-tucked into bed, I thought I'd write you a letter instead. There are some things I've been wanting to tell you.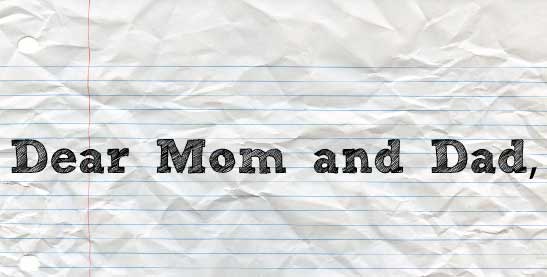 I was thinking about it the other day, about that time you asked what I needed from you, and I said, "nothing." I changed my mind since then. I think I figured out what I need. It's not money, and it's not advice.
I just need you to tell me everything is going to be okay.
I need you to tell me I have what it takes.
I'm sure sometimes it's hard. You see me making a decision that you think might hurt me, and want to protect me from that. You never want to see me hurt or sad. But the older I get, the more and more responsible I feel for my own choices. I'm trying to figure this all out, and I need you to believe I'm not going to mess everything up.
This is harder than I thought.
I was thinking about how I used to come to you when I was little and climb into your lap. I'd tell you about something that happened at school, or about how my stomach hurt. No matter how difficult the problem, you would help me fix it. Science fair projects. Book reports. A conflict with my teacher. Disappointment over a bad grade.
One time you even stayed up with me until 2am writing my English essay.
Remember that? I was such a mess, crying and swearing there was no way this would ever be done in time for school the next day. You just sat there calmly, and asked me to explain to you, piece by piece, what exactly I wanted to say.
If I didn't make the team, or didn't have friends, you always had an answer. You always made it better. And there are moments I wish life was still like that, that I could still come to you with whatever I was facing, and it would make everything better.
But I've got to find my own way now.
Don't get me wrong. That doesn't mean I don't need you. I do, as much as ever. I just need something different from you than I needed before. I want your advice — I might even ask for it — but it isn't what I need. What I need is your reassurance. Your affirmation. Your unequivocal confidence in who I am.
Even if I'm not like everyone else. Even if make a wrong decision.
What I need to know is when you're proud of me. You don't have to say it if you don't mean it, but if you think it, it would help me to know. It would help to know when you think I'm headed in the right direction, or when I do something that makes you happy. You don't have to. And trust me, I can tell when it sounds forced.
But if it crosses your mind, I'd love to know.
And yes, I'll try to do a better job of staying in touch. I miss you. I worry that you think I don't because of how little I call, but I do. You have no idea how much I love our conversations, how much of what you say I take to my heart.
You'll always be my parents. But now you're my friend, too.
Love you forever.
---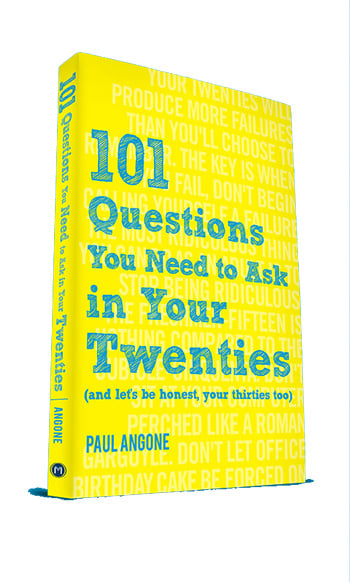 Whether you're a twentysomething looking for answers, or a parent of an adult child trying to help, the best way to find clarity and direction for our 20s is by starting with the right questions.
Grab my new book 101 Questions You Need to Ask in Your Twenties
This new book is 12 years of research and writing culminating into the most important questions everything twentysomething needs to be asking, all with the same easy-to-read style and humor as my best-selling book 101 Secrets For Your Twenties.
Find clarity and direction for the most defining decade of our lives with 101 Questions You Need to Ask in Your Twenties.