With millions of blogs and websites out there, how do you find the top websites for Millennials and best websites for 20-somethings?
What are the top websites for Millennials that you can visit not just for information, but actually relevant, life-changing info?
My goal is to rescue all twentysomethings and Millennials out there from the pounding waves of Internet-ness onto a tropical island filled with lush, chocolate trees of Internet-bliss.
(Yes. It's that epic).
First — What makes me an expert on the top websites for Millennials and best blogs for twenty year olds?
Well, I've had the honor of running one for the last seven years here at All Groan Up that has been read by millions of people in 190 countries — with articles like 21 Secrets for your 20s, 25 Signs You're Having a Quarter Life Crisis, and 5 Shocking Statistics About Actual "Millennial Problems" going viral on the Interwebs.
I still can't believe that I get to write books, encourage, inspire, and speak to Millennials for a living. Then as well, speak about how to lead and retain Millennials to leaders seeking to understand them better.
Then I have three books for Millennials, including the best-selling 101 Secrets For Your Twenties and my newest book 101 Questions You Need to Ask in Your Twenties: (and let's be honest, your thirties too)
Alright, let's get to it — What are the top websites for Millennials?
Apart from your website (of course, that's a given), and my website (no brainer, Professor), this is the question.
Below is an updated and expanded list broken down into the following categories: career and finance websites for Millennials, top Millennial bloggers on life advice for your 20s, relationship websites for 20-somethings, faith in your 20s websites, and even sites for Millennials who love to write.
I'd love to hear your suggestions within the comments if your favorite Millennial website is not on here.
Here we go.
Here are some of the top websites that I believe every Millennial needs to take a big bite from, or else, continue consuming Internet meals that are small, stringy, and lacking flavor.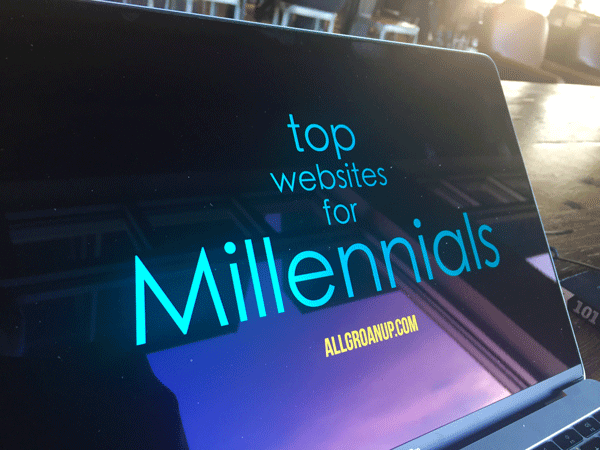 Career, Personal Finance, and News Websites for Millennials:
Life After College 
Jenny Blake, recently published author of the amazing career/change book Pivot, presents practical and insightful "tips & resources for life, work, money, happiness, personal growth & productivity".
I have been a regular contributor for Life After College, wow since 2013 and I've been a big fan of Jenny Blake since my early days on the Internet. She's still killing it.
2. Happen to Your Career
Scott Barlow, who runs Happen to Your Career, is one of my favorite people whom I've never met in person. His excitement, inspiration, and knowledgeable career advice is unstoppable. He regularly posts on his website, mainly his latest podcast. Then as well, he offers a Figure Out What You Want to Do – Free 8 day course that is an excellent resource for Millennials struggling with their career (or lack thereof).
3. The Template
Danny Rubin is the most hardcore practical career blogger I know. He brings the details to the details, giving you the tools on how to effectively communicate through emails, resumes, and job interviews. His book — Wait, How do I Write This Email? is an excellent career resource and go-to-guide for every Millennial. I had the honor of connecting with Danny years ago — and year after year he remains one of my favorites.
Shannah Compton Game is the real financial deal. She's a certified financial planner and brings a wealth of personal finance information that all Millennials need. If you need advice on finances, she's your go-to resource. Shannah is a thought-leader in the financial space for Millennials, is extremely smart, and is a wonderful person to share ideas with.
5. JOB JENNY
As the head of her own recruiting agency for over 11 years, Jenny's job has been to find the you's and me's jobs, thus why her blog, courses and e-books are chalk full of gold.
For anyone looking for resume help, you need to check out Job Jenny's Weekend Resume Makeover. It's a paid course, but it will help you land a better job so definitely worth the money. Plus, Jenny is just good people. She is so good, she's also given me a $40 off coupon for the community here at All Groan Up for her Resume Makeover. Just click the link for the Resume Makeover and enter the code: AGUVIP
6. theSkimm
My wife is an avid Skimm-er so I needed to give theSkimm it's due. It's the daily news condensed into a humorous tidbit and delivered to your inbox daily. Pretty helpful way to stay abreast without having to watch the nightly news — because seriously is there anything more depressing than watching the nightly news?
Jon Mertz, is a Baby Boomer, marketing executive, and the creator of The Thin Difference. What I love most about Jon's work is that he offers Millennials practical, insightful advice on advancing your career. And he does it from a place of support, encouragement, and wisdom, instead of the condescending generalizations that some Boomers cling to when trying to describe Millennials.
Jon is a Millennial mentor and his book The Thin Difference is a great resource for young professional Millennials and those leading them.
Blogs/Podcasts about ROCKING LIFE as a Millennial:
1. GEN Y GIRL
Kayla Cruz is about Sharing. Learning. Improving. And ensuring that we are best equipped to be the leaders of tomorrow.
Not too shabby.
I had the honor of writing the forward to Kayla's new book — Corporate Survival Guide For Your Twenties. If you're doing corporate and you were born a Millennial, this is a great resource.
Rachel brings a wealth of know-how to un-confuse the most confused Millennials out there. Whether business advice or a little pop culture humor, this is an informative, fun, well laid out blog every Millennial should check out.
3. GenTwenty
GenTwenty is the twentysomethings guide to life. That's a hard tagline to live up to, but GenTwenty does a stellar job of making it happen. They have wonderful articles from a range of writers. And it's all just nice to look at — each graphic a piece of art.
4. Our Quarter Life Comeback Podcast
Bryan Teare offers insightful dialogue on dealing and thriving through the daily struggles twentysomethings are going through. I had the privilege of being a guest for his episode "The Anatomy of a Quarter Life Crisis". Bryan is an excellent, thoughtful host. Plus his South African accent is like podcast butter to your Millennial ears (that metaphor didn't really work, but you get what I mean…)
5. Our 1/4 Life Crisis – Documentary
I had the opportunity to be flown up to Vancouver, Canada and be a part of this international documentary "Our 1/4 Life Crisis" about the shared struggle twentysomethings are going through. Skilled Millennial documentary filmmaker Sonia Suvagau, along with her equally amazing mother Adelina, worked diligently for years on this film and created a poignant, scary, yet hopeful story about the quarter life crisis struggle that is all too real for Millennials across the globe.
Molly Beck has been rocking this site for years and it's still going strong. It's a wonderful, delightful, simple post every time. She talks about something smart, something pretty, and something to make you (less) awkward.
With all the success this site has experienced through Molly's blend of wisdom and wit, you definitely don't want to miss out.
Many of these blogs above are slightly catered towards women, so I needed to represent the men here with The Distilled Man. Kyle Ingham is the manly man behind this go-to resource chalk-full of essential skills for the modern Millennial man. I don't know how Kyle became so wise on all things manly, but I suspect it has something to do with his sweet beard and his Redwood like height. I had the honor of being interviewed by Kyle on "Navigating Your 20s" that you can check out here. This was one of my favorite interviews I've ever done — mostly because Kyle's got great questions and an even better laugh.
Twentysomething Faith, Calling, and More:
1. RELEVANT MAGAZINE
God. Life. Progressive Culture. Your one-stop-shop to stay informed and engage. I've been honored to be a semi-regular contributor for Relevant Magazine over the years with popular articles like 5 Lies Twentysomethings Need to Stop Believing 
Ally and I go way back. I appreciate the beautiful way Allison writes and the beautiful way she shares what's truly on her heart. She is raw, honest, to-the-point, and a good read for anyone trying to figure out this crazy little thing called love, life and faith. Ally even did a great guest-post on the relationship between twentysomethings and their parents here at All Groan Up — Dear Mom and Dad, a Letter From Your Twentysomething 
Dan Cumberland is the brain-child behind the meaning movement, which touches on great topics like creativity, purpose, work, and courage. I'm a big fan of Dan's work because, like the content here at All Groan Up, he focuses on helping people live on purpose with purpose.
Scott quickly became one of my favorite Twitter/blogger friends because he's just so dang inspirational! He's a pastor who you can tell loves people, life, and helping people come more alive. Scott blogs about things like overcoming fear, rejection, failure, and all the other things that hold us back. I just was reading through this great interview he did with Valerie Peterson, a Contestant Manager from The Voice, about how she helps contestants overcome their fears. A must-read!
Millennial RELATIONSHIP Websites:
Debra Fileta is a Licensed Professional Counselor specializing in dating, marriage and relationship issues, along with a spectrum of mental health disorders and issues.  She brings truth, warmth, and incredible insight to Millennials biggest relationship questions. Plus, Deb is just a solid, inspiring person who encourages me to do better work. (If you're noticing a trend here, I really like promoting people that I've gotten to personally know over the years and who are super-solid individuals).
Also check out her book by the same name — True Love Dates, published by Zondervan who was also my publisher for All Groan Up: Searching For Self, Faith, and a Freaking Job! 
2. Bryan Sands
Bryan loves talking about sex. Seriously. But probably in a little different way than you would think. Bryan delves deeper into the emotional, physical, psychological and spiritual impact of sex on individuals and cultures. Bryan's also a campus pastor so is daily interacting and leading Millennials.
I was honored to write a foreword for Bryan's new book coming out soon — "Everybody Loves Sex: So Why Wait?: A Discussion in Sexual Faithfulness."
3. Boundless 
This site could be categorized in Faith as well, but their main focus is preparing Millennials for marriage. Boundless offers a litany of resources for young adults who want to grow up, own their faith, date with purpose, and prepare for marriage and family.
Millennial Writing Sites
Goins Writer
Over the years Jeff Goins has become the leading resource for anyone that is looking to write a book, grow a platform, connect with an audience, etc. Jeff knows his stuff and offers an amazing community to support and teach writers at Tribe Writers. He typically opens a limited number of spots for Tribe Writers a few times a year, so jump on the waitlist if you're interested. Jeff has taught me a lot about growing a platform and he even helped connect me to my first publisher, so I'm definitely a product of his writing/publishing wisdom.
This is a jam-packed site for anyone who strives to become a better writer. Because The Write Practice offers you a ton of opportunities to, get this, practice your writing. Creator of The Write Practice, Joe Bunting loves the craft of writing, down to the smallest detail of whether or not to use neither, either, or, and nor, and this love for writing shines through every comma and period on The Write Practice (he probably would have a few things to say about this run on sentence).
Plus, Joe once worked at the same college as me as my intern, but that is a story for a different article!
TWENTYSOMETHING WATCH LIST:
Holy shiiiiiizzzer — I included a ton of great resources on this list, but I know I left out so many notable/amazing/what was I thinking? websites as well.
So please add your Millennial/Twentysomethings website MUST'S to the list below within the comments.
---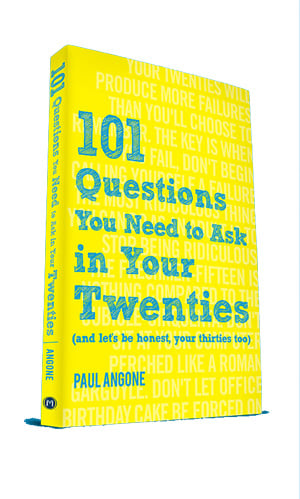 For more insight and inspiration for your 20s, check out my newest book 101 Questions You Need to Ask in Your Twenties.
Written in the same easy-to-read style and humor as my best-selling book 101 Secrets For Your Twenties, but this time we're digging even deeper. To find important life answers, we need to start with the right questions.
See what readers are saying about 101 Questions You Need to Ask in Your Twenties
(Disclaimer: Some of the links used in this article are affiliate links. If you end up purchasing one of the great resources linked in this article you're also supporting the work here at All Groan Up. Double-win!)