ABOUT ALL GROAN UP AND PAUL ANGONE

Welcome to All Groan Up! My name is Paul Angone and I'm a speaker, humorist, the author of 101 Secrets for Your Twenties, and the creator of All Groan Up.

My passion is to empower twentysomethings with overwhelming amounts of truth, hope, and hilarity as I narrate the unfolding story of my generation, for my generation.

Wondering if All Groan Up is for you? Here are seven signs you might want to put up your feet, grab your drink of choice, and stay awhile.
7 Signs All Groan Up is For You

1. You've asked, "what now?" Almost. Every. Single. Day.
2. You feel like a kid most of the time, until you see a real kid and think, "Good Lord, kids are really young these days."
3. You've realized everyone's too busy putting a PR spin on their own Facebook profile to care much about yours.
4. You feel alone in all the questions.
5. You'd pay top dollar for a moment of clarity.
6. You want the secrets to living your 20s well.
7. You know now that the grass is always greener on the other side, until you get there, and realize it's because of all the manure.
If it sounds like you might be a "Groan Up", enter your email below to have All Groan Up delivered directly to you and I'll also send you a couple FREE chapters of my book 101 Secrets for your Twenties.
Snag FREE chapters from my book 101 Secrets for your Twenties.
Best of All Groan Up
If you want to dip your feet in some Groan Up Goodness here are some of the top articles, discussions and videos to check out.
21 Secrets for Your 20′s - (over 1 million views and counting)
Why Your Quarter-Life Crisis is the Best Thing that Could've Happened
11 Questions Every Twentysomething Needs to Ask
31 Ways You Know You're a GenY Twentysomething

The Secret to Finding, and Marrying, the Right Person
62 Reasons You Might be All Groan Up
Key for 20something Success: Compare Obsessively
19 Perks of Growing Up in the 90′s
The First Contraction: The Passage Into Parenthood

List of Top Websites for Twentysomethings

3 Life Lessons from Playing Oregon Trail

All GROAN UP is about community and collaboration.  Have an idea for an article or video that will rock All Groan Up's world? Check out how to write for All Groan Up.
More About Paul Angone  
I see myself as the narrator of the twentysomething story.
I'm an author, speaker, entrepreneur, story-teller, husband, humorist, and new dad who's heck bent on really discussing what's really going on in these Emerging Adult years.
My debut book 101 Secrets for your Twenties released July 1st, 2013.
I grew up in Colorado, have my Communications Studies degree from Westmont College and Masters in Organizational Leadership from Azusa Pacific University. I live in Los Angeles with my beautiful wife and our two baby girls.
Paul Angone Around the Web
I don't just live at All Groan Up. Check out a collection of articles I've penned on other websites of awesome proportions:
Creativity's Worst Enemy – Relevant Magazine
The Four Will Become One  –  Love and Respect NOW
Claiming Musicians as One of Us  –  Stuff Christians Like 
Death by Validation  –  Relevant Magazine

The Spark of a Writer  -  Jeff Goins 
Acne Scars of Understanding  –  People of the Second Chance
Four Commandments to Writing Funny  –  The Write Practice 
We Can't Handle the Truth  –  Michelle Ward, When I Grow Up Coach 
Will This Generation Rise to the Challenge?  –  The Next Great Generation 
Motel Floor Leadership  –  The Moxy Project
All Groan Up Art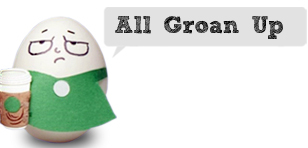 Want to help spread the word about the book while giving your website some really cool Egg art? Yes, that's right Egg art! Place an All Groan Up egg on your website or Pinterest. It's super easy. Each egg was designed and photographed by the very, very talented artist/photographer James Daly.
All photo's of Paul Angone on All Groan Up were taken by the amazingly talented married duo of Micah and Megan Photographers.
All Groan Up Guarantee
If this website doesn't change your life, I promise a 150% money back guarantee.