There's a lot of struggle going on right now.
As we all swim through the new (ab)normals of this COVID-19 reality, it's easy to feel like the struggle is all there is. Yet, here's the hope and the help found in the struggle.
The Most Dangerous Struggle of All 
First, let's start with the movie 127 Hours. Have you seen it?
It's an intense movie. A tough watch.
And it contains one of the most poignant messages and warnings for all of us that we need to take to heart. Especially in this intense coronavirus season of life.
If you haven't seen the movie, it stars James Franco, who does an incredible job portraying real-life mountain climber Aron Ralston and his harrowing account of falling down a canyon in remote Utah only to have a boulder land on his arm, preventing any escape.
Ralston is stuck.
And as the intensity and enormity of the situation begins to set in, he realizes a cold, hard truth:
I never told anyone where I was going.
No one would know where to look.
No one would be coming to his rescue.
He was utterly alone because he lived his life like he never needed anyone.
We don't need to be mountain climbers like Aron Ralston to heed this warning.
The Biggest Struggle of Them All
There is a danger in going at anything completely alone. Even when it feels like we're stuck in isolation.
We're all struggling. Yet, too many of us are struggling to make it look like we're not struggling. (click to tweet that)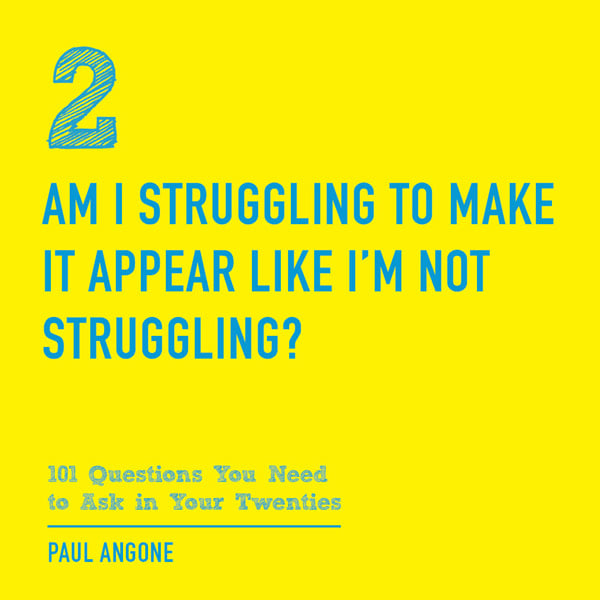 We need to tell people where we are going and where we have been. And the remedy is something simple, yet extremely difficult: vulnerability.
Me Being Vulnerable
I've definitely had my ups and downs this last month.
Fear and peace, anxiety and assurance, all in a cage match together for dominance over my heart. Plus, I've been wrestling with a sickness for over a few months now. It's wild to think its been that long.
Yet, this week my chest decided to increase in tightness and my congestion worsened. So I've definitely placed a few worried calls to the doctors wondering if the worst has taken hold. They don't what it is but they don't think it's in my lungs, so that's good at least!
Does my chest feel like its being squeezed by an iron fist because of a virus or because of fear? Do I choose faith or do I choose fear?
Yesterday, I just couldn't take any of it anymore. The headlines. The exhaustion. The frustration. The sickness. So I turned my phone off. Laid in bed. Grabbed a book. Put a heating pad on. Took a nap. Prayed. Took a bath. And just tried to get better for eight hours.
I don't like not helping. I don't like not being active. Plus, with four kids in the house, eight hours is an eternity for the other spouse trying to keep everything from burning down during self quarantine.
Yet, I just didn't have anything left to give. I kind of had to give up. At least for a few hours. Thankfully my awesome wife Naomi held the fort down while I did.
Why am I telling you all this?
If I sing about the need for all of us to be authentic and vulnerable, while I inauthentically hide behind each piece of advice and the exciting parts of my journey, then I'm just another clanging symbol amidst a cacophony of unnecessary noise.
We don't connect with each other through our pretend perfection. We connect over our shared struggle. (click here to tweet that)
Authenticity starts with each one of us. We have to be brave enough to go first.
It takes a lot of courage to talk about where you lack the most courage.
We have to be courageous enough to open the doors and let others really see inside. In this season of isolation we have to be intentional about letting others know where we are. And what's going on.
And honestly, if I can just get really real with you right now.
I wouldn't be able to handle any of this if I didn't truly believe and know that God is here with me in all my questions, imperfections, insecurities, and fears. If I didn't sense in my spirit Him saying, "Relax. We're in this together," I would be an inoperable mess.
I can't do surgery on myself. Or at least, I don't want to try.
So here's a piece of my struggle for you to see inside. To hopefully encourage you in yours.
Whether you feel like you're failing. You feel all alone. You're smack dab in the middle of a quarter-life crisis, losing inspiration or hope, or you just can't seem to feel normal again in this coronavirus abnormal.
We're not supposed to ease the angst by pretending like it's not there. This is hard and we can't do it alone.
There are answers in the angst if we're willing to vulnerably sit in it and ask the hard questions.
I don't have it all figured out, but I know I'm not supposed to.
But I do know that this too shall pass. We will get through this.
There is hope and purpose found on the other side of struggle. 
But in the meantime, if you're struggling with something, talk to someone about it. Lets not struggle to make it appear like we're not struggling.
Share the struggle.
So that if the rock falls on your arm, or your chest, you'll have someone there to help you get it off.
Part of this post is an adapted excerpt from my new book 101 Questions You Need to Ask in Your Twenties (and let's be honest, your thirties too)