"Transitions are not simply a bridge to the next important season of your life. Transitions are the most important seasons of your life." – Paul Angone, 101 Questions You Need to Ask in Your Twenties
We're all dealing with a lot of change and transition right now.
That is an understatement.
As COVID-19 changes the entire world, we're all trying to figure out the new reality of all our new realities.
Transition is always tough. Change is rarely something that we control or bring on willingly, especially right now.
Transitions can feel like a punch in the gut when you're looking the other way. For many of us feeling the very real and gut-wrenching affects of the coronavirus, it can feel much worse than that.
What do we do now?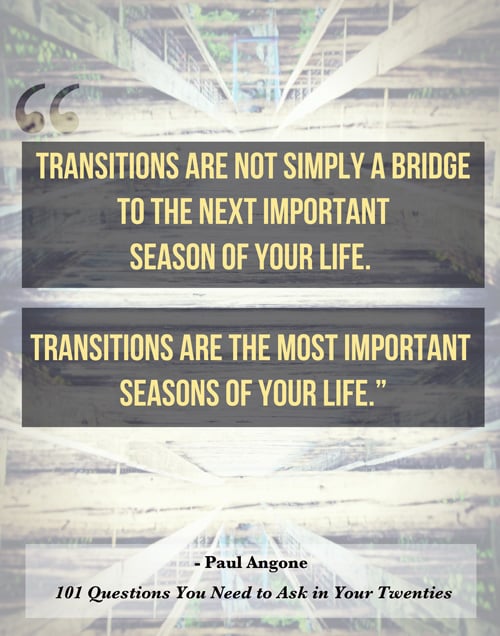 Change is Like a Really Bad Break-Up
Transitions and change can feel like a bad break-up.
One day, you think you've found The One and you're planning out your 2.5 kids and your Labradoodle named Mittens.
Then you get the "we need to talk" phone call. Now, it's 9:00am in the morning and you're eating crumbled up Oreos, out of a peanut butter jar, in your pajamas, and watching 23 straight episodes of a 90's sitcom on Netflix.
Breakups are extremely tough because so much of your identity, plans, and future was wrapped up in that other person.
When that is taken away, you feel lost.
Most life transitions are pretty similar to a bad breakup, aren't they?
But instead of breaking up with someone else, you're breaking up with a season of your life and who you were during that time.
And just like the time the relationship you were so sure about met its dramatic end, there's a real sense of questioning, wondering and wandering.
What We Get Wrong About Transitions
Yet, here's what I think we get wrong about transitions. We treat them as something to get through as quickly as possible. It's simply this bridge to cross over as fast as possible. Just get to the other side, no matter what or where. But is that the best way to go through a transition?
The Crazy Truth About Transitions and Change
I'd argue that transitions aren't just a bridge to the next important season of your life. Transitions are the most important seasons of your life.
There's something of strange significance that happens to us when we're stripped of everything we used to depend on.
As we collectively go through something none of us have ever experienced before, abnormal is definitely the new normal.
Yet, maybe transitions aren't something to fly through, but something to marinate in.
Especially now as we can't fly through this coronavirus season. We are being forced to be still. To slow down. To get back to the basics in every facet of our life. To make best of our new realities of this new reality.
What can we learn here? As a big giant reset button is being pressed down on us, what can we change for the better? Maybe there have been some bad habits we've been leaning too heavily on that we are being forced to change.
Maybe our old life is being pulled out from under us like a rug and we're being forced to look at things we've been hiding under it for years.
Make This Transition Matter
This is not an easy season of life.
Yet, what can we take away from this intense season of change to positively change our lives and the world in the future? 
What questions can we start asking ourselves to be intentional about making this transition matter.
We are given this time.
As you walk through transition, what will guide your way? Is it fear? Or is it faith?
Faith says, This transition is taking me to a much better place. Keep moving forward.
Fear says, I'm screwed! 
It's hard when you're reading the latest headlines, but I'm trying to live more by faith than fear. More by hope than hopelessness.
Where is this Transition Trying to Lead You?
What is it telling you about the future you want to transition into? Take a moment and think about this.
We all are being reset.
So the question becomes for all of us is — where will we go from here?
What will we create from here? What will we make of this time? What will we show our family, our kids, our community–the best of who we are or the worst?
Don't just make it through this transition–make the transition matter.
A few years ago I hiked up a mountain and filmed myself talking more about transitions. If you could use a little more encouragement. And a little humor as you see my crazy hair and hear me share my incredible English accent. While also seeing me perform a one-in-a-million trick spit-shot. Check it all out in the video below where I talk more about transitions and change.