We are killing awkward. And the effects might be killing us.
Awkward silence. Awkward conversations. Awkward waiting. All becoming a thing of the past.
Long line at the grocery aisle? Let me take out my phone.
Long drive? Let me blare some music.
Long ride up an elevator? – please Lord let my phone pick up my 4G..or even 3G…just any G so that I can pretend I don't see the person awkwardly standing next to me.
Long flight? Gosh I hope the plane has WIFI and a good movie! Those dreaded ten minutes where they make you turn off your electronic devices, the scariest part of flying 30,000 feet in the air.
Because….
Silence is deafening….awkward…….and scary.
We no longer live annoyed by distractions. We live for them.

The person we're most afraid of being caught alone with is ourselves.
Why?
Is it because when we're alone and silent, we actually have to think about our lives? The good, the bad, and the awkward?
Are we afraid of asking ourselves the tough questions?
Is it because we are afraid of looking at our own fear and insecurities?
I obsessively check email, hoping to see something new when I can't keep up with the emails already there.
Too many of us are chain smoking our phones. Is there an e-patch?
We crave the distraction. The busyness. We are addicted to being notified by the immediate.
We have streamlined awkward and increased its efficiency, and yet the ill effects might be the most awkward thing we could imagine.
It makes us feel important to be wrapped up in the frenzy.
Yet is this healthy?
The Ill Effects of Non-Stopness
This frantic, frenetic, insecure scramble is killing us.
Experts says the constantness of our culture heightens heart disease, dementia, and early death.
When they studied "blue zones" of the communities that lived the longest, they found that each community had built into their society spending at least 15 minutes of down time a day.
We need space. For our mind to have the freedom to let itself wander. To stumble upon those unexpected surprises that only come through being comfortable to exist in the uncomfortable.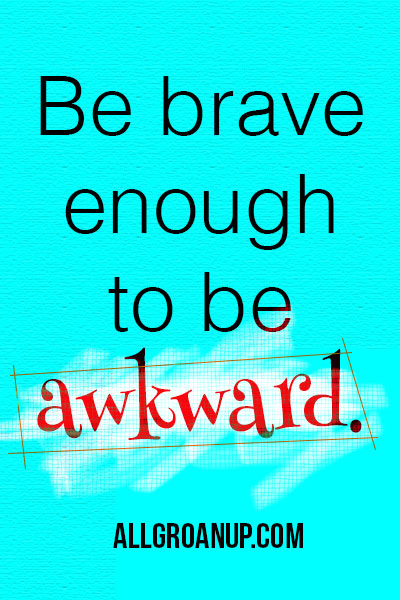 Maybe you are not having any breakthrough ideas because you don't give your mind any time and space to think about them.
Ours days used to be filled with awkward moments. Of silence. Of space. Where we allowed the possibility for a feeling or a thought to fill it – whether good or bad. Now we run from both.
Or as the philosophizing comedian Louis C.K. puts our immense need to fill every awkward space with our phone, "You never feel completely sad or completely happy."
When we remove all awkward, we remove all possibilities for unexpected amazing.
Maybe you don't feel like you know yourself because you never spend any quality time with you.
Maybe you don't feel like you're known because you're not willing to engage people in possibly awkward conversations.
We must fight to fill slots of our day with nothing at all.
When you feel that anxious pull to fill every space of your day with something, will you let yourself just sit, be still, and feel awkward?
Be brave enough to be awkward.
Do you see in your life you trying to squash awkward? I'd love to hear from you in the comments below.
Plus click over to the article to watch Louis CK put it funnier and cruder than me in an interview with Conan. (Warning – some explicit language included)