We all know now that "dream jobs" didn't exactly fall at our feet after college like we envisioned when crossing that graduation stage. So this week's Chalkboard Question is…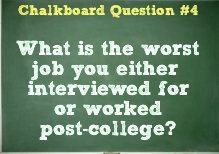 The worst job I interviewed for was for a used airplane parts sales assistant. One – because who really wants to assist someone in selling used airplane parts. And two – because I had a major anxiety attack mid-interview when I realized I'd been flying around this whole time in planes with used parts! You can read about the whole experience and what the temp agency who set up the interview thought when I turned it down (not happy) in the chapter of my book titled Top Ramen Dreamer, which you can download here.
Let's hear it! Share your worst job worked or interviewed for since college via the comments below. The comment of the week will be featured next week on All Groan Up.
Which brings us to this week's Chalkboard Comment of the Week…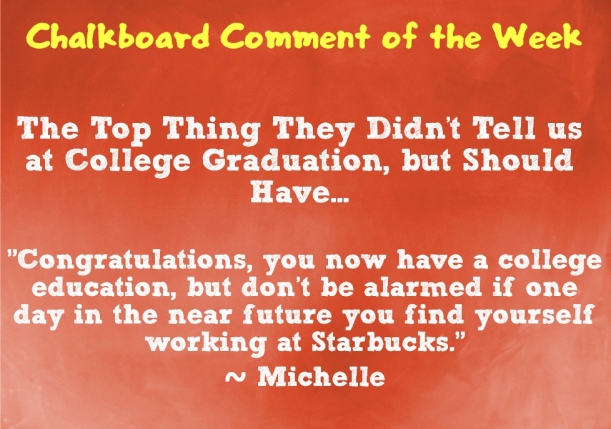 Congrats Michelle! So very true…
Two honorable mentions for top things we should have heard at graduation…
"You are NOT too good for that job. (This may include making balloon animals for five years)" ~ Lindsay
"You're all idiots for taking out this much in loans" ~ Chris via Facebook (Wish you would've showed up at my admissions interview to stop me…)
Can't wait to hear from all of you this week. Those jobs and interviews become a lot better when we can laugh about them later!