There I was.
In Fresno, CA. At a Jimmy Eat World concert.
Some might not see Fresno and Jimmy paired together as a dream come true. But for me and my long obsession with Jimmy's indie-rock-feel-goodness, it was a slice of concert-pie (with chocolate sauce and a huge slathering of whip cream).
However, before Jimmy Eat World could dazzle, the audience needed to be warmed up.
Enter: Kori Gardner and Jason Hammel — better known as Mates of State.
My friend Kristin, squealing with delight as Mates of State walked on stage, quickly explained to me that they were a husband and wife duo who toured with their little kids. (even blogging about it at Band on the Diaper Run).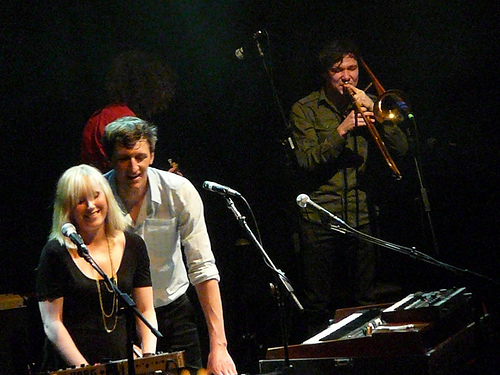 Good looking. Young parents. Quirky melodies and catchy harmonies. Mates of State were adorable. My friend Kristin loved them.
The crowd, however, that night did not.
Standing there in the sweltering armpit of California ready to get their indie-mosh on, it only took three songs for the crowd to pounce on adorable like a rottweiler on a guinea pig.
Boos began to rain down like fried pickles on a southern barbecue.
Then one piece of trash thrown. Then another. One more with a little zip on it. Mates of State finished their fourth song as a plastic bottle crashed into the drums.
"Hey! Listen, we're here to play!" Jason Hammel yelled into the microphone. "But if you continue to throw crap, we'll stop."
Jason scanned the crowd, daring some idiot to tank the whole show. His presence was confident, yet he didn't come off a jerk. He was simply matter of fact. Stop acting like idiots. He then slowly picked up his drum stick and began the next song. The crowd staying strikingly quiet, no one throwing a thing.
Mates of State Life Lesson
Mates of State called their crap and they didn't throw one more piece of it the rest of the night. They made it through their entire show. Sometimes just finishing is the accomplishment, even if the in-between didn't go as planned.
When you're up on stage, it's easy to have crap hurled at you. Your critics hiding in the masses, on the Internet, behind anonymous names — they can throw, insult, accuse, and never be seen. Never have to account for the arrows they shoot with pointblank accuracy.
If you're ever going to attempt anything worth attempting, someone will try to hit your bullseye with their insecurities.
But I learned something valuable from Mates of State that night.
See the crap. Acknowledge it. Call people on it.
And then, just keep rocking.
__
How do you handle criticism? Any strategies?
Photo Credit: Angela N – Creative Commons