If you could have a groan-up magical power, what would it be?
With super-hero movies all the rage, who wouldn't want some magical powers of our own to help us get through the mundane-ness of twentysomething life? Here are a few that could transform any adult life into something magical.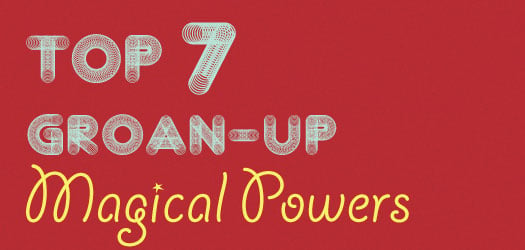 1.Weight Be Gone
The ability to lose weight as fast and as happily as I gained it.
Seriously. #1 power. No brainer.
2. Mary Poppins
Remember when she sang "just a spoon full of sugar makes the medicine go down" as she snapped her fingers, making the filthy room clean itself. What grown up wouldn't want to have the Mary Poppins Power to clean that pile of dishes, organize the papers strewn across your desk, or clean the back of your car that you're pretty sure is housing some sort of forrest animal with a quick snap of the fingers. Go ahead and pour some of that sugar on me.
Sidenote: And seriously Mary Poppins, a spoonful of sugar with medicine? What kind of nanny are you? Now are we talking a teaspoon of sugar or a serving spoon you'd use to dish up Potato Stew? Why not just pour the Robitussin in a bag of M&M's, microwave it and give the kid a straw? 
3. 4:05
This is slightly more a James Bond-esque computer keyboard than magical power, but this power would allow you to press and hold Command Shift 4 0 5 at any point in the day and have it transport directly to 4:05. Sure we 'd be fast forwarding most of our life and missing all of work. But lets be honest–we'd probably get just as much work done in a highly motivated 55 minutes than we did in the unmotivated eight hours.
Or instead we could start asking ourselves the right questions, define success in our own lives, explore, and learn the realistic way to find our dream job. But still, Command Shift 4 0 5 would be pretty sweet. Go ahead, try it. I won't tell anyone. Did it work?
4. Back in Time
When nostalgia hits like the stomach flu, leaving you strung out on the couch watching Boy Meets World or Gilmore Girls wishing you could go back to when life made sense, the Back in Time magical power would allow you to transport back to any memory you dwell on for more than 60 seconds. That first kiss, winning catch, or sleepovers spent with your best friends could become your getaway from all groan up-ness. 
An added bonus: The more you use this power, the more you realize nostalgia is a liar. All those memories you swore were problem-free strangely enough having insecurities, fears, and problems of their own.
5. Dry Clean Only
Is there a more powerful Grown Up Kryptonite than Dry Clean Only. Just when you think you're rocking adulthood like Bon Jovi playing at a 25 year high school reunion, you spill coffee on something dry clean only, leaving you to re-wear the same black dress pants every day of the week month.
The power to transform any filthy or wrinkled Dry Clean Only garment into something clean and crisp with the touch of a finger would be a midas touch worth possessing. Plus talk about a no-brainer side business or cool party trick.
(Sidenote: You might be officially all groan up if you think being able to remove all wrinkles from a pair of trousers with a touch of your finger is a cool party trick. Seriously, give me a shawl over my shoulders and a Murder She Wrote marathon as I try to keep those darn neighborhood youths off my lawn.)
6. Take It Back
I wrote in my book 101 Secrets for your Twenties that there are no take-backs in grown-up relationships. Whelp, with this magical power now there is. The Take It Back allows a quick 10 second rewind to the moment right before your foot was found wedged deeply in your mouth. When your girlfriend asks about your previous relationships and you decide to tell her everything. When your boss silently comes up behind to find you immersed in a game of Candy Crush. All you have to whisper is "Take it Back" and you my friend have a chance to do it better the second time.
7. Shop-less
With this grown up magical power you'll never have to step foot in another grocery store, mall, or overpriced department store again. Nope with one snap of the fingers you can have everything delivered instantly to your doorstep.
Oh wait, this magical power is called Amazon.
I'd love to hear from you in the comments below on All Groan Up:
What magical groan up power would you want the most?