Growing up is a a funny thing.
All those painfully awkward years of growing up, hoping and praying to become a real.live.adult, all becomes one giant dam of nostalgia ready to burst open the moment THAT SONG comes on.
To help bring forth that wave, All Groan Up presents: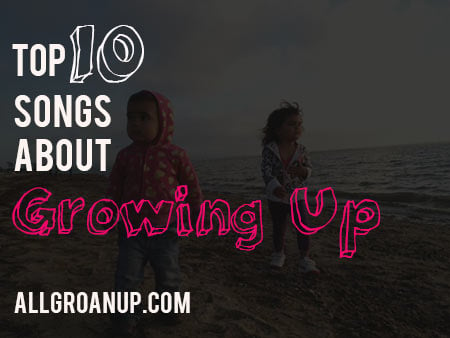 The Top 10 Songs About Growing Up
10. Dammit – Blink 182
To kick off this countdown right, we start with the epitome of Groan Up angst, Dammit!
If you didn't ride in your friend's Honda through your neighborhood singing this song at the top of your lungs with the windows down while you pictured the girl who sat in front of you in Bio class, chances are you grew up in Siberia where it is too dang cold to attempt such a thing. (Link to Dammit on Amazon)
Dammit Classic Line: Well I guess this is growing up…
9. Young – Kenny Chesney
What's a nostalgic countdown without some country music? 93% of all country music is about your former girlfriend, old home, childhood dog, etc… (Link to Young by Kenny Chesney)
Young Classic Lines:
Talked a good game when we were out with the guys
But in the back seat we were awkward and shy
Girls were a mystery that we couldn't explain
And I guess there are some things that are never gonna change ~ Kenny Chesney
You can say what you want about John Mayer, but the dude can write a song. No Such Thing is the first of two JM appearances on the countdown. John, is there no such thing as the real world? (Link to No Such Thing)
I wanna run through the halls of my high school
I wanna scream at the
Top of my lungs
I just found out there's no such thing as the real world
Just a lie you've got to rise above
~ John Mayer
7. Jack and Diane – John Mellencamp
Let's get a little old-school with the original "Cougar" himself about being young and in love. (Link to Jack and Diane)
Jack and Diane Classic Lines: Hold onto 16 as long as you can. Changes come around real soon make us women and men.
6. Glory Days – Bruce Springsteen
I am lobbying there be a law passed that every countdown has to include The Boss.
Plus this video is a 80's gem. The Boss and Guy in Pink Bandanna are forever seared in my heart. (Link to Glory Days)
5. Stop This Train – John Mayer
I want to get off and go home again
I can't take the speed it's moving in
I know I can't but honestly won't someone stop this train
So scared of getting older
I'm only good at being young
So I play the numbers game to find away to say that life has just begun.
~ John Mayer (Link to Stop This Train)
4. Still Fighting It – Ben Folds
Of course Ben Folds is going to have a poignant song about growing up.
Everybody knows
It sucks to grow up
And everybody does
It's so weird to be back here.
Let me tell you what
The years go on and
We're still fighting it, we're still fighting it.
~ Ben Folds (Link to Still Fighting It)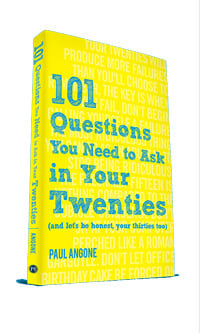 Don't become a ho-hum adult just trying to get through the day. 
Check out Paul Angone's new book 101 Questions You Need to Ask in Your Twenties and start living on purpose with purpose. 
3. Best Day of My Life – George Strait
Dad, this could be the best day of my life
I've been dreamin' day and night 'bout the fun we'll have
It's just me and you doin' what I've always wanted to
I'm the luckiest boy alive
This is the best day of my life
~ George Strait (Link to Best Days)
2. Wake Up – Arcade Fire
This song coupled with the movie Where the Wild Things Are propelled it to number two on this countdown. If you don't get goosebumps watching this trailer, well you my friend need to take a trip to Chuckie Cheese. (Seems like a good place to put childhood in perspective). (Link to Wake Up)
1. In This Diary (Best Days of Our Life) – Ataris
A shout out to my good buddies Josh and Scott, and all the drives we made singing this song at the top of our lungs (that and Whitesnake. But that's for another countdown). (Link to In This Diary)
Being grown up isn't half as fun as growing up.
These are the best days of our lives.
The only thing that matters
is just following your heart
and eventually you'll finally get it right. ~ The Ataris
Now check out the 27 most important books to read in your 20s and the top 35 movies to watch about growing up and becoming an adult. 
If you purchase a song through one of these links you're supporting the fine work here at All Groan Up.