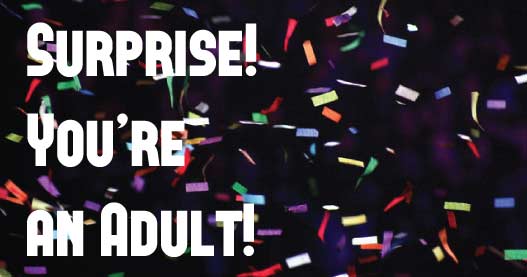 Do you ever feel like you flat out suck at being an adult?
That's how I feel right now. Let's see…
I just blew up at my wife because she mentioned "curtain rods." (long story)
The three cups of coffee I downed at work couldn't knock the half-dead out of me as I zombied the day.
I just returned a Redbox movie, that was only three days late. And the only reason I finally did was so I could buy a bag of M&M's (okay I bought two bags) that I am slowly eating ( so I downed them both in under 45 seconds. Geesh, didn't know someone had a stopwatch on me).
And the kicker, my

sweet one-year-old girl

whom I just told to stay in her room, took one look at me, grinned that two-tooth-grin, and ran right out the door. Even she knew. Who does this guy think he is — a freaking adult?!
The Biggest Secret About Becoming an Adult…
So as I sit here, thumbing the M&M wrapper hoping just one missed my guzzle, having just come back from apologizing to my wife for being an ass. I finally understand the secret of what it really means to become All Groan Up.
The thing about truly emerging into an adult as a twentysomething isn't about finding a career, or getting married, having a kid, buying a house, or any of these things.
It's all of them.
Because the biggest secret about being an adult is…
Adulthood. Never. Stops.
Growing up in school we're conditioned to live in defined periods of time. Push ourselves for a semester, pull some all-nighters, cram, chug a six-pack of Mountain Dew and wear your pajamas for three-days-straight, take those grueling finals, then bam. You're selling your books back for $7.33, driving across country — onto summer break, onto something new, onto a complete change.
Adulthood is the opposite. It's the Energizer bunny — it just keeps going and going and…
Rocking adulthood is nothing more glamorous than consistency.
Doing day 3,354 with the same energy as the first. I need help or I know my bunny is going to keel over way before then.
How to not burn out on adulthood
Honestly, I love my adult life. I love being married. My Instragram will tell you being a dad is the proudest, most fulfilling role I've ever experienced. I love my 9-5 job — my co-workers the best friends I've had in a long time.
But yet, I feel like I'm on the path to Nervous Breakdownville. How do I prevent that from happening?
1. Take a Nothing Vacation
What's a nothing vacation. Well, it's a vacation where you do nothing. Absolutely. No sight-seeing. No family. No friends. Nothing. My wife and I just agreed we're taking one. Next month. No baby. No itinerary. Just sleep. Food. Books. Sleep. Food. Rinse. Repeat. (if my wife will still go with me.  Seriously, I blew up over curtain rods. God help me).
2. De-Freaking-Plug
I check my phone more times than a frantic smoker takes puffs after a six-hour flight.
Sometimes, I need to be off. Phone included. I need to sit and be still. To think. Reflect. Pray. Ask God to enter into my insane days for my own sanity.
3. You Tell Me…
What's something you do to find sanity within adulthood's biggest secret…that adulthood. never. freaking. stops.
Original confetti photo by Art Siegel – CC