What if I could tell you right now where to find your passion.
And even though I might know very little about you, I'd be right 99.77% of the time.
Sound like infomercial-too-good-to-be-true?
Well there's no set of steak knives at the end of this post, so I promise I'm not selling you a dang thing.
Finding your passion is actually pretty simple and I can tell you right now where it's hiding.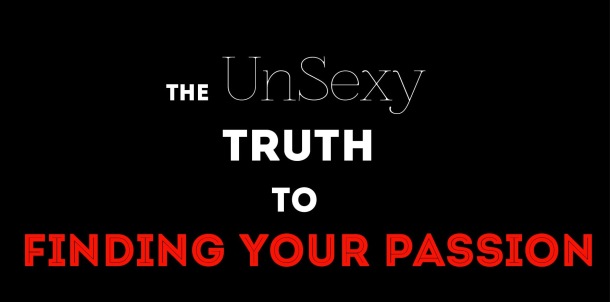 Drum Roll Please
Your passion is not found in achieving success.
Your passion is embedded in failure that you have refused to let fail.
Let me explain…
"A man who fails well is greater than one who succeeds badly." Thomas Merton
Take me for example. Through my 20's, many of my "great ideas" and passionate pursuits have gone straight to the trash, except for one thing.
Writing.
No matter how times I've burned these fingers, I keep pounding on this craft with fire and hammers. Writing — my Energizer bunny that keeps on going and going…
And I haven't kept writing because I've been pinch-me-I'm-dreaming "successful". No six-figure-publishing deal and back-strokes in the Duck Tales swimming pool of gold coins for me.
I've kept writing because I can not, NOT do it.
"Chase down your passion like it's the last bus of the night." Terri Guillemets
As a twentysomething walking the plank into the sea of real-worldness, each year that passed I felt like a character in The Office, drowning in a job I hated because I couldn't find the job I loved.
My goal was to be successful and find my passion. But what if those two goals are mutually exclusive — at least at first?
The one-hit wonder didn't find their passion. They found commercial success. The one-hit wonder shimmers like a sparkler – bright for one moment then dark the next.
Passion is like a low-lit candle – a small fire that refuses to be put out.
One-hit wonders are addicted to the accolades.
Passionate pursuers are addicted to the process.
Your Passion Keeps on Going and Going…
Where has your face been shoved deep into the mud, but you have refused to stay down?
Where have your knees been scraped and bloody, yet you keep running ahead?
Where has your voice cracked, yet you continue to try and belt out the high notes?
Where have you failed, yet refuse to let fail?
Your passion is something you can not, NOT do.