A great idea may wreck you. At least if you're willing to actually make that great idea into something great.
Because a great idea will push you out on a ledge at gunpoint. Where you're left alone, scared to death, with one slight misstep putting you on the front page news. And not for the reasons you dreamed.
Just having a great idea is the easy, exhilarating part. Like going on those first few dates with your crush — all tingle and sizzle, without any of the responsibility or commitment that comes later. For a great idea to be great, it will take comfort, weekends, and sanity, throw it in the blender and press puree. So what's the secret to making a great idea actually great?

A "Great" Example
My great idea? Write a book about the struggle of my generation searching for self, faith, and a freaking job! I knew it was a story I had to tell. I just didn't know about the thousands of hours alone in coffee shops, seven pages of edits that my agent and target readers didn't like, four re-writes, numerous nights of tears and beers alone on an apartment floor, and then the cherry on top, years of publishers telling me they loved the book, but couldn't take a risk on an "unknown".
As I first wrote in 21 Secrets for Your 20's — I learned that great ideas alone mean nothing. Your ability to persevere through 16 major setbacks, a lack of passion, forgetting why you started this great idea in the first place, and all the people who allude that your great idea is actually quite terrible — well, that's what makes a great idea great.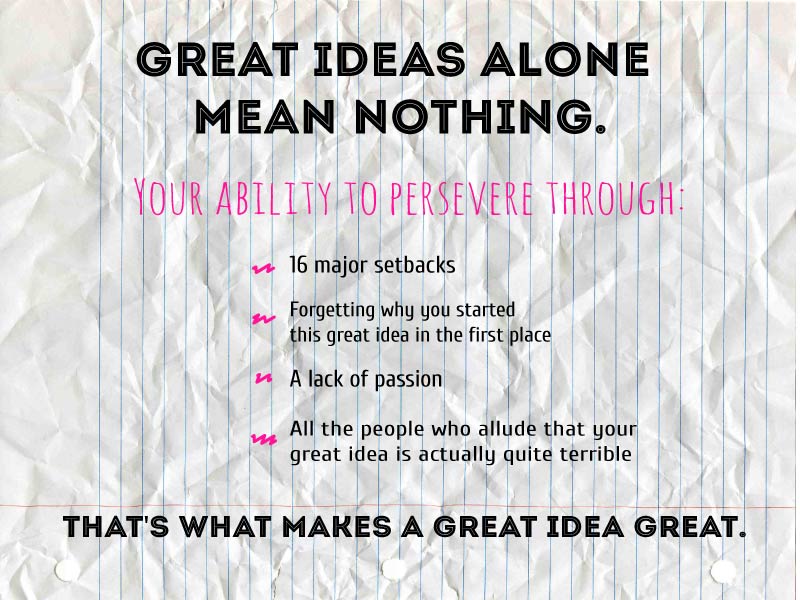 The power of a great idea is not in the outcome, but in how it will change you in the process. To carry your idea above all the muck and mire will make you ready. It will produce courage, confidence, and a crap-load of "I could care less what they say."
So yes, you must pursue your great idea. If you don't someone else will. Open up that WordPress blog, or write that first page of your novel, or start your business plan. Do it. Just be ready when your idea takes you to the edge. And what a glorious moment that will be. Because wouldn't you rather be hanging on the ledge than stuck in the traffic jam below? Wouldn't you rather see the view for yourself than just study paintings of other people's?
I often describe writing, editing, publishing my book as one of the best, and worst, things to ever happen to me. And no matter how many people have told me that my great idea is not great, thank God I know better.
I learned the secret. That a great idea is great, sure. But only if you're willing to see it through the thousand hours of difficult first.
Have you been stopped from pursuing your great idea? How can you start your great idea right now?