This post is in honor of Martin Luther King Jr., and the incredible work taking place at the organization These Numbers Have Faces. Please check out their "We Have a Dream" campaign as they carry forth Dr. King's mission of empowering through education.
The most courageous action of humankind is to dream with conviction.
Status quo can't coexist with a dream. Like putting a lion and a crocodile in the same cage, and asking them to play nice. Only one is walking out alive.
Because a dream is a direct attack on reality. On comfortable. On those who have vowed to protect it. A dream says the present is no longer sufficient. The purveyors of "the way things have always been," will say otherwise.
A dream sees clearly and tries to describe it to the blind. Each word providing shades of color for those who have only existed in black and white.
Dreaming is Revolutionary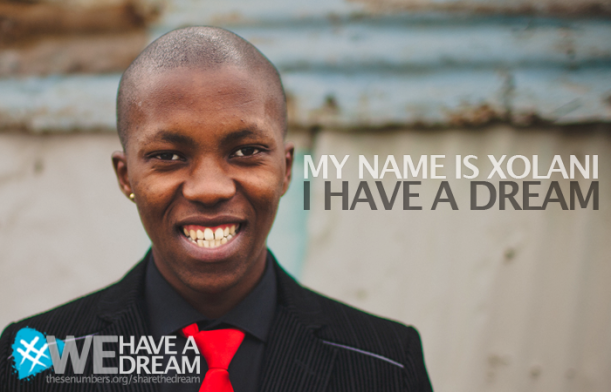 When Martin Luther King Jr shouted "I Have a Dream" he was in sense telling the world "I Have a Revolution".
Dreaming is Sacrificial
A dream will cost you something. Relationships, status, sanity, safety — name the cost and it's been paid before.
Dreaming is a Gift
To dream is to be free. It's a gift to be shared like a warm piece of bread. Each person deserves to taste and see how good it is.
Like Xolani. He comes from an extremely poor background. Both his parents are unemployed and live on government assistance. Through These Numbers Have Faces, he's a third year Accounting student and aims to become a leader in his community. He wants to fight corruption in his country. He has a dream.
Justin Zoradi, the founder and executive director of These Numbers Have Faces, was the first person I interviewed on All Groan Up. Justin described to me his dream of empowering leaders and transforming countries from the inside out. His dream is coming to fruition, in Justin's words, by "saying yes, showing up, and making small, tiny decisions over time." (Watch the full interview with Justin Zoradi here).
How can you say yes to your dream today? Maybe it starts by defining what that dream even is. Courage begins with small bites.
So let's have it. What's your dream?