This has been the most difficult blog post I've ever had to write.
I've tried for two weeks and have come up only with anxiety attacks and "I swear I'll to it tomorrow."
The thing is I've been wanting to write this exact post for years, so why now is it so difficult?
Well, I guess this feels extremely personal to me and I feel naked.
Two. Once I put this out there, I guess I feel there is no turning back. The finality feels slightly like I'm trying to breathe into a balloon.
Three. The old insecurities and fears that I thought I'd stared down enough times to have them turn tail and run, found friends and are doing their best to make one last epic final stand.
Well, enough. I have news. Big news. Exciting news. And I need to tell you another big secret.
Time to Make My Leap
I have officially quit my 8-5 job in marketing– a job I liked that was surrounded with amazing people, to fully pursue what I've been unable to stop doing for the last eight years.
To empower twentysomethings with authentic strategies for success by offering overwhelming amounts of truth, hope, and hilarity as I narrate the unfolding story of my generation, and for my generation.
I am now a full time writer, speaker, and solopreneur.
The Story
This last year has been the most intense, exciting, and exhausting years of my life. It started with 21 Secrets for your 20s going viral and led to the release of my debut book 101 Secrets for your Twenties–a book I had about a month and half to write, and have almost killed myself over in the process as I tried to make it the best it could be and give it a chance to succeed.
Plus throw in children of the 10-month and two-and-a-half year old variety, and things have been slightly busy.
I thought after the release of 101 Secrets for your Twenties in July that life would kind of slow down back to normal. But it hasn't.
I've been amazed with more radio interviews than I can count, social media shout outs, life-changing emails from readers, plugs on Huffington Post and countless other websites, more opportunities to travel and speak, a recent article I wrote for Relevant Magazine going viral and being read over a million times, and basically the ability and path to pursue my passion —
To tell the twentysomething story in an honest, hopeful, and hilarious way that is beyond what the "experts" are saying.
To create community and a sense of togetherness.
To give inspiration, insight, and challenges.
To authentically share our struggles and victories as well.
I'm going all in with this because I believe our unfolding story needs to be told right.
What I'm Doing Right Now
I'm going at full-speed as we speak. I just flew from San Diego to Georgia and am leading a week-long workshop right now at the amazing Center for Global Action where I've had the honor of working with 55 twentysomethings as we create their brand, define who they are, clarify their vision and guide them into the future with strategies and secrets to truly being successful in their twenties. It's been amazing.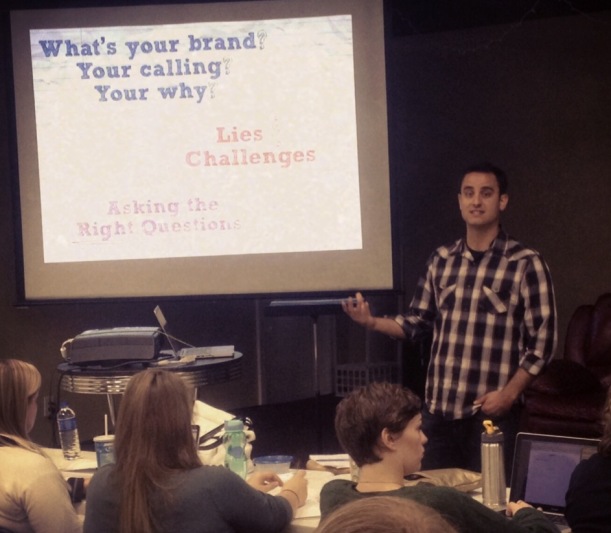 Leading a workshop at the Center for Global Action
I'm next going to a conference in Atlanta called Catalyst, and then flying to Indiana to do a keynote speech at Manchester University.
Everything keeps going faster and faster and I'm trying to keep up. It's like holding onto the top of an Audi on the highway — exhilarating and terrifying.
The Next Big Things at All Groan Up
I have big ideas coming for All Groan Up. I want this conversation to grow. I want interaction to be more authentic. I want to offer more tools and resources to help twentysomethings truly succeed. If you have anything you'd like to see on All Groan Up, I'd love to hear from you as well.
Also if you'd like me to come speak at your business, church, or school, check out my speaking page to see the range of topics I can cover and what people have been saying about the experience. I'd love to chat with you about how I can be of service.
Thank You!
Thank you for your support, encouragement, and inspiration over these incredible past few years. None of this happens if it wasn't for the amazing community here at All Groan Up. I love what we've built together here and am excited to see what we're going to do next.
Let's tell and live our story right! Who's with me?