Let it be noted that my life has forever changed.
Again.
The contractions started at four minutes apart and quickly moved to three as I became sure that I was going to be delivering our second baby on the floor of a Kia.
Driving 90 mph and running through lights, needless to say I didn't quite have time to film a funny video as I did with our first.
And the baby came. In the hospital. At 3:33 am on the 3rd. Perfect timing. Yes, indeed.
There is no amount of hyperbole to describe the most exhilarating, terrifyingly, momentous moment in my "Adult" life as I watched a women I was once so nervous to kiss, now literally give her life for me and six pounds fifteen ounces.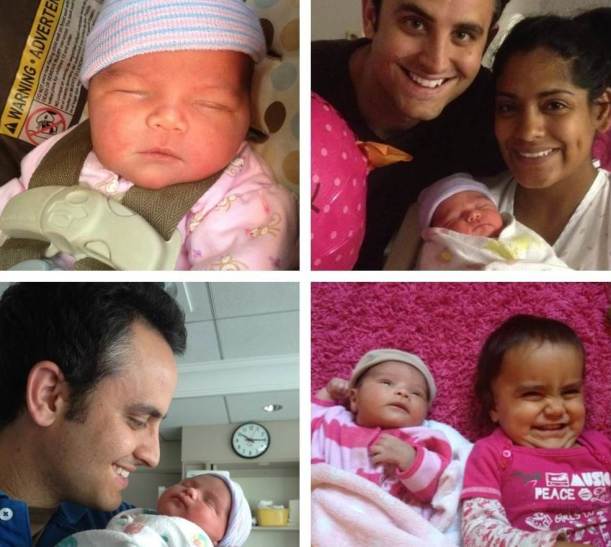 Toes, fingers, hair, hiccups, and yes even poop, all carry a weighty significance that is unlike anything I've ever experienced before. People always tell you that having a baby changes everything and you smile and say "I know" without any idea that when they say "everything", they mean, well, everything.
Four Words That Have Forever Changed
PRAYER – Something so holy and pious, done in respect and esteem to the Lord in church pews, became something entirely different. With the first delivery when all I could see was blood and all I could hear was "heart rate dropping" and "umbilical cord wrapped around neck," prayer became a violent shout for help – a plea of desperation and expectation, not just for God to listen but for God to show up and save ASAP.
BEAUTY – A word used for the front covers of magazines was anything but air brushed as that first sign of baby became my truest definition of the word. The huddled, shivering, and crying mess covered in embryonic residue made the supermodel on a magazine cover look like mud on a windshield in comparison.
SLEEP – Something so plentiful, now a commodity rarer than finding gold in my backyard
LOVE – The word most transformed of them all. How anemic was my understanding of love just days before.
Love of my wife
Standing with her in what must be the most helpless position a man could ever be in, offering nothing else but my hand and reminders to breathe, the roots of my love for my wife moved deeper and further into the ground. As a young couple dating years ago, professing our love in romantic bliss, we had no idea what that word truly meant. I caught a glimpse of it that night.
And that my wife is one bad-ass woman who is way stronger than me.
Love for this little girl
The intensity of this love became very clear to me when I found myself bawling the moment I saw her enter into the world.
Then hours later when I found myself standing over her like a Grizzly bear over his cub, when a nurse had the audacity to prick her with a needle and make her cry.
Love of a Father
As I drove home from the hospital, John Mark McMillan's "How He Loves" echoed through my speakers, bringing with it another wave of tears. (geesh, having kids makes you all soft and stuff).
My relationship with God has been up and down the last few years. Some days he feels like he's sitting close to me on the couch. Others he feels as warm as a frozen cod. But as I came back from the hospital, I was overwhelmed with how profound God's love must be for me.
Feeling the impact of being a father for the first time I caught a glimpse of what our relationship has been the whole time.
God's love is not poetry. It is a tidal wave.
I know because I've felt that same love now. Twice.