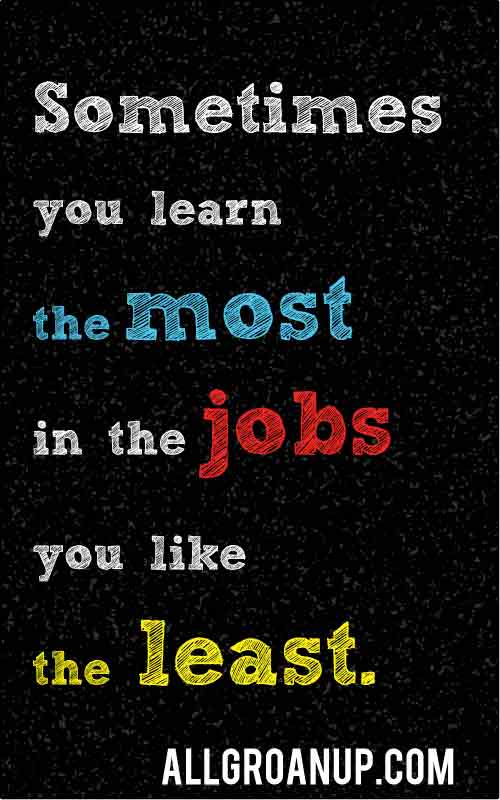 Are you working your dream job right now?
Was that question so ridiculously far from truth that you just let out an incensed snort and want to punch me in the face?
If you're a twentysomething and graduated somewhere within this "great" recession, chances are you've had a crappy job (or two) (or three) (or four)….
Before I graduated college, I made fun of all those unfortunate twentysomethings working in lifeless, listless, and pointless jobs. Until that unfortunate twentysomething was me. Then it became a lot less funny.
A crappy job can feel like a black hole — it sucks and feels impossible to escape.
How can you be strategic and smart with your lousy job to make sure it's a quick stop and not a long, black-hole-sucking, stay? Here's five tips on how you not only survive your lousy job, but leverage it into a job that is dream-esque.
5 Vital Tips to Surviving and Thriving in your Twentysomething-Painful-Profession
1. You are Not Alone
First, I promise you're not alone. A majority of your friends are experiencing the same "please God, make it stop" job experience. No matter how cool they've made their job sound on Facebook, they're struggling to find meaning in their days as well.
So pick up the phone. Call a friend or two. Be honest. Don't put a PR spin on the unspinnable. Then listen for this amazing thing called actual, honest, conversation. Laugh together about how bad it feels. Share war stories and strategies.
You're not alone. And just knowing that fact can make that crappy job smell a lot better.
2. Start a Side-Hustle
When you're not finding fulfillment with the old 8-5 thing, start finding fulfillment with a side-hustle. I believe Pamela Slim of Escape from Cubicle Nation coined the phrase "side-hustle," basically it's that thing — that idea, that book, that website, that training, that education, THAT SOMETHING you're going to pursue during the after-hours.
An effective side-hustle will give you energy and creativity — two necessary flames that need to be ignited if you are going to escape this lousy job. It's not going to pay the bills right away, but hustle enough and maybe soon it will.
3. Don't Take to Social Media to Complain
You've had another terrible day in your terrible job and you just need to vent. Just say no to sharing it with the entire Internet world.
As I wrote about in 12 Facebook Updates that Need to Stop Happening, complaining about your lousy job on Facebook will turn off Non-Crappy Job's from luring you in their direction. They'll worry that if they hired you it would be just a matter of time before you're complaining about them too.
4. Calls, Lunches, Coffee, Rinse, Repeat
Dive headfirst into that network of yours. Reach out to everyone. No relationship is off limits. Timmy, who you did Boy Scouts with in elementary school. Jessica who you competed against in a pageant. Mary who stole your boyfriend in 9th grade. (Seriously, she owes you one!).
Talk to as many people as you can. Show them your excitement and your passion. You'd be surprised how many job opportunities come through acquaintances and friends-of-friends. People like helping people. Especially if they don't know all your junk like your best friend does.
5. Learn What Needs to be Learned
I'm one of those everything is happening for a reason kind of people. Sometimes I forget I'm one of these people and go into a deep depression of eating raw cookie dough alone in the dark while listening to Death Cab for Cutie, but give me a week or two and I'll snap out of it.
Every job, no matter how terrible, has something to teach. What skills can be gained NOW that you can leverage LATER?
What extra assignments or tasks can you volunteer for that better align with your strengths and interests? Who can you start buttering up — "Wow Greg, you designed that brochure so well. You're so talented. What's your secret" — so that you can begin informally shadowing them and learning a new set of skills. Start becoming proficient in your passion.
Don't sit back passively waiting for an opportunity, look for ways to create one.
Sometimes you learn the most in the jobs you like the least.
 I'd love to hear from you in the comments below: What's one strategy you have for surviving or thriving in your lousy job?