Sometimes the most scary part about chasing a dream is when it actually comes true.
At least that's how I feel right now. In 19 days my debut book 101 Secrets for your Twenties is released into the wild, and as I held the book in my hands for the first time last night, I felt ecstatic and slightly mortified.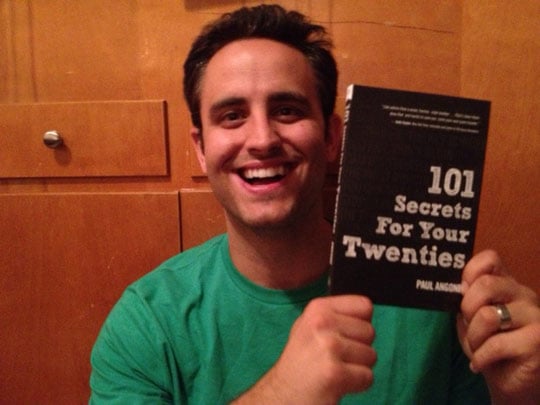 What if it doesn't find a good home?
What if wild critics eat it alive?
What if it racks up so many one star reviews on Amazon that I'm known as the One-Star-Secret for the rest of my life and I have to move my family to a small island in the Caribbean where they have sketchy Internet access?
I've worked at this dream for seven years just praying for the day when I could kick a Word document out of its nest, and now that it's finally here, I'm nervous that it's not going to know how to fly.
And that's why today I am asking for your help. Then in return, giving you six unique opportunities as a thank you. 
It's only because of you and how much you shared 21 Secrets for your 20s that this book is actually happening, so it's only fitting that we cross this finish line together, right?
101 Secrets for your Twenties Top Secret Not-so-Secret Launch Team
If you're interested in joining the launch team here are the six awesome things you'll receive:
The 101 Secrets for your Twenties ebook sent to you ASAP.
The 101 Secrets for your Twenties expanded ebook when it's complete in mid-July.
A print copy mailed to you (and the possibility for a book giveaway on your site)
Other cool free stuff
Behind-the-scenes look and tips at launching a book
An exclusive chance to network with other influencers in this space, as well as myself. I've been working away at assembling a pretty amazing team all passionate about connecting with this generation so the contacts and conversation there will be awesome.
Then as a member of the launch team,  all you really have to do is be willing to share the book (review on your site, social media, train a team of carrier pigeons to sprinkle pieces of paper with 101 Secrets for your Twenties across your town or county, etc).
Sharing will be super simple as I've assembled every resource you need (pre-written tweets, Pinnable images, blurbs for emails, links to my book trailers, etc) that can all be accessed here: https://allgroanup.com/media/
Launch team or not, if you review on your site, shoot me the link and I'll make sure to link back to you from All Groan Up for some link love.
Let's Launch This
It is with little coincidence that I will turn 30 years old two weeks before this book releases. The irony is not un-appreciated and as I look at the journey to get here, I see now I needed every single day.
I am honored by your support and am very excited at this opportunity to give twentysomethings this book. If you're not selected, no worries as there will be tons more ways to help and snag cool stuff in the next few weeks.
*** Applications have been closed for the launch team.
However, I would definitely be honored if you'd still consider spreading the word about 101 Secrets for your Twenties. Again here's a link with all kinds of helpful info that you'd need. https://allgroanup.com/media/
Thank you for your support. I could not do this without you!