The thing I love about this site is that one day I can be interviewing the President of the Sold Project regarding preventing sex trafficking and then the next, reliving the magic of Double-Dare and gym class with short-shorts. That's the beauty of being in between growing and grown.

PICTURE OF THE WEEK: MARK SUMMERS, HOW WE MISS THEE
"On your mark, get set, GO….!!!" Remember those beautiful words that kicked off every episode of Double Dare? Oh Mark Summers. Oh Family Double Dare. Oh "Physical Challenges" with your carrying a cup of water in your mouth as your mom blasted you with a milk-like substance.
I think we all dreamed the dream of one day being on Family Double Dare – mainly so that you could lavish your dad's head with green slime and not be grounded. If you, or someone you know, was a contestant on the show, oh-my-double-dare how I would love to hear your story.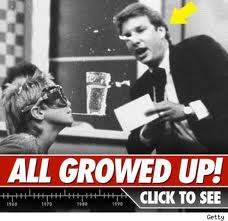 Thank you to Joy Eggerich @joyeggerichs for sharing with me the Mark Summers-Grown-Up-Love that you see on the right. I always knew Mark Summers and myself where linked in some mysterious way, so it's nice to see it confirmed.

COMMENT OF THE WEEK FROM ALL GROAN UP
On the All Groan Up Chalkboard Question: Gen-Y-Do We Give A Crappity-Crap?, Megan (@Energy Careerist) replied with this comment on her favorite aspect of this 20something generation.
"My absolute FAVORITE thing about this generation is our ability and tendency for collaborative learning and acting. I find myself jumping up and down inside when I see my peers interact, collaborate, and partner to get things accomplished. Pulling yourself up by your bootstraps has its perks – but finding others who are excited about those very same bootstraps and tapping into their expertise to help meet a common goal is awesome!"

GROAN UP VIDEO OF THE WEEK: Gym Class Gone Right
If you are not yet familiar with the stylings of the band Temper Trap, well you should be. If for nothing else than the Groan-Uply-Amazing  video below. Remember those epic runs in gym class as you daydreamed about your 6th grade crush who you were desperately in love with and sure you were going to marry? Nothing epitomizes that feeling better than the video below – choreographed middle-school dance moves and fireworks included (please do yourself a Friday favor and watch until the end).