Today I'm very excited to announce THREE HUGE THINGS:
1. The winners of the 101 Secrets Writing Contest that will be published in the expanded 101 Secrets for your Twenties ebook and featured on All Groan Up.
2. The four winners of the Twentysomething Survival Kits consisting of gift cards galore.
3. And then…the grand prize winner…of an iPad mini or Kindle Fire!
Today is a good day.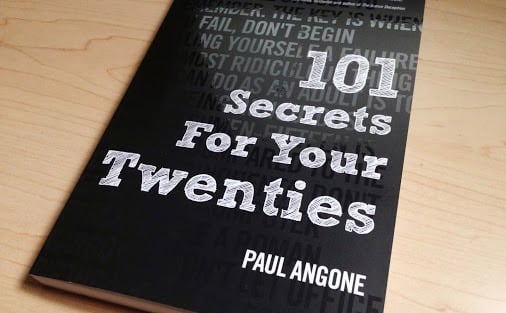 101 Secrets Impact
I come to you after my five-city book tour through LA, NYC, Chicago, Portland, and Denver in what was a more successful book launch tour than I ever could've planned or imagined.
It's been an insanely busy three weeks six months, and I'm writing this feeling exhausted, slightly burnt-out, excited, and extremely thankful for all the amazing people I've met and comments I've received about how big of a difference 101 Secrets for your Twenties is making.
If you want to make a huge difference in my life and the life of 101 Secrets please continue to encourage friends to buy a copy of 101 Secrets for your Twenties, and if you haven't already, leave a review on Amazon. (each review, even if it's just two sentences, makes a huge difference).
Then as well another way you can make a HUGE IMPACT on the book — the next time you walk by a bookstore, ask if they have 101 Secrets for your Twenties.
If they don't carry it, they might order the book right there and because of you, 101 Secrets for your Twenties has now been brought to another bookstore.
Seriously. See a bookstore. Walk in. Request 101 Secrets for your Twenties. It's that easy.
Or just pick up the phone right now and call your local Barnes and Noble to see if they carry the book.
I can't thank you enough for your continued support. It's only because of you any of this is happening. THANK YOU.
Alright, now let's announce some winners!
The Winners of the 101 Secrets Writing Contest
My publisher Moody Collective received an overwhelming amount of entries to be included in the 101 Secrets for your Twenties expanded ebook and told me it was a very tough decision to narrow down the entries to ten winners. Without further ado — here the winning entries with their secret:
Diana Antholis: Know who you are. Accept who you are. Love who you are.
Emily Belden: Switch your thinking from "Everything will be okay" to "Everything IS okay."
Melissa Suzuno: A true adventure is like peeing your pants—scary and embarrassing at the time, but it sure makes for a great story afterward.
Aris Allen: Have Six Impossible Dreams before Breakfast
Michele Hammerbacher: Glance at a reliable news source. Everyday.
Ryan Moyer: Stop Trying to Be A Doctor.
Aura Burrows: Listen to that small, maybe crazy, voice that says, "Do this".  Then DO it
Arthur Perin Mota: Preserve your inner child… by wanting to grow up
Sarah Hayes: Your Life Isn't an Instagram Feed
Therese Schwenkler: The secret to finding stability in your 20s is learning to love the questions.
A HUGE THANK YOU to everyone who participated! I wish everyone could be included in the expanded ebook.
Moody Collective is formatting the ebook as we speak that we will be sending out very, very soon. So hold tight to receive your copy. I will also be running all winning entries on All Groan Up in the next few months with each winner's bio and a link to their website for extra exposure. Congratulations again!
4 Winners of Twentysomething Survival Kits
Now let's switch gears and announce the four winners of the Twentysomething Survival Kits, which includes:
– Two extra copies of the book to give to friends so they know they're not alone (Secret #32)
– $15 Starbucks gift card for members of any coffee quadrant (Secret #30)
– $50 gas card for the road trip you need to take to fix everything (Secret #28)
– $15 iTunes gift card for the purchase of non-sad songs only (Secret #65)
The names were entered into Random Picker and the four winners randomly chosen were…drum roll please….

Dana Pinedo, Tiffany Thompson, Nate Walker, and Naomi Taylor – congratulations! I will be contacting you will details on how you can collect your Twentysomething Survival Kit.
Now for the big daddy of them all..the GRAND PRIZE: A twenty-something survival kit + Kindle Fire or iPad mini to help build the brand that is you (Secret #23)
The names were entered into Random Picker again…drum roll…trumpet sound…white doves releasing into the air…
And the winner is…

Congratulations Kristen Urchell! You have won a twentysomething survival kit AND your choice of an iPad mini or Kindle Fire! I will be contacting you shortly!
Thank you again to everyone for the amazing support. Seriously none of this would be happening without you and how much you have shared this message of hope, encouragement, and hilarity with friends. THANK YOU x 101.
Let's continue to make 101 Secrets for your Twenties the worst kept secret of all time.