Today All Groan Up is honored to welcome back the amazing Allison Vesterfelt, who is now a Double-Groan-Up-guest-poster along with her previous post: Dear Mom & Dad: A Letter from your 20-something. Allison is a writer, managing editor of Prodigal Magazine and author of "Packing Light: Thoughts on Living Life with Less Baggage" (Moody, 2013). She lives in Minneapolis, Minnesota with her husband Darrell. You can follow her daily on Twitter or Facebook. 
I'm about to round the corner out of my 20's and into my 30's and, as I do, I'm reflecting on all the good times we've had. The twenties have been a crazy roller-coaster ride of break-ups, make-ups, marriages, moves, and other life-altering decisions who's full impact will remain unknown for probably another decade.
I've loved my twenties. I've hated my twenties. I'd never want to do them over again. But, looking back, there are some pretty great perks to being a 20-something.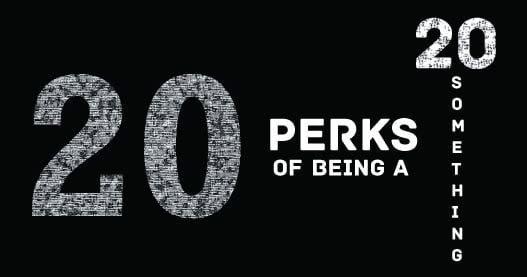 20 Perks of Being a 20-Something
1. You can still do laundry at your parents' house.
2. You can try out all the latest trends without wondering "Am I too old for this?"
3. You can still use your student ID to get cheap movie tickets (at least you still look like the picture).
4. You can make any number of mistakes and later blame it on the fact that you were "in your 20's."
5. Despite occasional break-outs you skin will never be this elastic again.
6. You can count on all your parents' friends to occasionally feel sorry for you and invite you over for a home cooked meal.
7. Grocery shopping is easy when all you have is 20 bucks. Limited options make for quick decisions.
8. You're still physically able to sleep past 9am on a Saturday (plus, what else are you going to do?)
9. When attending special events, you can probably get away signing the card for the gift your parents picked out, bought and wrapped.
10. You can shamelessly "borrow" money from your parents.
11. If you ever need any creative work done, you're in luck. All of your friends are freelance graphic designers, artists and writers.
12. Everyone younger than you (high school age) and everyone older than you (mid-life crisis) thinks you're cool and is jealous of your life.
13. You can still get away with irony. Your cat sweater and funny facial hair just won't be quite as funny when you're 40.
14. You can recover quickly from all-nighters (doing homework, of course).
15. You can take extended periods of time off work to "travel" and people will applaud you for it.
16. "I'm trying to find myself" is a good excuse for pretty much anything
17. If you hit a bump in your career you can just go back to school and no one will think it is strange
18. If anything goes wrong, all you have to say is, "It's cool, I'll just move in with my parents."
19. No one judges you for being in 20, 30 or 50,000 dollars of debt ("It was for my masters degree!")
20. Your body might not be perfect, but it's all downhill from here…
What do you think are the perks of being a 20-something? Can you add to my list?
—
[box title="Snag a FREE portion of my book 101 Secrets for your Twenties before it releases this July 1st." color="#FF0000 "]
[/box]