101 Secrets for your Twenties releases July 1st and I'm hitting the road for a five-city, cross-coast, book launch tour of mostly epic proportions (double exclamation point).
LA, New York City, Chicago, Portland, and Denver — all in two weeks!
If you're one of the "few" people who reside in these sweet locations, then the time has come for us to connect, celebrate, and be awesome in person! No more Internet lurking for us!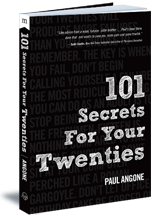 101 Secrets for your Twenties is only happening because of your support. Now let's celebrate! All events will be free, amazing, and if you miss it, I can pretty much guarantee it will be your greatest life regret of all time – guaranteed.
5 Book Launch Parties!
1. Los Angeles – Saturday, June 29th 7:30 – 10:00 PM
Did someone say pre-release party? Come snag the book before it comes out July 1st at the Julia Dean Gallery in Los Angeles.
There will be food, drinks, books, giveaways, two custom made Pinatas (by my amazing wife) packed with awesome, and a few other surprises you won't want to miss! Bring your family, friends, frenemies – everyone, of all ages, is invited.
Find full LA party details and RSVP here.
2. New York City – Monday, July 1st (day 101 Secrets for your Twenties releases!) 7:00 – 9:00 PM
What's a book launch tour without a stop in NYC, especially on July 1st aka 101 Secrets Day. I'm joining forces with fellow author Jenny Blake, NY Creative Interns, and Wix.com for a launch party extravaganza you won't want to keep a secret! (too much? I thought it worked). Come eat cake, celebrate, and hear from Jenny Blake and myself as we share secrets on how to rock your 20s and beyond at the Wix Lounge, 235 West 23rd Street | 8th floor | New York, NY 10011.
Find full NYC party details and RSVP here.
(The New York launch party website was created using wix.com. If you need an awesome FREE website, please check them out. Huge thanks to NY Creative Interns for producing this event.)
3. Chicago – Tuesday, July 2nd at 7:00 PM
Teaming up with awesome people and organizations continues as I join forces with 20Something Bloggers, an amazing community I've been apart of for years and am graduating from as I hit thirty years old, well, tomorrow June 18th.
There will be snacks, drinks, and I will be speaking about my book, as well as providing secrets for how you can turn your book into a book deal. The event will be at the posh Enerspace Chicago – with view of the whole Chicago skyline! 1046 West Kinzie Street Chicago, IL 60642
Find all Chicago party details and RSVP here. (Big thanks to 20something Bloggers for setting up this awesome event)
4. Portland – Saturday, July 6th – Time TBD
Jenny Blake and I join forces again in Portland for a casual meet, great, and celebrate at a park in Portland. There will be some free food and fun. Time and place TBD.
If you're attending the World Domination Summit I hope to connect with you in person at the event or over coffee!
5. Denver – Friday, July 12th, 6:00 – 10:00 pm
The last stop of the tour is in my hometown of Denver, Colorado. Come celebrate at Water2Wine in Centennial — a relaxing, hip winery in the city.
There will be food, drinks, books, giveaways, and you can meet my whole family!
See all Denver party details and RSVP here.
Thank You!
Can't wait to meet in person and celebrate 101 Secrets for your Twenties together!
I'd love to hear from you in the comments below. Think you're going to make it to one, two, or all of these events? Let me know in the comments below. (If you're going to all of these events want to go halfsies on a rental car?)