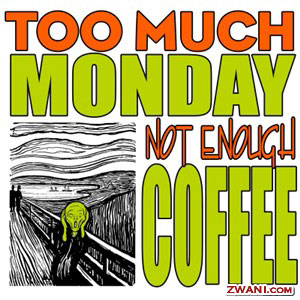 Have you ever walked into your office and your co-workers are so excited its Monday they're skipping through the halls like seven-year-olds at a chocolate factory?
Yeah...me neither.
If my 8:00 AM was met with Monday morning praises decking the halls, I'd probably be wondering what everybody was really putting in their coffee mug. (Note to Self: Whiskey on Monday? Look into it. )
MONDAY'S TRACK RECORD
Monday morning is rarely anyone's best friend, companion, or even estranged acquaintance.  Since we've joined the World of Employeedom, some Monday's have been met with ambivalence. Other Monday's anxiety. Some annoyance.  Some a true sense of fulfillment and excitement. But unfortunately most Monday mornings feel like we just downed five Big Mac's while simultaneously riding on a Tilt-o-Wheel as a clown methodically laughs in our face.
Basically, I haven't seen people clamoring to join the I Love Monday Facebook group.
MONDAY, WHY DO YOU MAKE US FEEL THE WAY WE DO?
Is our lack of Monday morning excitement just a case of a bad attitude, or is it the fact that our Monday's, than Tuesday's, etc, etc, is not fully what we want to be doing with our lives?
While I know there's many Monday's I have chosen to make terrible, I also think how a person feels on this special day is a pretty accurate signifier on whether or not their job is aligning with their life's strengths, dreams, and goals.
THRILLED IT'S MONDAY
I mean what if you and I lived in this crazy world where our Monday's were met with sheer excitement? What if our job was so deeply fulfilling that on Sunday we could hardly wait to go to bed just so Monday could arrive?
What if Monday and Friday were close siblings instead of estranged second cousins?
I want my Monday's to be met with expectation. Not a superficial feeling that I have to talk myself into, but a deep knowing that each Monday is the first step towards a kick-ass week of pursuing a life that I'm amped to pursue.
I don't want to stumble past my life. I want to live on purpose. Monday's included.

HERE'S TO MONDAY
While I understand that no matter how fulfilling our jobs there will always be those Monday's when our snooze button is set on perpetual repeat.
And I understand that no matter the circumstance each of us has a certain amount of choice to make Monday something to anticipate or to dread. We will always have the choice whether or not to make Monday glorious.
However, I truly believe that if we were truly walking out our life's purpose, the gloriousness of Monday won't just be a choice, but a reality.
And that's my goal.
Anyone with me?
____
On the scale from 1 to Nauseous, how do you feel most Mondays?
Is the possibility of Monday being the most anticipated day of your week a fool's dream or an already realized actuality?