Insecurity! You Lying Sack of…
Posted on October 7th, 2011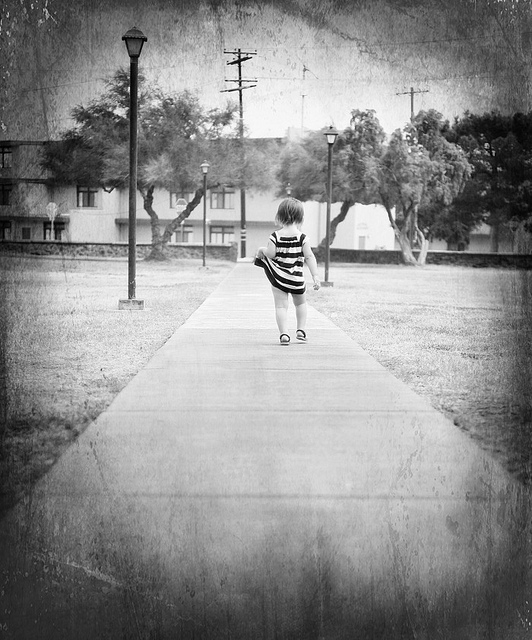 Picture via uber-talented Amanda Tipton – Creative Commons
In 8th grade, insecurity became a permanent fixture in my life. Like that 1970′s oak entertainment center in your parents living room– freaking huge, yet it's been there so long you don't even notice it's there.
An acne attack kicked off my sweet thirteen insecurity party – acne of the face, chest, and back variety all making themselves quite at home as my uninvited guests.
Then top that off with braces and love handles the size of Coke cans, and my Insecurity cruise ship was sailing through the choppy waters of puberty with a Titanic-esque chance of survival.

Lying on the Gym Floor
8th grade found me under tables. As lights flashed all around and Loveshack boomed over the speakers, you wouldn't find me during a school dance.
Well unless you looked under the back table. A school dance going on around me as the over-sized tablecloth concealed me from all the girls I hoped would realize I was missing.
I'd picture all the popular girls desperately searching for me like their childhood dog had gone missing. And once they found me, ahhhh yes… they would sweep me out from under the table and parade me around the dance floor, showering me with kisses like a war hero just come back to the states.
Of this I was sure.
But it never happened.
I wanted to be paraded as a war hero.
Instead I just fought my own war.
Alone under a table.
As Jon Acuff recently wrote, we have this desire to be found. Problem is most people don't know they're supposed to be looking.

The Insecure Disease
And that's the cancer of insecurity – we artificially remove ourselves from our own lives so that we can be missed. When the only thing I missed was moments of my childhood, a theme that continued for years to come.
Insecurities tell us to play hide and seek with people who never knew they'd signed up to play. So when they don't "seek", we just hide.
They'll miss and love me when I'm gone – one of the most dangerous lies we can believe. Because they miss and love us RIGHT NOW. Insecurity just blinds us to seeing it.

Insecurities. And Their Lies. That Become Truths
And that's the thing with insecurities.
If you don't think people like you, they won't.
If you don't think you're the best candidate for the position, you're not.
If you don't think you'll get a second date, you won't.
It's as simple of a rule as 1 + 1 = Do I Need to Say?
And it has nothing to do with the fact or fiction of whether or not you're ACTUALLY hirable, dateable, likeable.
Nope. It just comes down to one simple fact.
If you believe it, so will everyone else. Our insecurities dictate our reality.
It wasn't my acne that isolated me. It was insecurity. You lying sack of…
I want back what you stole.