I still remember crawling through a tent-tunnel with my two- year-old daughter when my phone notified me I had an email.
An email that I stood up in sheer excitement after reading, forgetting I was in a tent-tunnel, that was now hanging to me in pieces while my daughter stared at daddy apparently officially losing it.
The email was a reply to an email I almost didn't send.
I talked myself out of sending this email for weeks. I was petrified to press send.
Yet, here I was reading a reply from a huge influencer in my life whom I've never met. And yet, here was Seth Godin endorsing my first book, 101 Secrets For Your Twenties.
I called to my wife in the kitchen with giddy excitement, holding the phone triumphantly in the air, tunnel dangling off my backsides.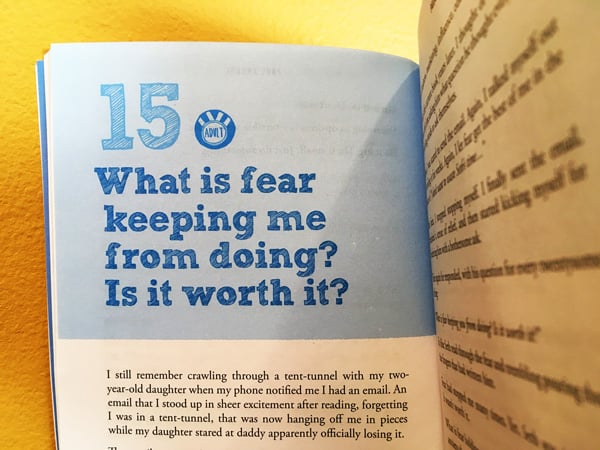 If you don't know Seth Godin, you need to. The man breathes insight, wisdom, and inspiration in his amazing books and is a  guru of business, marketing, influence, education, and leadership.
So with my new book 101 Questions You Need to Ask in Your Twenties (and Thirtes), I thought of emailing Seth again.
I was envisioning how cool it would be to include a piece of question-gold from a legend like Seth Godin in my book.
THE QUESTION from THE MAN that every twentysomething should ask.
Again, I was scared to send the email. Again, I talked myself out of sending it for weeks. Again, I let fear get the best of me in the name of "I don't want to waste Seth's time…"
But then, I stopped stopping myself.
I finally sent the email, breathed a sense of relief, and then started kicking myself for bothering him with a bothersome ask.
Then again, Seth responded, with his question for every twentysomething. And it was a piece of question-gold:
What is fear keeping you from doing? Is it worth it?"
It's like Seth read through the fear and trembling pouring through the fingers that had written him.
Fear had stopped me many times. Yet, Seth was right, of course.
Fear isn't worth it. (click to tweet that)
If I never asked, I would have never gotten to pay forward his question in my new book. 
So now, I bring Seth's question directly to you today:
What is fear holding you back from? Is it worth it?
Is it worth the anxiety that comes from letting fear get the best of you?
Is the fear holding you back worth always wondering and never knowing?
Is it worth living a life of "if onlys"?
Is it worth staying stagnant, comfortable yet miserable?
Never taking needed risks because of fear is not worth it.
It typically never is.
Trying and knowing is better than wondering what if.
Stop stopping yourself.
This post is adapted from my just released new book 101 Questions You Need to Ask in Your Twenties (and Thirties). 
In the book, I'm thrilled I was able to include questions far beyond my wisdom from people like Seth Godin, Conan O'Brien, Hall of Fame quarterback Kurt Warner, Oprah, etc. The book, and the questions, are bigger than me.
I'm already amazed, humbled, and honored at what reviewers are already saying about the book. Check it out.