Hi friends,
It feels surreal and exciting that my new book 101 Questions You Need to Ask in Your Twenties (and let's be honest, your thirties too) comes out in almost a month on April 3rd!!!
Since you're a part of the community here at All Groan Up, I want to give you the first chance at snagging this new book for free!
The physical book. For Free. Weeks before it comes out for everyone else. No $8 shipping fee for the "free" book. Just the book for FREE.
How? By joining the 101 Questions You Need to Ask in Your Twenties launch team. The only real catch is that there's a limited number of spots in the launch team and we close the doors in a few days.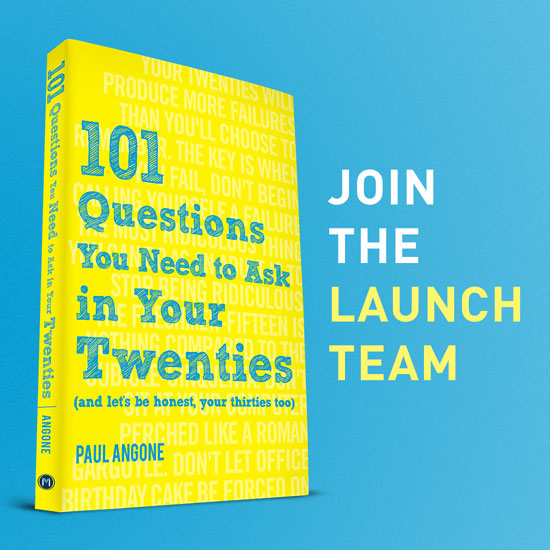 What's the 101 Questions Launch Team?
As part of the launch team, you basically help share about the book and review it. That's it.
Then in the process, you and I also get a chance to connect more and you can connect with like-minded readers and influencers in the group (always a fun part to see the relationships made!).
Also, if you've got your own website or social media platform, you'll be prompted to share it with the group. I'll also be linking to launch team members websites and social platforms on the All Groan Up website in a launch team thank you post.
I want to link to you and help promote you as a thank you for helping promote the book. 
How to Join the Launch Team?
Simply ask to join this closed Facebook group and you're in! That's it.
But only 100 people will be able to join. So go now.
My publisher (Moody Publishers) will be inviting people to join as well, so spots will fill up fast.
Big Thank You! And More About 101 Questions
I've been honored to connect with many of you through my first book 101 Secrets For Your Twenties. 101 Secrets has literally changed my life, and more importantly, helped encourage and give hope to thousands and thousands around the world as it's been translated for Thailand, Russia, India, Vietnam, etc..
101 Secrets also just had it's best three months of sales ever(!!!) and there's no way that would've ever happened without the community here at All Groan Up. Thank you!
Now comes 101 Questions You Need to Ask in Your Twenties, with the same humor and engaging format as 101 Secrets For Your Twenties, but this time going deeper into the questions every twentysomething and thirtysomething needs to be asking.
To find answers for your life it starts with asking the right questions.
I've spent the last five years studying and formulating the most important questions we need to ask for success in our careers and relationships, adulting like a champ, and finding our signature sauce. I can't wait to see this book come out and help others find their path and place.
More about the new book 101 Questions in the weeks to come. In the meantime, I am excited to connect with you in the launch team! Let's do this!
Snag 101 Questions You Need to Ask in Your Twenties by joining the launch team here.