There I was, pouring my heart out to an incredibly wise woman mentor of mine.
My life was going nothing as planned.
And the frustration I was feeling inside was boiling over to "scald everyone in my general vicinity" kind of levels.
This was not supposed to be my life. But I couldn't figure out what to do about it.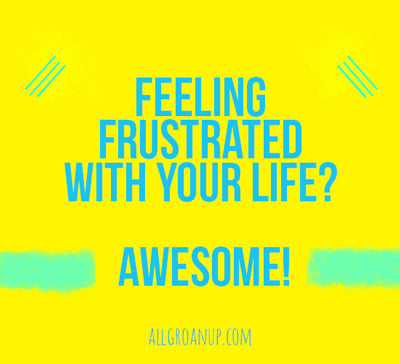 This wise woman just sat back and listened to me vent.
Then she took a deep breathe and gave me one of those "If only you could see the truth" kind of smirks.
I expected her to respond with advice on being content, no matter the circumstances. Or how I needed to suck it up and just work harder.
Instead she shocked me with this advice:
"I'm so glad you're frustrated! If you weren't frustrated, then I'd be worried."
What? She was glad I was feeling frustrated?! I couldn't believe it.
Then she continued:
This frustration is forcing you to look honestly at your life. Now, the real question is — what are you going to do with this frustration?"
What are you going to do with this frustration?
That's THE question. A question that changed my life.
What Are You Going to Do With Your Frustration?
Sure, frustration can be a complete jerk.
It won't sit there cross-legged, all polite and quiet-like.
No, frustration will gnaw at your insides.
But that's why we need it sometimes.
Frustration can be the best guide in leading you where you need to go.
The biggest problem isn't the frustration we're feeling.
Our biggest problem becomes when we don't listen to what that frustration is trying to tell us. 
Or we know what the frustration is about, but then we try to medicate it away.
Or we just distract ourselves from the frustration with busyness, entertainment, or drama.
That's what too many of us do. And that's where too many of us stay.
So what's the best thing we can do with this frustration?
The Best Thing to do with Frustration
Sit there in it. Take a breath. And allow yourself to be frustrated.
Then start asking yourself questions about why you're frustrated.
Do I have soul values that are in conflict with the part of my life that's bringing me anxiety?
Is there a relationship in my life that feels like a "hangry" raccoon is tied to my ankle? What do I do about it?
What do these problems and pains in my life reveal to me about my purpose?
What is my next best step towards making a change?
Who will I not be able to help if I give up now?
These are the questions that helped me meet my frustration head on and make changes in my life.
These are the kind of questions that helped me escape the cubicle for five years running now.
These questions helped me publish three books and speak around the nation full-time, all while making my own schedule and spending tons of quality time with my three kids.
These are the kind of questions that make up my new book 101 Questions You Need to Ask in Your Twenties (and Thirties).
Questions to help you get unstuck and do something with that frustration. Questions about your career, your dreams, your relationships, and your purpose.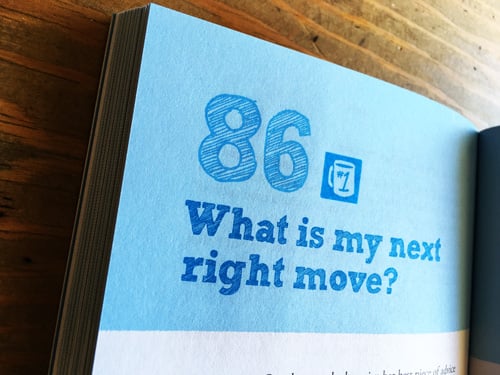 These questions are also in my Finding Your Signature Sauce online course, with 10 video teaching modules from me and interviews with other amazing creators, influencers, and entrepreneurs.
(The course that I'm giving away for free, along with other goodies, if you buy my new book in the next two days. Snag 101 Questions here and send me the confirmation at [email protected] to receive all the free stuff. Only two days left).  
Do Something With Your Frustration
The best way to relieve frustration is to dive headfirst right into it.
Frustration is telling you the problem and asking you to find a solution — a real solution that gets to the heart of the problem.
Let frustration cattle prod you toward your future. 
Let the frustration of "This is not where I want to be" motivate you to keep moving forward.
Most inventions and innovations begin with frustration, as it forces you to find a better way, if you'll let it.
Don't let your frustration take you down, tackle it head on.
Tackle this frustration in community. Tackle this frustration with guides to help you overcome. Don't try to do this alone. It's too hard and too exhausting.
That's why I'm so excited about my new book 101 Questions You Need to Ask because it's the best way I can help guide you.
I'm also thinking of opening a private Facebook community for people who buy the book, that I will jump in as well, so that we can wrestle with these questions together. If you're interested in this, let me know.
Go ahead. Be frustrated. Then do something productive about it.
Ask good questions about what your frustration is telling you.
Then ask, "what's my next best step towards making a change?"
I've been amazed and honored at what the first readers are already saying about 101 Questions You Need to Ask in Your Twenties (and Thirties). Check them out here. 
Remember, only two days left to snag a copy of the book and be entered to win amazing prizes. Email me your proof of purchase to [email protected] before Tuesday, April 10th. Grab your copy of the book here.