Hi friends,
Want to take part in a live mini-workshop with me on how to get unstuck and start moving forward?
I'm doing one tonight!
An invite-only mini-workshop where you can also ask me any question you want.
The invite will be sent out soon for everyone who's grabbed a copy of my new book 101 Questions You Need to Ask in Your Twenties (or Thirties) and sent me their purchase confirmation to [email protected]
Even if you buy the book today and send me an email confirmation asap, I will send you an invite right away to join the private Facebook group for the mini-workshop tonight.
The live Facebook mini-workshop will happen tonight, Tuesday April 10th at 6pm Pacific/9pm Eastern. 
It will be live, but a recording will be placed in the Facebook group as well for anyone who gets the invite into the group and wants to watch the replay.
Also some people were having difficulties sending me their purchase confirmation of the book by yesterday for the raffle.
So I will extend the deadline until 6pm Pacific/9pm Eastern tonight for anyone who buys the book today to be entered into the raffle for these amazing goods below.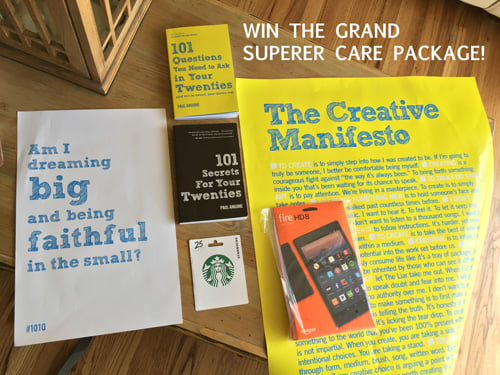 I will do the raffle live at the end of this mini-workshop tonight. 
Grab the book here then send me confirmation at [email protected] before 6pm Pacific/9pm Eastern today. Go now.
This private Facebook group will also be a great place for you to meet fellow twentysomething and thirtysomethings who have bought the book, so we all can discuss some of the questions together. So a book discussion group as well and a place to connect with others.
Snag 101 Questions You Need to Ask in Your Twenties and send me the proof of purchase right away.
Be entered into the raffle. Get my Signature Sauce course for free. Get invited into this private, live workshop. And ask me any questions you want!
Ask me questions about the book itself.
Ask questions about publishing, getting a book deal, working with literary agents, growing a blog, or even how much I make from books!
Or are you at a cross roads in your life and need some insight, ask away.
No question will be off limits.
Thanks everyone! Excited to talk to you tonight!
PS – Remember, send me proof of purchase of 101 Questions before 6pm Pacific/9pm Eastern today to receive an invite and possibly win an amazing raffle prize tonight. 
Snag the book here and email me the confirmation at [email protected]