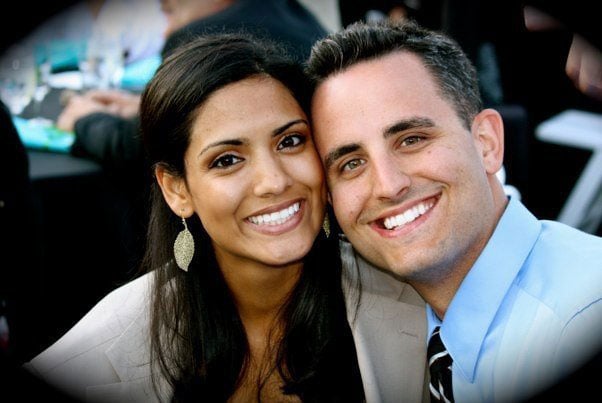 I met my wife at the worst, and best, possible time.
When I least expected or felt like I deserved it.
Yet that night, I learned that life-changing moments rarely fall within our plans.
I tell the whole juicy and awkward story in my new book All Groan Up: Searching For Self, Faith, and a Freaking Job! when Wilmore, Kentucky, a bet, and my first step up from rock bottom, ran me smack dab into the rest of my life.
Running out of the Dark and Into My Wife
My office was headed to Kentucky for a work conference and I was happy to just get out of town.
My life was crammed full of questions that I'd spent the last six months trying to answer with alcohol and girls. It was like I was trying to embody a country song.
However, just a week before, I had made a dramatic change in trajectory. I'd been on a not-so-epic fall for the bottom, and instead of slamming down on it, I landed on a ledge of grace.
I lay broken, but still breathing.
During the conference, I didn't skip around full of mirth and merriment. I drudged around drenched in anxiety and guilt, wondering how I let my life get so off course. While others were making friends or venturing out to possibly meet someone special, I spent my nights researching monasteries to check into.
There was this amazingly beautiful woman at the conference named Naomi who at one point I had a crush on, but Naomi looked like Princess Jasmine and I was Aladdin without the magic genie or monkey of unusual aptitude. Even attempting to impress her felt like an act of ridiculousness worthy of a Disney movie.
A Can of Sardines
During the last night of the conference, a group of people set up a game of Sardines, where one person hides and everyone tries to find that person and hide with them until there is no one left searching.
I stumbled around halfheartedly playing the game when I turned the corner and ran smack into, "Oh crap…Princess Jasmine…"
And she started talking to me. And seemed strangely interested in what I was saying. As I describe in All Groan Up, "Why this girl Naomi was talking to me I literally had no idea. But when you think she's "drop down to your knees and thank God for women" beautiful, you don't ask questions. You just hold on."
Naomi's Strange Confession
After about an hour of walking around and talking, Naomi blurted out, "Paul, I have something to confess to you."
I had about a hundred different things I could confess to her, but I wasn't about to open my big mouth.
"Well, a couple of friends and I made a bet this weekend. And the bet was who could kiss someone first at the conference. And, well, I picked you. But the person I bet against just won, so the bet is over. So now I'm just telling you."
I'm pretty sure there's no decent response for a confession like that. Especially considering everything going on in my life at that moment. Luckily, my A game kicked in.
"Uhh…okay…" I responded.
Here I was trying desperately to right the ship, make sense of my life, and not kiss another random girl the first night.
Then here was Naomi, who, I'd later find out, was trying to do something rebellious for once in her life, breaking out of her comfort zone, and trying to kiss a random guy for the first time in her life.
And what would happen at 5:00 am that next morning after talking through the night, when I pulled quite possibly the craziest, most courageous, yet desperate thing I'd ever done before, would change both of our lives forever.
You'll have to read the book to read that part of the story…:)
Life's Beautiful, Unexpected, and Undeserved Gifts
If your life feels a thousand miles off path, maybe it's because on this long, windy, detour you're going to discover something you never knew existed.
If your life is going nothing as you planned, maybe there's a better plan being written that you just don't see yet.
Sometimes all you can get on paper is one line, and then the rest of the picture somehow appears before you.
Maybe something amazing is happening to you right now even though your days feel drenched in dreary.
As I write in All Groan Up: Searching for Self, Faith, and a Freaking Job!,
Life isn't a math formula where if you punch in the same numbers, you get the same answer.

Life is a Shakespeare sonnet. It's long. It's complicated. People tell you it's beautiful. And you'd probably agree with them if you could only understand a single word."
The night I met Naomi, I felt like I also saw God in a way I never had before. During one of my lowest moments, he still blessed me. He still loved me. He wasn't withholding, he was giving.
God's love doesn't need me to win any gold medals before he wraps my hurting body in a big, warm, towel.
At the point when I felt I least deserved something of worth, there it was. And that's the definition of grace.
Gifts aren't given because we paid for them.
No matter where you sit in your life right now — at the top of the mountain or in your parent's basement, it's not out of the reach of grace.
What do you think about this story? I'd love to hear from you within the comments on this article.