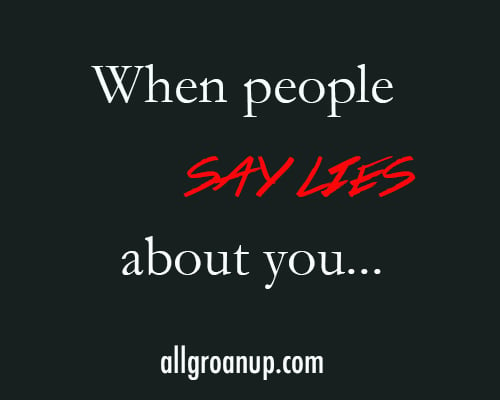 Is there a worse feeling than being lied about?
Being attacked for something you believe or said is one thing.
Being attacked for something that you did not even do is something that really makes me angry. Especially on the internet where people can pretty much say whatever they want without recourse.
It's been one of those weeks for me.
And honestly without fail, this happens almost every year around graduation season in the form of reviews of my books on Amazon. The same kind of lies around the same time.
First, came this fun, 1-star review about 101 Secrets For Your Twenties. And I'll quote it in full: "The very first page I opened to had a glaring error in the chapter heading, and now I recall reading about errors throughout. Shame on the author — especially for not correcting the errors since original publication. It's also not a nice-looking book inside — the colors, the typeface. I glanced through it and found it depressing, hardly a good graduation gift for my nephew who's a good writer."
I've never responded to a negative review before, but I did with this one. Mainly, to offer a full refund and ask the reviewer where this massive "error" was in a "chapter heading" that would elicit such a strong response that she would shame me.
And alas, four days later and no response. Mainly because I don't think it's true. Sure, there's been grammar mistakes in 101 Secrets. Happens to every book. But I don't think that's the case here. And I've actually had similar reviews year after year at the exact same time that rip me apart for unidentified "errors" that they never actually say what those errors are. Very strange and very frustrating, to say the least.
However, not to be outdone, I just got this doozy of a 1-star review on my new book 101 Questions You Need to Ask in Your Twenties that stated:
I'm not sure where to even start with this review. It's so weird and preposterous in every way that it doesn't even make sense.
So I bring this all to the community here at All Groan Up.
What do you do when you get attacked with a bunch of crazy lies?
What do you do when you're making progress and helping people, when all of the sudden out of the darkness comes someone to try and pull you down?
Two things I'm thinking through right now when you get attacked with lies.
I'm not saying you go in for the attack yourself. Just go and ask that the truth be revealed.
This is not easy to do, especially to stay calm about it (definitely not my strong suit). But you can't let the lies keep spreading without confronting the liar. Stay calm and confront.
And I am a believer that what was meant for evil, God can turn to good.
Maybe that's why I write all of you now as well. To ask for your help.
Thanks everyone. How about you? What do you do when someone lies about you?